Adobe® Premiere® vs. After Effects®
If you look at the video editing software released in the last decade, you will see that the features and upgrades have come a long way. And Adobe® Premiere® Pro and After Effects® are two of the frontrunners when it comes to the post-production apps in the industry. The extent of your knowledge of any editing tool such as these can make or break your project. In this article, we will briefly look at the difference between After Effects® and Premiere® Pro.
Adobe® Premiere® and After Effects® Alternative
If you are looking for an alternative to Adobe® Premiere® or After Effects®, Movavi Video Editor Plus is a perfect option. You can breathe in life to your videos with ready-made intros, keyframe animation, and other special visual effects. What's more, is that the processing and rendering are ultra-smooth and are completed at a lightning-fast speed. If you want to change the background of your clips to something else, you can use the chroma key feature to do so. Moreover, the program is easy to navigate, Movavi doesn't keep its features hidden under layers of tabs. All the options will be right in front of you, making the process even more seamless and user-friendly. Lastly, it only takes 20 minutes to get a finished video and download it!
General information about Adobe® Premiere® and After Effects®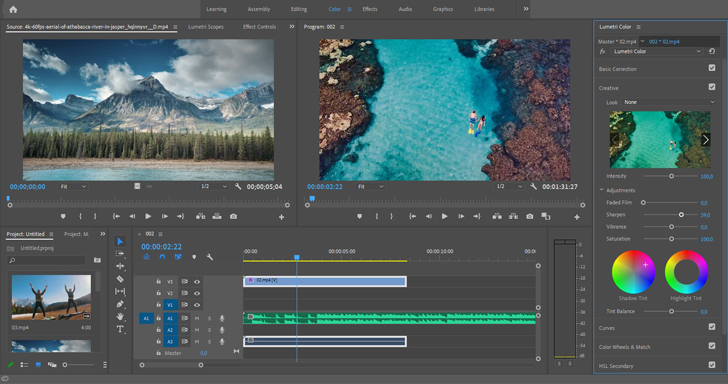 Adobe® Premiere® can be easily considered as one of the best professional video editing software out there. There are multiple audio and video channels in it with a simple timeline. Adobe® Premiere® can help you edit smoothly even if it is your first time editing a video with several useful functionalities like click and drag positioning, clipping, and easy-to-insert titles and transitions. It is an ideal software for beginners because of the fact that it allows you to add specific visual effects too. Keep in mind that in the beginning, some people might have to spend a bit more time figuring out stuff on Adobe® Premiere®, but once they do, the software can do wonders. Adobe® Premiere® also enables you to edit different video formats be it a music video, a b-roll, or even a narrative film.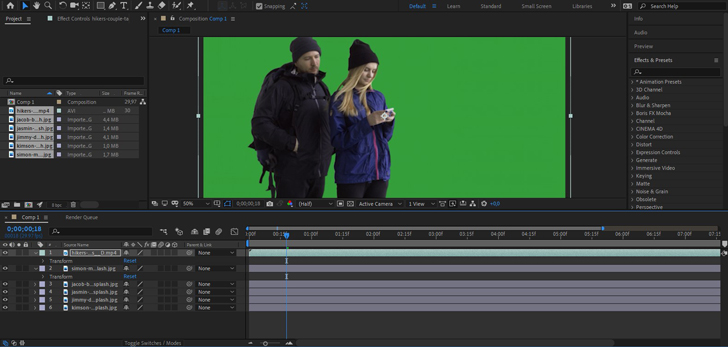 After Effects is a visual effects, digital motion graphics, and compositing software. Whether you want to create intricate graphics sequences or some simple animations, After Effects® is the go-to software for many. People prefer it over Adobe® Premiere® Pro to add motion to images, videos, and designs. It is also used in digital keyframing, where you manipulate multilayer sequences. It will also help you add movement and blur to layers and assets. The different types of blending modes in this software help add stylization to your video. After Effects® is also known for its precision in video masking. For easy exporting of video, you will find several mobile devices preset already listed. For example, you can create a film/video that you can play on your iPad. If your iPad has iOS 10 or later, then you can run After Effects® on it.
Adobe® Premiere® Pro vs. After Effects® – side by side comparison
Premiere® Pro is considered more user-friendly. The interface has all the programs handy so that even a beginner can start making videos right from the first day. The interface is mainly designed for clip manipulation and accurate editing.
The focal point of the After Effects® interface is motion video work and composites. Keyframing in this software becomes easier because of the interface and its lucidity. You can also smoothly fine-tune the speed and direction of your elements because of the staunch graphic display.
Premiere® Pro clearly wins in this criteria. The basic idea behind the creation of this software was to make it accessible to all kinds of editors, be it an expert or an amateur. 
On the other hand, After Effects® is user-friendly but only up to a point because the learning curve here is quite steep. However, people who are able to overcome that initial bump can utilize the advanced visual effects present here.
Almost every basic effect you can do on After Effects® can also be done on Premiere® Pro. The effects that most average editors use are readily available in a user-friendly manner in this software.
The basic effects of After Effects® and Premiere® Pro are not strikingly different. For basic effects, Premiere® Pro by itself is enough.
You will find most of the advanced visual effects of After Effects® on Premiere® Pro as well, but their quality isn't as good. It cannot generate 3D motion graphics.
After Effects® takes it a notch higher in terms of advanced effects. With advanced tools like Rotoscoping and Keylight, you can create outstanding 3D motion graphics. There are several other advanced graphics and text animation options as well.
To a certain extent, the animation is possible on Premiere® Pro, but After Effects® has much more advanced options.
After Effects® is considered the animation powerhouse, and for a good reason. Starting from text and motion graphics to cartoon animation, everything is possible here.
You can do a lot with text on Premiere® Pro, but After Effects® does it better. There aren't many text effects here to satisfy you.
After Effects® is the real winner in this criteria. It can even be used to add 3D motion to your text.
There is a substantial editing workflow in Premiere® Pro. You do the editing in a timeline which is much more user-friendly than compositing. 
In this respect, After Effects® is quite clunky if you are trying to cut a clip and then keep the video and audio together.
In terms of audio mixer, you will get a professional-grade tool on Premiere® Pro.
After Effects® is mostly a composite tool, and hence, in the case of audio, the finesse is not up-to-the-mark.
You will find 3D graphics programs and video collaboration tools in Adobe® Premiere® Pro.
After Effects® has Microsoft teams and some other Adobe products.
Both video editors will cost you $20.99 per month.
Which software is more beginner-friendly?
Overall, if you see After Effects® vs. Premiere® Pro in terms of which one is more beginner-friendly, the latter is going to win. This is because Premiere® Pro is easier to use and learn. The overall layout of the software can be understood even by a layman. Beginners also prefer Premiere® Pro over After Effects® because of the shorter rendering time owing to the absence of intensive frame-by-frame effects in Premiere® Pro. On the other hand, After Effects® also has a steep learning curve for beginners. 
Using Adobe® Premiere® and After Effects® simultaneously
Certain After Effects® features can be integrated into Premiere® Pro so that it becomes easier for editors and the intermediate rendering is eliminated. You can complete the project you are working on without exiting the editing environment. This is possible with the help of Dynamic Link, whose primary function is importing the project from After Effects® to Premiere® Pro. Whether you are editing Live Text templates or masking and tracking, you can directly bring them to your non-linear editor so that you don't leave your editing mindset even for once. Once you have set up the Dynamic Link between your projects, if you make any change to an element in After Effects®, the Dynamic Link function will automatically update the element in Premiere® Pro. Keep in mind that if you want to use these apps seamlessly on your laptop or desktop/PC, you also need to have good system memory. At least 32GB of memory is essential for proper workflow and efficient HD and 4K video production.
Adobe® After Effects® vs. Premiere®: when to use them separately?
When it comes to choosing between the two, the first thing to consider is what do you expect of them. Several features are common between then and at the same time; both have something unique to provide their users. That is why we advise our readers not to think of them as competitors but instead as complementary software. Both can be used in their own way to achieve a different result. And alternatively, you can use them together in a project to amplify your result and take things to the next level. Here we will explore the situations when you are going to use these two apps separately. 
When to use After Effects® only
It's a blessing when you have two different software to choose from, but there are specific projects where one of them is better than the other. For example, if you are into VFX or motion graphics, the better option would be After Effects®. It has almost every tool a person would need in those kinds of projects. Thus, almost all professional animators and content creators trust After Effects®. Even though it is mostly considered to be animation software, After Effects® can do so much more, and you can even view the project on a timeline. And one of the major advantages of this software is its ability to integrate external asset files.
Premiere® Pro has become a go-to software for many content creators primarily because of its flexibility. Owing to its immense popularity, you will get a bunch of tutorials online that will teach you how to color grade, how to add some cool plugins, or even edit a video in general. So, if you are a beginner filmmaker with absolutely no knowledge of how things work, Premiere® Pro is definitely what you should opt for. It's so much easier to learn and master. The process is pretty straightforward. Moreover, Premiere® Pro is a non-linear program, and thus, in just one piece of track, you can add several layers of media, which is not possible with After Effects®. If your project involves using audio editing tools, then Premiere® Pro is the better option for editing your raw video because of the presence of several audio mending options alongside auto-ducking, volume controls, stylish sound effects, and so on. 
Summary
All in all, even though the interface of Adobe® Premiere® Pro and After Effects® have some similarities, they vary hugely in terms of functionality. To get the best out of them, it's advisable that you use them in tandem using the Dynamic Link feature of Adobe. The industry standard for animation and visual effects is After Effects®, whereas Premiere® Pro is primarily used for editing videos. The choice of which one you want to use comes down to what kind of project you are working on.