A funny and colorful video is a beautiful way to say happy birthday to a friend or family member. Want to try making one?  These birthday video creators include top-of-the-line video editing apps that can transform even low-quality footage into a fantastic video. Before we get started, here's a quick rundown of the features of the best 5 birthday video makers we'll be talking about in this article:
Editor's Pick
Online Birthday Video Makers
Finding a powerful yet easy-to-use video editor that will suit beginners is a difficult task, especially given a large number of apps available on the internet. To begin with, there is a strong alternative to desktop software: online video editors.
These allow you to edit videos right in your browser. There's no need to clog up your computer – you can use all the necessary tools online.
Price: Free plan; pricing plans start from $9.95 per month
Fastreel is an easy-to-use online happy birthday video maker with built-in songs, that includes a variety of tools and templates to make editing simple and fast. This online service is appropriate for both professionals and amateurs who want to improve the appearance of their video content. Fastreel makes it simple to add images, text, music, and watermarks. Let's take a closer look at the product's features.
The video editor has a nice set of features that will allow you to manipulate the video in almost any way you want. The following resources are available for free on the website, but they come with a watermark and lower quality of exports. However, for $9.95 a month (paid annually), you will have unlimited access to the tools.
Fastreel allows working with videos up to 500 MB. MP4, GIF, JPEG, and PNG are among the file types that can be uploaded to this video editor. The Fastreel website has its own music library that can be used to edit videos. If there isn't a suitable audio track, you can upload one from your computer.
Fastreel templates are a quick and simple way to put together a video. Aside from the birthday video models, there are over thirty-three more templates for various occasions to choose from.
Key features:
✅ handy ready-made templates
✅ a lot of video editing tools, including trimming, cropping, resizing, and more
✅ a variety of visual effects, including stop-motion and filters
✅ a split-screen feature
Pros:
very easy to use
supports all popular media formats
provides built-in music library
has video templates for creating birthday videos
Cons:
in the free plan, a watermark is added to edited videos
Fastreel is best for enhancing video clips, joining them together with transitions, overlay text, and filters.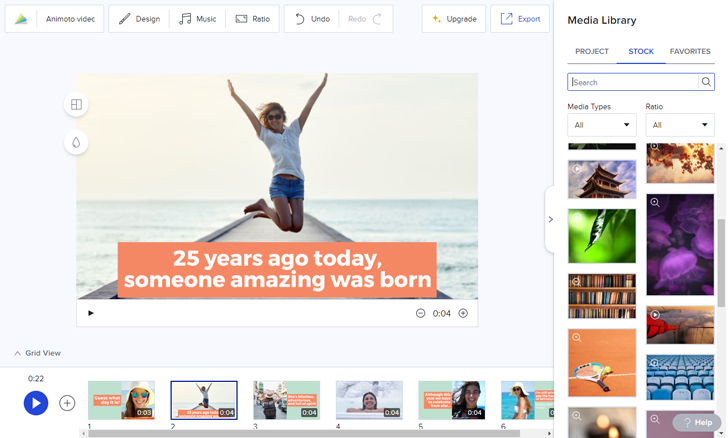 Price: Free plan; pricing plans start from $8 per month
Another online tool that offers birthday video presentation templates is Animoto. Its drag-and-drop functionality makes it simple to add images and videos. In this program, you can build a digital birthday video presentation for your special person using the Birthday Card video template. This template enables you to combine images and video clips and create a fantastic movie.
The Animoto app is possibly one of the best available choices for users who want to create a happy birthday video. The program provides a lot of video styles and a music library. In addition to hundreds of free songs, the app also includes a voiceover feature that allows you to record a happy birthday message and make the video even more interesting. And, in case you don't want to record your voice, you can simply add your wishes to the video in the text form. Animoto allows you to share the complete video directly to your social media accounts. 
Animoto also has an app for Android and iOS.
Key features:
✅ customizable templates
✅ over 40 fonts and text effects
✅ three aspect ratios for video optimization
Pros:
has a Birthday Card video template
offers stock images and music
provides various sharing options
Cons:
adds a watermark to your video if you have a free plan
Animoto is best for creating high-quality, professional-looking videos with ease, thanks to their simple user interface.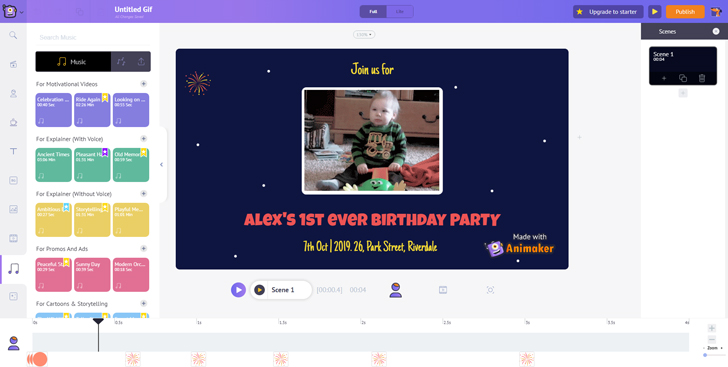 Price: Pricing starts at $10 per month for the basic package.
Animaker is another simple online birthday video creator that you might use. This is an online video creator that has a free animated prototype that makes video creation easier. With Animaker, you can add animated characters, forms, stickers, text, and music to your clips. Aside from that, this program includes a media library with a large selection of royalty-free songs, images, and video clips.
Simply open the program's official website and press the Create your Video button to make an amazing birthday video. Choose your favorite birthday video template from the default options. Then, in the left corner of the screen, use the editing features to personalize your birthday video. Finally, in the upper right corner of the screen, press the Publish button to save the birthday video to your device.
Key features:
✅ a large built-in content library, including images, videos, and icons
✅ professional video templates
✅ video overlays
Pros:
a perfect tool for creating video animations
provides royalty-free music for your videos
can record voiceovers
Cons:
the free plan has some limitations: a number of downloads, video quality, and maximum file size
Animaker is best for creating interactive presentations and videos thanks to its large library of templates and pre-animated elements, including illustrations, characters, and gestures.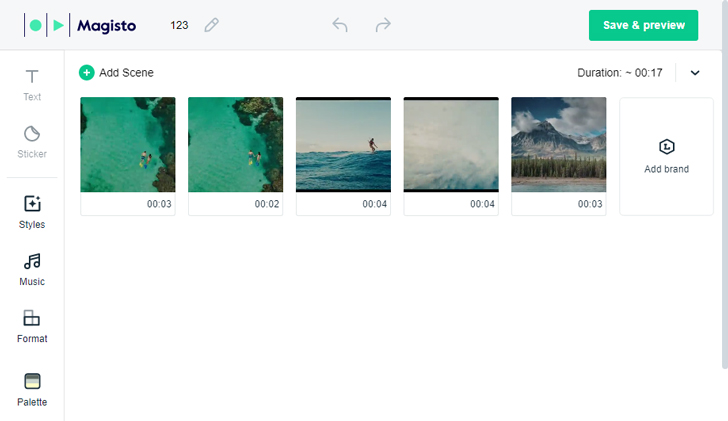 Price: Magisto pricing starts at $9.99 per feature, per month. They do not have a free version.
With Magisto, you can make birthday greetings for children, as well as creative videos with wishes for colleagues and friends. The program provides users with tons of built-in and songs, as well as video effects and graphics. You may choose the video orientation before creating a greeting: square, portrait, or landscape. Furthermore, the size can be adjusted at any time.
This birthday video creator app has an online edition as well as free video editing software for iOS and Android. You can save the video to the cloud or share it on your social media after you've finished it.
Key features:
✅ a various templates for creating birthday videos
✅ AI video editing
✅ video formats for different platforms, including Instagram and Facebook
Pros:
easy to create a birthday video or invitation
can share private video links
has a free trial with all features available in paid subscription
Magisto is best for beginners. Users can trim videos and move elements around easily. It also provides access to a lot of stock photos & videos.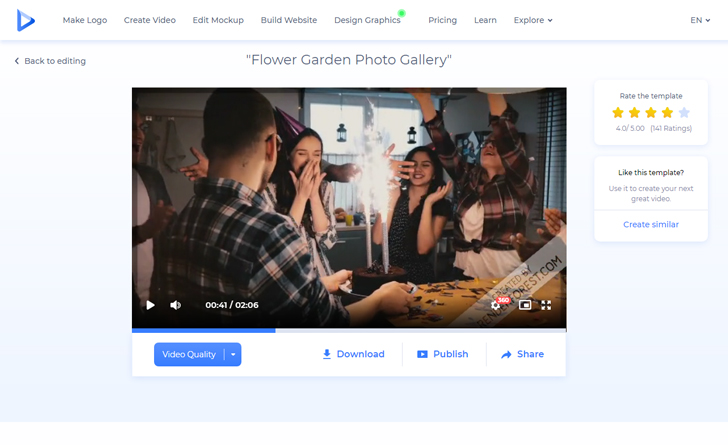 Price: Free to access, pricing plans start from $9.99 per month
This online birthday video creator includes many birthday templates that you can use to create greeting cards, images, and slideshows with music for your friends and family.
Renderforest offers royalty-free stock footage in addition to a wide gallery of video creation and animation models. The program is simple to use and offers a large selection of music to accompany your videos.
In the free plan, Renderforest allows exports with the quality of video no higher than 360p and with an added watermark, which is one of the drawbacks. You may pay to delete the watermark while exporting the video or subscribe to their watermark removal plans. You need to sign up to start using the platform. 
Key features:
✅ customizable video templates
✅ free stock footage
✅ voiceover feature
Pros:
offers a few birthday video templates, such as birthday greeting cards, slideshow, and 3D video cards
can create 3D and 2D animations
Cons:
the video length is limited to 3 minutes in a free plan
Renderforest is best for creating short videos with cartoon characters. As an animating tool, it is easy to use.
Birthday Video Maker Apps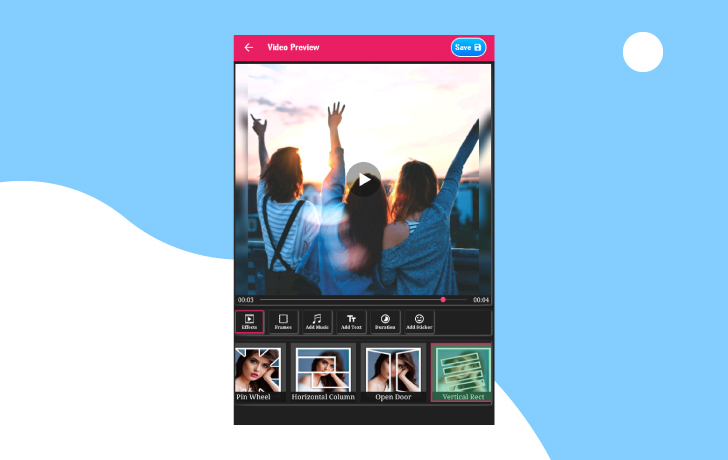 Price: Free
OS: Android
⬇️ 13,623 downloads
⭐ 4,1 stars on Google Play
This Birthday Video Maker is one of the most popular birthday slideshow video apps. Make videos using photos and music and share them directly with your friends. Enjoy all the birthday video creation features in one app, like Video Maker, Slideshow maker, B'day Animation maker, and Birthday Status Maker. We are sure you will enjoy this app!
The program lets you easily create videos with your own photos, add your favorite song or music track, write text or name, apply various frames, color effects, and stickers. Save creations via Facebook, Twitter, WhatsApp, Instagram, and many more social media apps.
Key features:
✅ dozens of effects and photo frames
✅ adjustable video speed
✅ customizable fonts and colors
Pros:
supports uploading to popular social media platforms
can create birthday videos, slideshows, and animated photos
Cons:
lack of advanced video editing features
Birthday Video Maker with Song and name 2021 is best for creating beautiful videos with songs, slideshows, and amazing animations.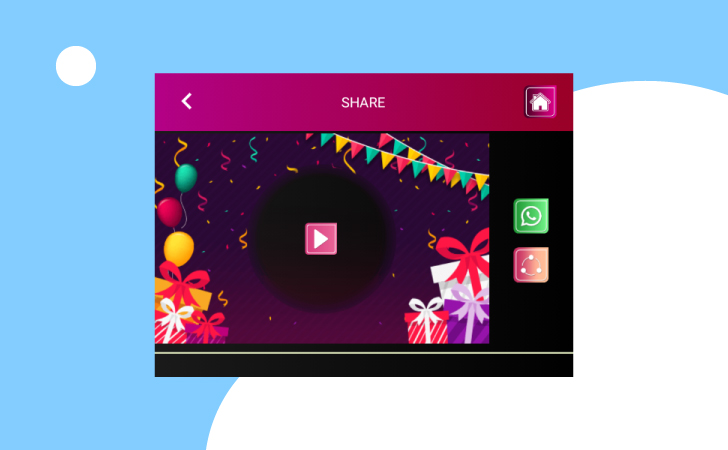 Price: Free 
OS: Android
⬇️ 30,069 downloads
⭐ 4.2 stars on Google Play
Birthday Video Maker 2021 is a totally free app. It can help you create your own happy birthday videos and slideshow videos from images and music, which you can then share with your friends and family.
This birthday video app is arguably the best video editor, photo slideshow maker, and movie editing app in the Android Store. Send personalized email with birthday greetings to your friends, family members, and loving ones to make them happy.
Key features:
✅ professional video-editing tools
✅ dozens of beautiful birthday stickers and backgrounds
✅ built-in library with birthday songs
Pros:
can create multiple birthday songs
fast performance
allows direct sharing videos to social networks like WhatsApp, Facebook, and Twitter
Birthday Video Maker 2021 is best for creating birthday videos and sharing them with friends and family.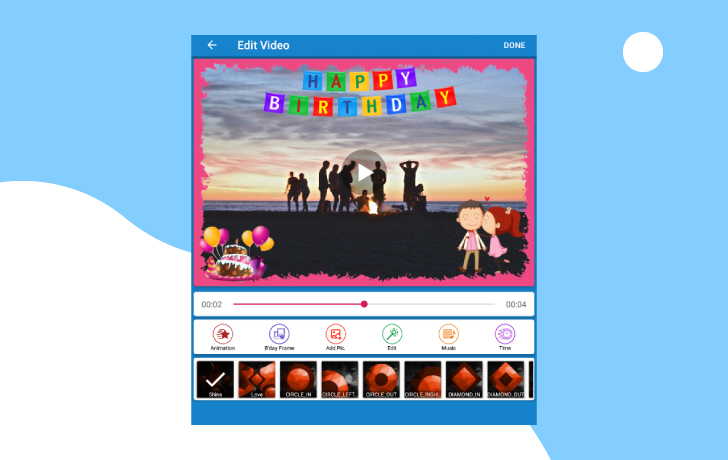 Price: Free
OS: Android
⬇️ 3,570 downloads
⭐ 4.5 stars on Google Play
Birthday Video Maker 2021: Birthday Wish Maker helps you create beautiful birthday videos for your loved ones using themed pictures and music. This app gives you the freedom to choose from lots of animations, cheerful music, filters, frames, and stickers. Create your video card and share it directly with your friends!
Key features:
✅ lots of photo filters, customizable fonts, and stickers
✅ adjustable time duration
✅ slideshow effects for creating videos from photos
Pros:
has a large library of frames, stickers, and music
can create birthday videos in a few simple steps
Cons:
some users have issues with saving edited videos
Birthday Video Maker 2021: Birthday Wish Maker is best for creating beautiful birthday videos with animations, filters, frames, and stickers for your loved ones.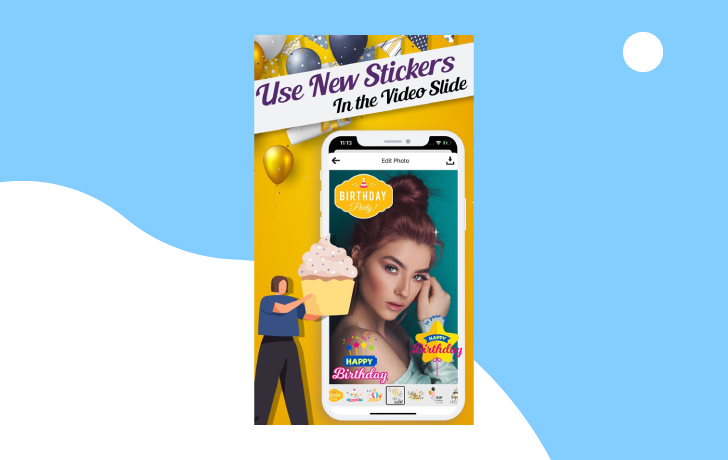 Price: Free, includes in-app purchases
OS: iOS
Happy Birthday Video Maker is a free birthday video maker that allows you to create your own slideshow videos from photos and music. It is one of the best birthday-themed video editors and slideshow-making applications for iOS. Creating greeting videos with this app is very easy. All you have to do is choose the images from your gallery, arrange them in the desired order, add your favorite music track, type in the name and your wishes, set the timing, and then save and post the finished video on social media. The program allows direct sharing to like WhatsApp, Facebook, Twitter & others networks.
Key features:
✅ many birthday frames and stickers
✅ basic video-editing features, like trimming
✅ a quick sharing on social media
Pros:
intuitive user interface
can create short birthday video clips and slideshows with music
Cons:
lack of advanced video and audio editing features
Happy Birthday Video Maker is best for editing birthday photos and videos using their inbuilt editor and adding background happy birthday-themed music.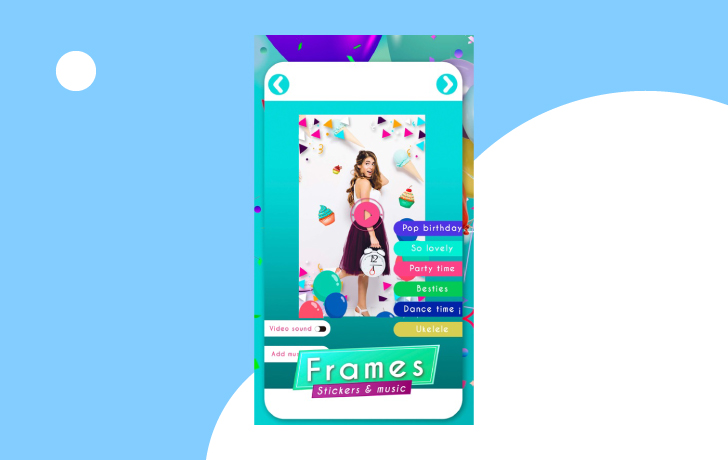 Price: Free to download, contains in-app purchases
OS: iOS
⭐ 4.0 on AppStore
With this app, you can make custom birthday videos with 3D animations, sound effects, and songs. The app also allows you to record videos and create gifs. Use their amazing birthday filters for your videos and gifs.  
Key features:
✅ a large library of frames, stickers, and music
✅ 3D animation
✅ a variety of birthday filters with cakes, confetti, etc.
Pros:
allows creating 3D animations with songs and different sound effects
has a GIF creating feature
Cons:
video editing tools aren't available
Happy Birthday Video Editor is best for recording happy birthday videos and generating gifs in real-time. It also enables viewers to add 3d animations with sound effects and songs to their videos.
Conclusion 
It's important to show your friends and family that you care, but we don't always have the time to be with them on their special day. Making a happy birthday video is an excellent way to ensure that the unforgettable memories from the birthday party are preserved for all time, or to wish anyone a happy birthday when you are unable to be present on their most special day of the year. This article lists some of the best birthday video makers, both online and mobile apps, that provide birthday beautiful video templates. You can learn more about birthday video makers and many other apps from the TopSevenReviews website.