Finding the right GIF maker is not very hard, especially considering that free gif editor software is offered by so many providers. But if you're only starting out your journey with apps to make GIFs, it can be a difficult choice. There's plenty of freeware out there for Windows, Mac, and Linux, so finding a program to make GIFs is easy when you know some of the big names. This guide will help you find free GIF-making software and will teach you how to get the most out of them.
Editor's pick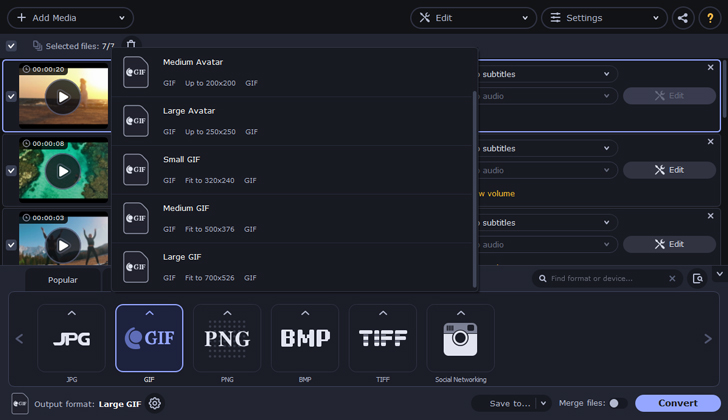 OS: Windows, macOS
Movavi Video Converter offers media conversion between over 180 formats, compression without quality loss, and a wide range of tools to make your GIFs exactly how you want them. This software offers lightning-fast conversion rates and also provides tools for easy video editing.
If you want to make a GIF on your Windows PC or Mac, Movavi will be the perfect solution for you. All necessary GIF-creating tools are super easy to find. The full version of this app is one of the best GIF makers available today. Movavi has some of the safest processes and highest quality available on the market right now.
Key features
✅ Convert 180+ media file types
✅ Lossless video compression
✅ A range of editing tools like trim and merge
✅ Subtitling functionality
Pros
➕ Lightning-fast conversion from video to GIF
➕ Intuitive interface 
➕ Easy editing with a wide range of tools
Cons
➖ A paid app, the free trial is limited
Best for: Creating GIFs fast and simple editing
The best free GIF-making software for PC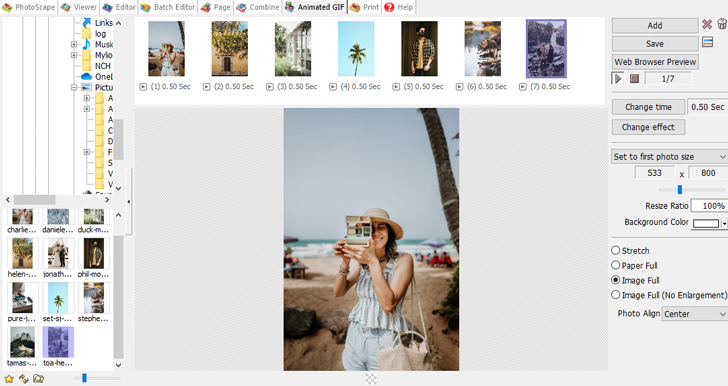 OS: Windows, macOS
Offering plenty of features, such as combined and animated GIFs, Photoscape is an excellent choice for content makers. PhotoScape's suite also includes plenty of editing tools which makes this app really useful. Continuously undergoing updates for both Windows and Mac, PhotoScape is an excellent choice for those who want plenty of features with a simple interface.
The interface might, however, put a few users off. It looks a bit outdated and can be difficult to navigate through. If you're new to the platform, it would be difficult to find certain features. On the other hand, once you have a bit of experience with PhotoScape, you won't notice these problems at all.
Key features
✅ Batch editor
✅ RAW image converter
✅ Slideshow creator and display
Pros
➕ Constantly being updated
➕ Plenty of features to play with
➕ Perfect as an animated GIF app
Cons
➖ Old-fashioned interface
➖ Customer support can be slow to reply
Best for: editing GIFs with a wide range of tools available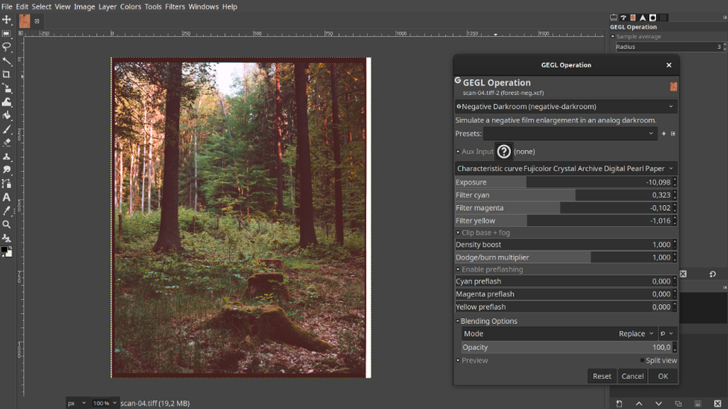 OS: Windows, macOS, Linux
GIMP is an open-source app for image editing designed specifically for professionals in design, photography,  and illustration. GIMP is a highly customizable GIF maker: it has plugin support, so you have as many additional tools as you need and get the most of the app. On the other hand, the interface of this app is not the most straightforward. Like in many other professional-grade apps, it does require some learning. 
Key features
✅ Image editing
✅ Painting tools
✅ Advanced scripting capabilities, including Python and Perl
Pros
➕ Advanced tools in this GIF editor software
➕ Made for professionals
Cons
➖ Slows down when editing a larger image with many layers
➖ Drawing clean shapes can be difficult
Best for: professional image editing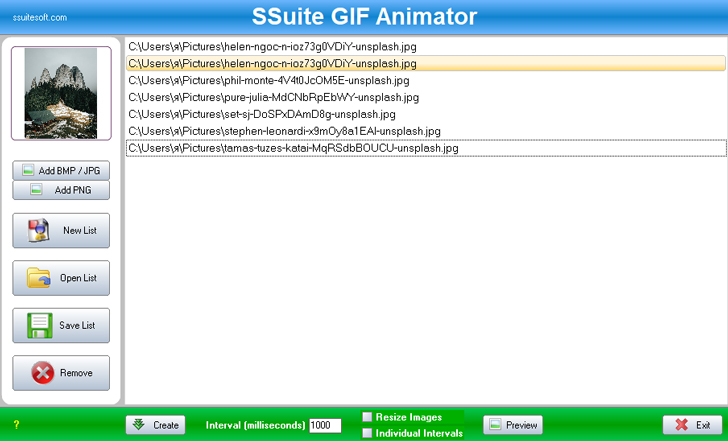 OS: Windows
SSuite Gif Animator is free, easy-to-use, and reliable. Committed to releasing free software, the team behind this free GIF-making software has brought excellent additional functionality like drag-and-dropping your pictures into the editor. If you're looking for free GIF editors, definitely pay attention to this app, as it has plenty to offer.
Key features
✅ Easy GIF creation
✅ Adjust frame delay
✅ Position frame manipulation
Pros
➕ Free download
➕ Available for Windows Vista / 7 / 8 / 10
➕ Supports JPG, PNG, and BMP to convert to GIF
Cons
➖ Outdated interface
Best for: converting various file types to GIF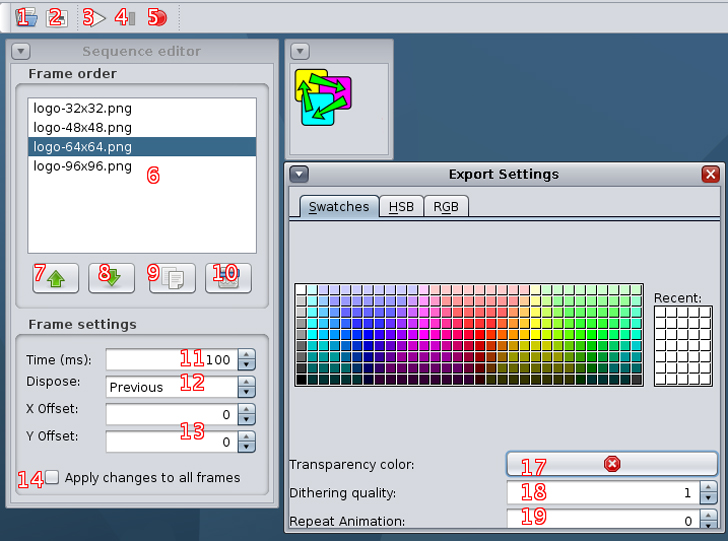 OS: any
If you don't want to install anything on your computer, Gifted Motion has a lot to offer you. Instead of running a piece of animated GIF freeware, you can use this Java app. It's a  platform-independent program, so you can run it on any device. It's free and can be used even for commercial work. 
Note that Gifted Motion lacks some of the features that we'd receive with other platforms like Movavi and PhotoScape. It can also be quite slow to load if you are working with larger files.
Key features
✅ Available on all platforms
✅ Easy image adjustment
✅ Preview function
✅ Edit existing images without restarting
Pros
➕ Freeware
➕ No installation required to run
➕ Supports a great range of input formats
Cons
➖ Fewer useful features than other platforms
➖ Slow loading times with larger files
Best for: creating GIFs on any platform that can run Java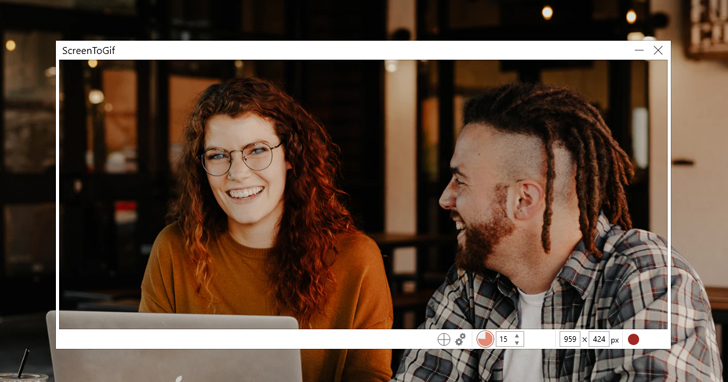 OS: Windows
This GIF creation software for PC is an excellent tool if you only want to capture your screen and create a GIF using the recording. The program includes a simple built-in editor so that you can adjust your video. It simple, straightforward, and doesn't overwhelm with tons of unnecessary tools.
Key features
✅ Live drawings
✅ Screen recorder to GIF functionality
✅ Range of editing tools such as crop and resize
Pros
➕ Completely free GIF maker software
➕ Free editor to use with the GIF program
Cons
➖ Limited tools
Best for: fast editing with intelligent hotkey controls
Free online GIF makers

This is one of the best free GIF makers that work within your browser. ImgFlip boasts clean straightforward interface that is loaded with hints and tips on how to use the program and get the most out of it. The team working on ImgFlip is reliable too, so you can be sure that you'll get no viruses working with it.
Key features
✅ Create GIFs from Youtube, Vimeo, and other online video sites
✅ GIF merging to create new GIFs
✅ Online saving functionality
Pros
➕ Classic interface
➕ There is no watermark on any downloaded files
Cons
➖ Impossible to edit GIFs that you've already made
➖ The website is prone to spammers, but this is usually cleaned up quickly
Best for: creating GIFs without watermarks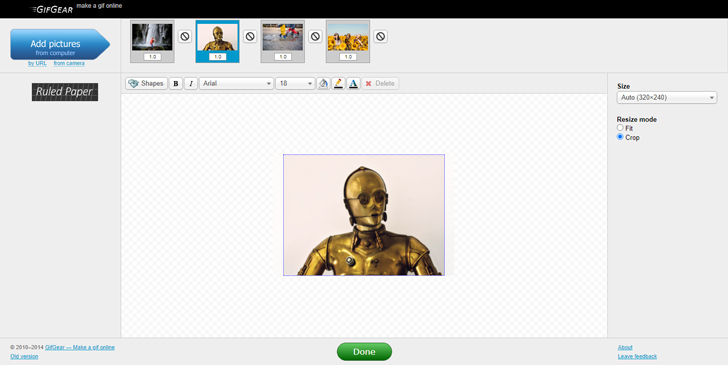 GifGear is a simple and very easy-to-use GIF maker that works online. It helps you create GIF files using pictures from your computer or from a URL. The range of features is pretty limited, but you will get everything you need to create GIFs of decent quality.
Key features
✅ Simple picture loader to create a GIF
✅ Effects built into the picture loader
✅ Animation size tools
Pros
➕ Clean interface that is easy to navigate
➕ Upload files from your computer or URL
➕ Features are easy to use
Cons
➖ The feature suite is very small
➖ Best for animators who know what they are doing – very little support in the creation process
➖ No support for video
Best for: fast editing due to an extremely straightforward interface

In its free version, MakeAGif enables you to choose a video from YouTube, Facebook, or your computer, and turn it into a GIF. In the paid version, this web-vased app delivers more advanced features, such as watermark personalization, ultra fast speed, and higher quality of final files.
Key features
✅ HD GIF creator
✅ Watermark personalization
✅ Online GIF storage on the Lifetime plan
Pros
➕ Excellent range of effects
➕ Create a GIF from a URL
➕ Easy to share on social media
Cons
➖ Most of the features are paid
Best for: making high-quality GIFs using a fantastic range of features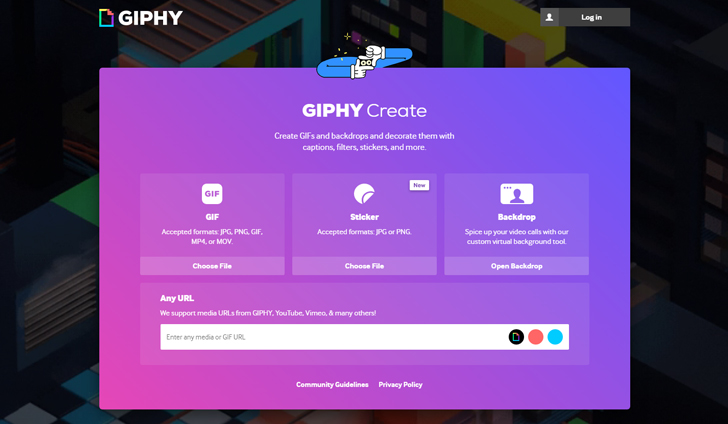 Incredibly popular and easy-to-use, Giphy offers a range of categories and reaction features which make sharing GIFs extremely easy. Because sharing and spreading is very much the heart of Giphy's business model, there's no confusion in how to download a GIF from Giphy on a PC, Mac, or any other platform.
Key features
✅ Simple GIF creation tool
✅ Multiple acceptable file formats
✅ Additional sticker and backdrop functionality
Pros
➕ Extremely popular
➕ Excellent for sharing GIFs
➕ Easy to create high-quality GIFs after signing up
Cons
➖ Search tags can make it difficult to break through the noise
➖ There UI can be quite cluttered if you're not into social media
Best for: sharing GIFs to social media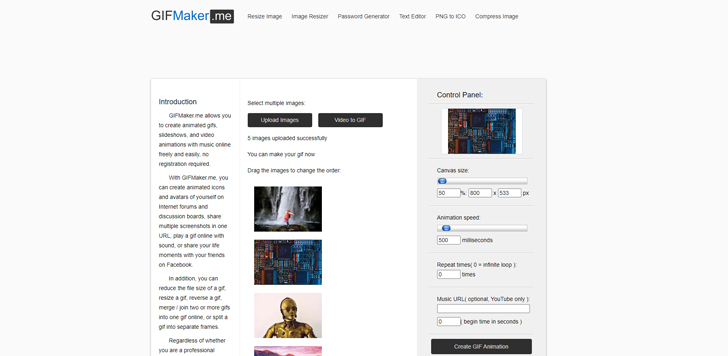 A really simple online GIF creator that doesn't require you to sign up. Whether you want animated GIFs, slideshows, or video animations with music, this web-based app will easily do that for you – just upload your files to the program and wait for the magic to happen!  GifMaker.Me also includes a simple editor that will help you to make your GIF even better.  
Key features
✅ Image loader that takes up to 20 images
✅ Drag and drop functionality
✅ Tools such as width, height, and animation speed adjustment
Pros
➕ Really simple to use
➕ Excellent editing tools
➕ Perfect for creating animated icons and avatars
Cons
➖ Can't share to social media from the website
➖ UI seems outdated compared to other GIF creator sites
Best for: making animated icons and avatars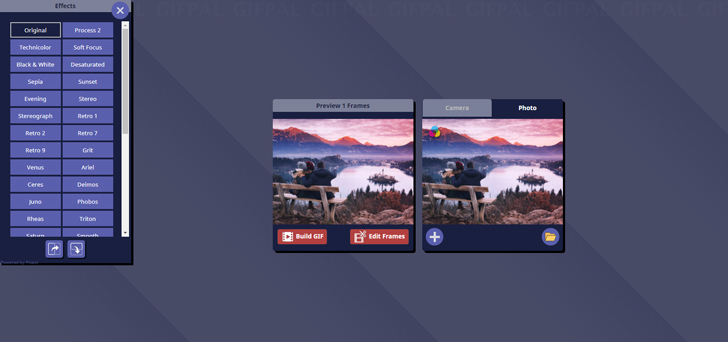 Available online or as a mobile app, GIFPAL is a straightforward website that walks you through every step of the process. You can only follow the program's workflow, so there's no opportunity to make a mistake. That makes GIFPAL one of the easiest online tools to create GIFs, even if it isn't the most powerful.
Key features
✅ Webcam to GIF functionality
✅ Text editor
✅ Draw content from scratch
Pros
➕ Step-by-step process
➕ Easy to create high-quality GIFs
Cons
➖ Feature suite is limited
➖ The interface isn't very customizable due to the step-by-step workflow
Best for: beginners who want to start making GIFs
Best free GIF apps for your smartphone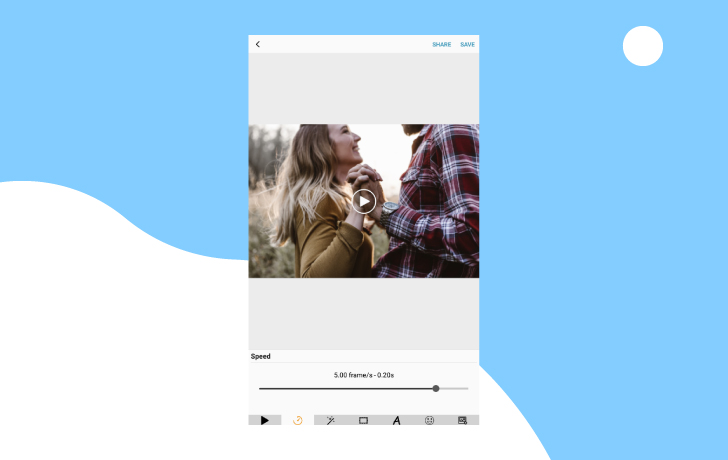 OS: Android
Available from the Google Play store, this application comes with some excellent features like background removal tool and screed recorder. There's no watermark on any GIFs you create, which is always good. 
Key features
✅ Cutting and cropping tools
✅ Image loader that can handle up to 200 images
✅ Add extra effects such as stickers
Pros
➕ Simple to use, images or video
➕ Plenty of features to make your GIFs exactly how you want them
Cons
➖ The user interface can be confusing for newcomers
➖ Adverts play throughout the creation process, slowing things down
Best for: creating small and simple GIFs with no watermark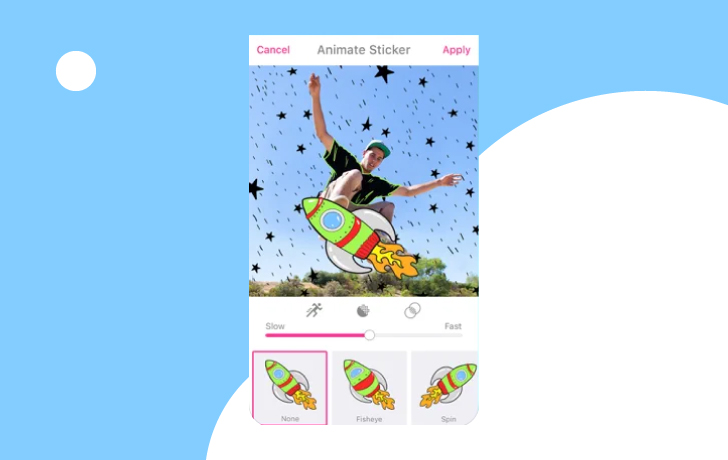 OS: iOS
An iOS-only option, PicsArt GIF & Sticker Maker does what the title suggests. The interface is well designed, and you can find everything you need in a well-organized and easy-to-use layout. It also has some fantastic features that makes the whole process really fun.
Despite the intuitive interface, the creation process can run into problems if you need to edit the GIF after you've made it. PicsArt GIF & Sticker Maker may require you to restart the GIF completely if you've made one error, which can be frustrating in the long term.
Key features
✅ In-app recorder for instant GIF creation
✅ Combine images, videos, and GIFs together
✅ Easily add pictures, stickers, and text
Pros
➕ Simple and well-organized interface
➕ Plenty of features to make simple GIFs
Cons
➖ The editing process can be frustrating if you've made a mistake
Best for: making GIFs on iOS devices
ImgPlay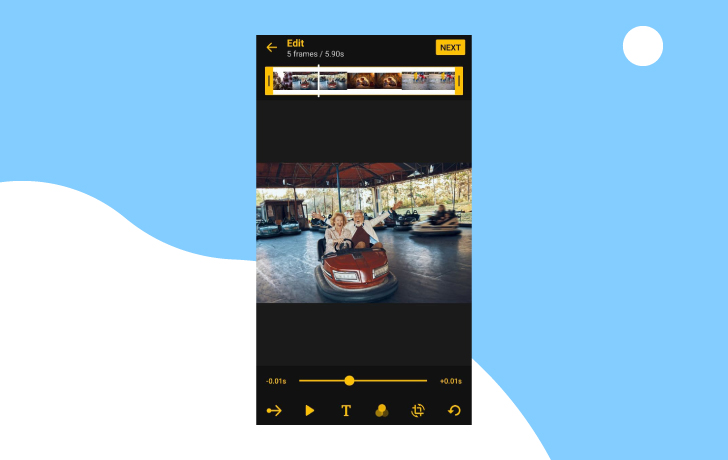 ImgPlay is a GIF editor program that was made to help everyone make the GIFs they want. It's accessible, clean, and free (with in-app purchases). This app has excellent features like cutting, speed manipulation, and adjusting the frame rate – all without paying a penny.
Key features
✅ Video, image, and GIF to GIF creator
✅ Camera mode gives you live GIF creation functionality
✅ Frame adjustment, resizing, and playback direction editing tools
Pros
➕ Excellent range of free features
➕ Great editing tools to improve your GIFs
➕ Dedicated team working on updating the app
Cons
➖ The Android and iOS versions are different, meaning some users will miss out on features
Best for: professional editing GIFs on mobile devices
Finding the best GIF maker for you is the first step to turning all your favorite video clips into shareable, hilarious GIFs. Whether you want to work on your desktop computer with a powerful tool like Movavi, or you just want to share memes from your phone with an app, there are plenty of options out there for programs to make GIFs.
Some GIF creation apps are unnecessarily complex, but you can get the most out of free and simple creators by finding the right one for you. Most online GIF editors are extremely user-friendly, meaning you won't have to worry about learning a suite of new skills just to share funny animated GIFs with your friends and family.