What is the best free MP4 video editor? Well, it kind of depends on your level of experience and desired outcomes. Whether you need to do a basic edit of a clip or are looking for an editing tool to help you produce a movie by adding filters, effects, overlays, titles, audio, and other special features, this guide will help you choose the best fit for your individual project needs.
Read on to learn more about the best free MP4 editing software.
Best free MP4 video editors: a quick comparison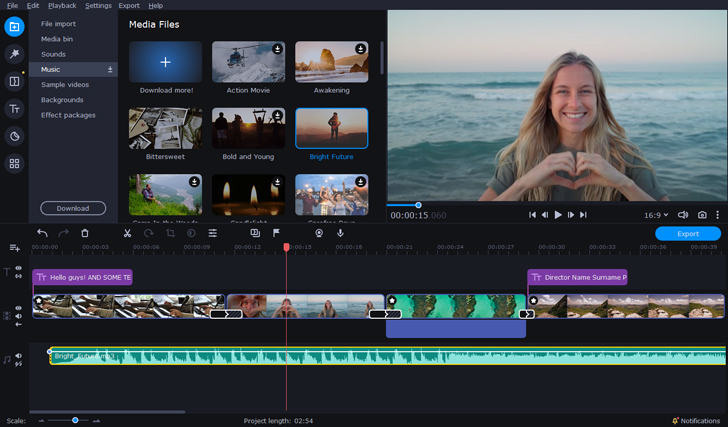 This is a fast, reliable, user-friendly MP4 editor that offers advanced creative tools. The overall functionality, including a drag and drop feature, is simple to navigate for beginners and professionals alike. It is especially recommended for its appealing, intuitive interface and its comprehensive collection of special features, including filters, transitions, special effects, titles, animation, multi-track audio timelines as well as built-in bonus content. With a relatively small learning curve in mastering the software, it is a perfect choice for editing and adding special effects to both short clips and full-length movies. All popular file formats are supported, and you can be sure of high-quality results with fast processing and professional rendering. It is so easy to use, you can produce your MP4 video in as little as 20 minutes. Available for both Windows 7/8/10 and Mac, you can download it for free before upgrading to the full version. It is quick to download and install and won't take up much space on your hard drive. 
Pros:
Free trial available
Simple, user-friendly interface
Extensive library of filters, special effects, transitions
Fast processing and rendering
Cons:
Some effects are available on purchase only
Custom objects can't be imported
Free MP4 editors
If you are still figuring out the MP4 editor that best suits your needs or video production is just a hobby, you might prefer to start out with a free MP4 video editing software. Below, we break down the details, pros, and cons of each of the top-rated video editors available so you can narrow down the options and make the best choice for you. Some are 100% free and others offer a free version with reduced functionality or fewer special features.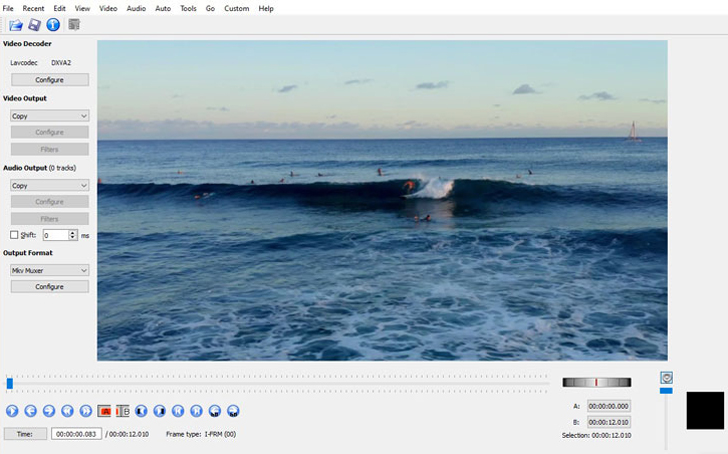 This free MP4 video editor is perfect for quick, simple editing of clips and movies that don't need advanced creative effects or transitions. This is a good option for both beginners and professionals looking to perform basic edits – clip, trim, cut, copy, and delete – in a simple interface. You will also discover an option to encode your files, thus changing their format. It offers many automated processes, making editing faster and easier to perform. While it includes some filters, if you need access to extra special features and tools, such as transitions and special effects, you will need to find software that offers a selection of built-in options.
Pros:
Free
Simple to use, user-friendly interface
Suitable for beginners
Cons:
No timeline
No creative effects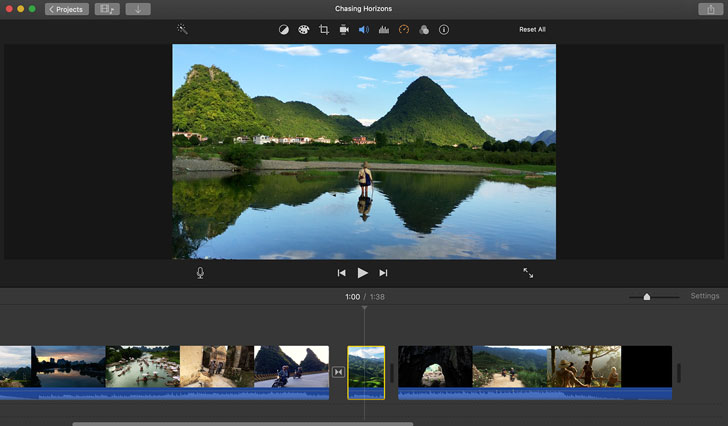 This is a free MP4 editor that is perfect for easy editing of clips and even full-length movies. Suitable for beginners and non-professionals, this Apple-developed freeware offers a range of built-in templates and modes so you can rearrange, trim, crop, and overlay your MP4 videos and share them via email or online. Edit your files across your iOS devices in real-time to create cinema-quality movies. The versions on iPhone, iPad, and Macs are consistent and intuitive. Pre-installed and completely free on Macs, the user experience is facilitated by an intuitive interface, as well as free access to templates, filters, audio tracks, time effects, titles, post-production sound enhancement, and much more. When complete, share your video creation via email, to your iTunes Library, YouTube, or Vimeo. 
Pros:
Free
Easy-to-use
Simple drag and drop feature
HD resolution
Cons:
Lacks good animation features
Takes up a lot of hard drive space
Slow to load
Doesn't sync well with shared folders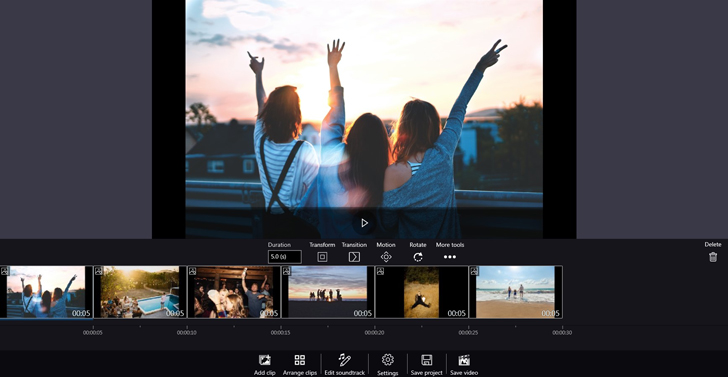 Windows Movie Maker is a well-known built-in tool for video and audio editing. If you ever owned a Windows PC, you definitely used it at least once. However, this free built-in video-editing software for PC is no longer actually supported by Microsoft, meaning it is not available for download and there will be no further upgrades. Photos replaces it from Windows 10 onwards. However, if you already have the software installed on your Windows PC, you can definitely use it for basic video editing tasks. Import your MP4 video files or clips and make the most of its easy-to-use interface and features such as transitions, stabilization, audio effects, visual effects, and titles. One negative aspect worth noting is that it only saves in Windows Media Video (.wmv) format, limiting sharing capabilities. So if you're planning to watch your video on multiple devices, make sure to convert your movie into a wide-supported video format, such as MP4.
Pros:
Free
User-friendly
Fast, simple editing tools
Cons:
Discontinued
Frequent crashes
Not many features
Only saves in Windows Media Video format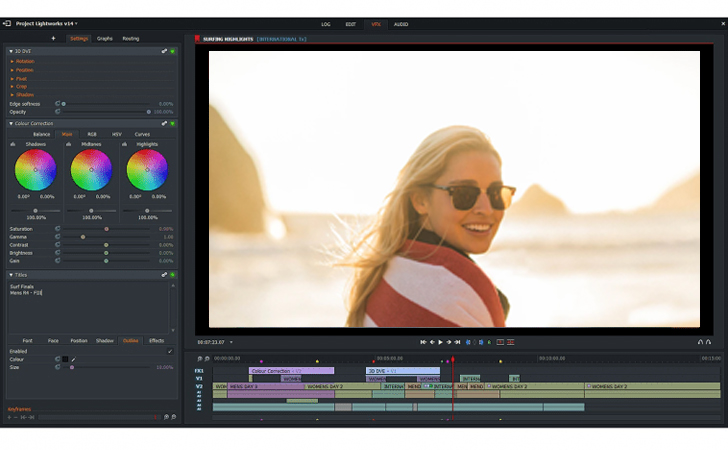 This is a free non-linear video editing software that offers multiple precision editing features and tools. With an easy-to-navigate interface, it is perfect for beginners and more experienced filmmakers too. Create videos of professional quality using the built-in advanced real-time effects such as color correction, blurs, masks, audio manipulation, a multi-track, narrative-based timeline, and more. Choose from preset effects or create custom ones. It is compatible with all operating systems and all file formats are supported, making sharing hassle-free. Sign up to access this MP4 editor for free if you are an amateur or seeking to perform quick, simple edits. The full paid version (Lightworks Pro) offers access to a more extensive library of creative tools and more options for output. 
Pros:
Free version available for home use
Impressive library of editing tools (audio and visual)
Real-time effects
HD quality
Cons:
Interface not very user-friendly
Steep learning curve
Occasional audio syncing issues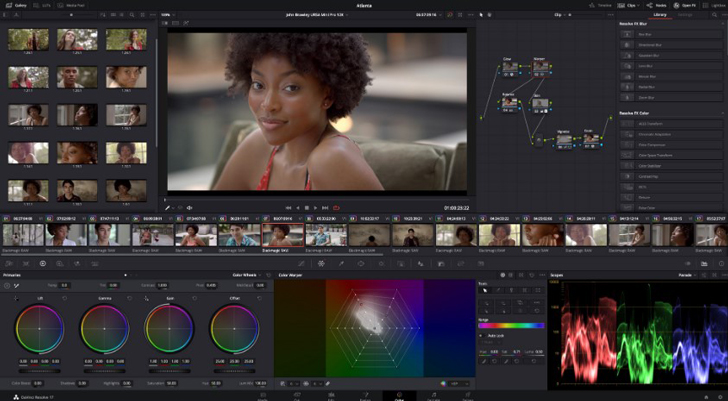 This is a powerful non-linear MP4 video editor that offers an extensive collection of advanced editing tools. A free version is available and provides most of the feature functionalities, with only a few limitations. Additionally, you have the option of paying for a lifetime license to Resolve Studio for full access. The sleek, modern interface offers streamlined access to an impressive range of features, including video editing, motion graphics, audio, sound effects, animated text, color correction and grading, transitions, fades, and more. It may take some time to discover and correctly handle the more advanced tools, but it is well worth the effort. You can produce professional quality videos without having to worry about watermarks too.
Pros:
Free version
Superior color grading ability
Output video without watermark
Offers comprehensive range of advanced editing tools
Cons:
Steep learning curve
Significant system requirements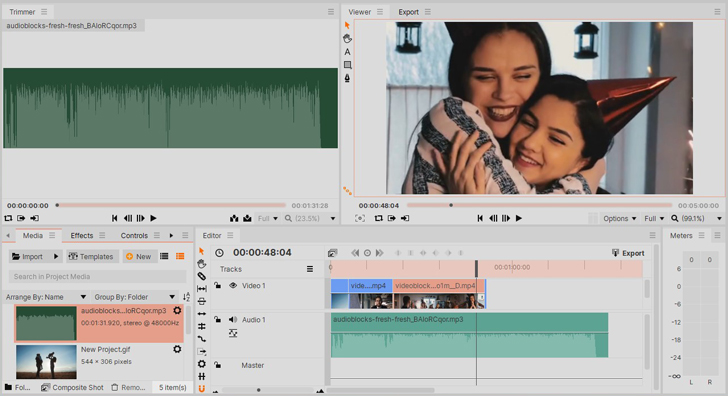 This user-friendly multi-platform MP4 video editing software with a customizable interface offers professional quality results free of charge. There is an option to 'Pay what you want' and there are occasionally effects that require 'Add-on' payment. But you can create impressive projects without these add-ons, with free access to a rich suite of editing tools and special features. It may take some time to understand all the functionalities available, but once you have fully mastered the software, you will efficiently produce high-quality clips and movies. This comprehensive video-editing and visual effects solution includes key features such as advanced editing tools, audio and video layering and masking, 3D animation models, keying for green-screen effects, lighting effects, portal designs, footage distortions, blaster impacts, advanced tracking, and color correction. Compatible with both Mac and Windows, it is regularly being updated and offers excellent technical and user experience support in the form of online tutorials. 
Pros:
Free
Flexible interface
Full editing suite
Easy upload to social media
Professional quality rendering
Good technical support
Cons:
Steep learning curve
Some effects/tools require payment
Limited export options for the free version
FAQ
Can I edit MP4 for free?
Yes, you definitely can. Based on our research, the 3 best free MP4 editor software options for editing MP4 videos free-of-charge are as follows:
Avidemux (quick, effective editing of MP4)

Lightworks (cross-platform precision editing, good free version available)

Hitfilm Express (cross-platform, full editing suite)
How do I edit MP4 online?
If you are looking for an option that won't take up any space in your computer system, there is an excellent online MP4 video editing tool from Movavi, called Fastreel. This amazingly simple online MP4 editing tool allows you create a video in minutes with just a few clicks. Access it directly in your browser with an internet connection and conveniently work online. A free version is available, but it means having a watermark on all videos you create. Easily edit your MP4 video, add templates, effects, audio, titles and then export it to share it to YouTube.
Below you will find a short step-by-step guide on how to use it effectively for your projects. 
Go to the Fastreel website.

Visit Fastreel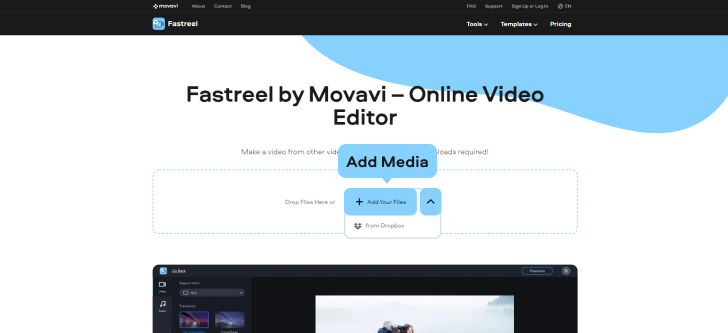 Drag and drop videos or click to upload your files from your

computer or Dropbox. As well as MP4, other formats are supported: JPEG,

PNG, MOV, MKV, AVI, WMV, GIF (up to 500 MB.)

Follow the steps to make your video: choose the transitions, and the image

display duration, import your audio or browse the built-in library.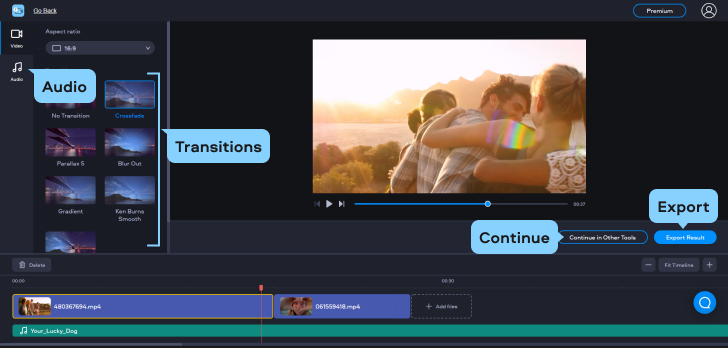 Click

Continue

when you are happy with your video.

Select the export option to download your video.
And that's all there is to quickly and conveniently creating high-quality MP4 video and clips online for free!
When choosing the best MP4 editing software, you will need to weigh up your project needs, skills, budget, time constraints, and ultimate expectations. Do you just want to perform basic editing or is access to a full editing suite essential? Does your MP4 editor need to be free, or can you spare some budget? Are you a beginner, amateur, or professional? Take all this into account before selecting your editing software. Our 7 best free MP4 editors in 2021 summary should make your decision easier. You may still need to test drive a few of the video editing tools available before finding the perfect fit.