Timelapse videos can look impressive and give you the option to use a DSLR or even your camera on your phone to make an interesting video. In this guide, we're exploring both the best free timelapse software options and more professional, paid options. You can capture images and create a timelapse video using a variety of methods and hardware, even on your phone.
Editor's favorites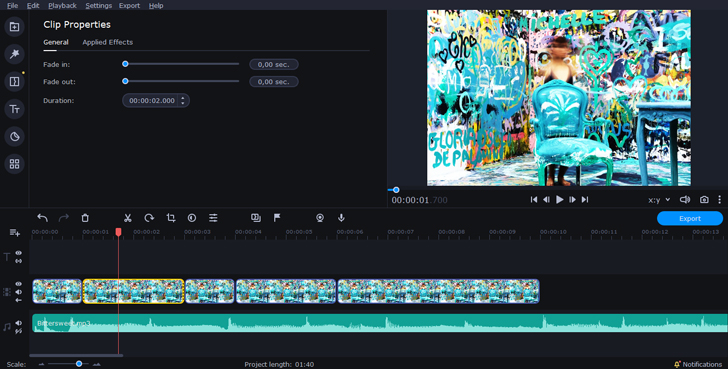 OS: macOS or Windows
Price: Free 7-day trial, full version for $59.95
Movavi Video Editor Plus has a free trial so you can check if it is suitable for your needs. For making a high definition and impressive time-lapse video, this program gives you a lot of other impressive features. There's a built-in media pack, loads of effects and transitions, and the simple processing of videos from 1080 to 4K.
Pros:
Lots of powerful and professional editing tools
Video resolution up to 4K
Inbuilt media packs
Cons:
Timelapse from images is not automated like some other options
How to make a time-lapse video in Movavi Video Editor Plus
Step 1. Install Movavi Video Editor Plus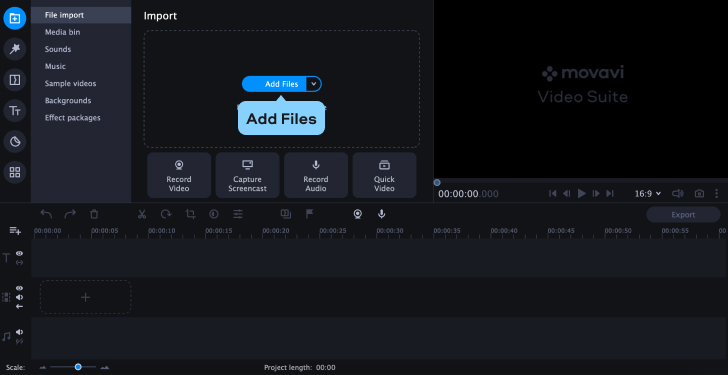 Download the installation file and follow the instructions to complete the installation.
Step 2. Add your footage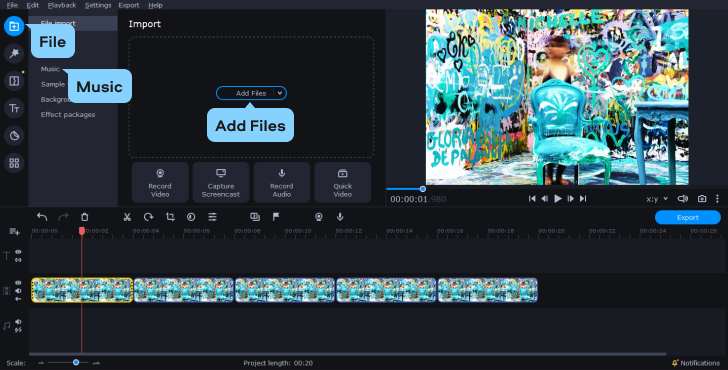 It is time to add your photos. Click on Add Files and select a video if you want to make a time-lapse using a video effect. You can also import images.
Step 3. Create a video with the lapse effect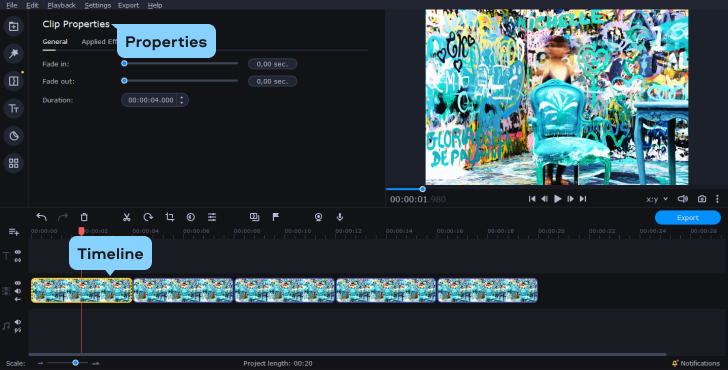 To create a time-lapse effect, double-click the clip on the Timeline. In the Properties window, you can drag the slider, which will make the speed quicker and give the impression of a time-lapse video.
To add music, on the File import tab, click Add Files and choose your song. There is a library of audio that you can use in Movavi.
Step 4. Export your video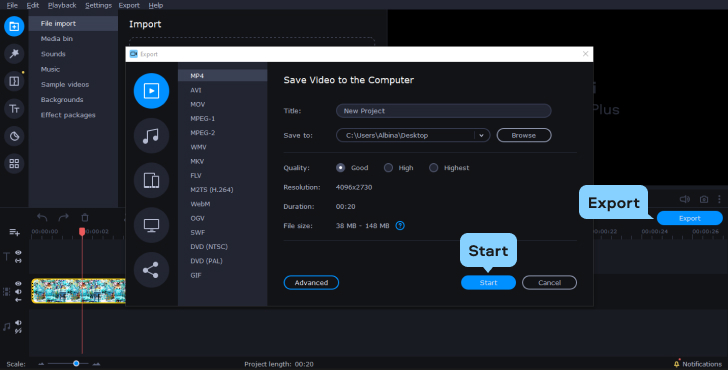 When ready, you can use the Export button. In the new window that opens, you can choose the movie quality (HD, SD, dimensions) and where you want to export the video to before you hit Export.
Desktop timelapse makers 
iMovie – Best for Mac users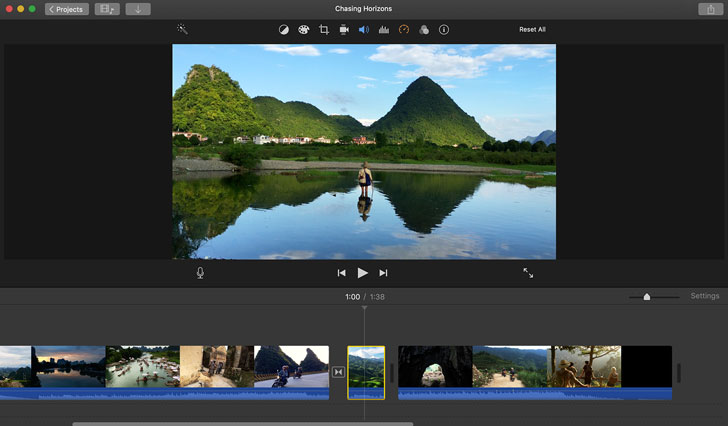 OS: macOS
License: Free
iMovie is available as a free download for Apple devices. In fact, it may already be installed on your device when you buy it. It's a professional piece of software allowing you to create exceptional videos in the easiest way possible. Although Microsoft users can't use it, it is accessible on all Apple devices as well as on Mac computers.
You can merge images to create a quality HD video, showcasing your photography and easily editing and merging the footage you have taken in a drag-and-drop format.
Pros:
Free, professional software for Apple users
HD rendering up to 4K quality
Combine video footage with images
Cons:
Not available for Windows users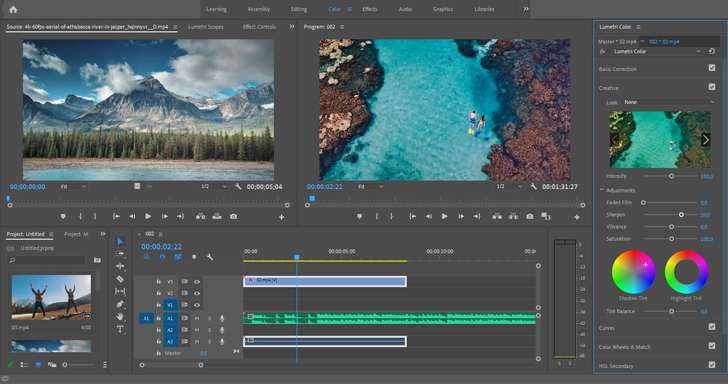 OS: macOS or Windows 
License: Free trial, $20.99/mo as part of Adobe® plan
Adobe® Premiere® Pro is known as one of the industry-standard pieces of software for editing videos. If you want a really professional video and you are making a project where only the best will do, Premiere® Pro is an option, especially as you can pay monthly for access. However, it isn't the easiest to use and may take up a lot of space on your PC. Other software can do a good job too, without you having to use so much of your hard drive.
Pros:
Industry-standard and powerful editing suite
Excellent Adobe® support and lots of learning materials
Cons:
You need to pay monthly or yearly for Creative Cloud
Can be demanding on your computer system
LRTimelapse – Best for working with still images

OS: macOS or Windows
License: Free evaluation license, $118
LRTimelapse runs from Lightroom®, another piece of software made by Adobe®. You can use Lightroom® Classic or the older Lightroom® 6. You can use this on either Mac or Windows computers, and the free evaluation license means you can download and see if you like it before buying. It has the option to take still photography and easily import quality images before turning them into a time-lapse video. The software also has some powerful filters.
Pros:
Easy to use with still images.
Comes with some impressive filters for photo editing.
Cons:
No options for other video editing or inbuilt live recording
Needs Adobe® software to run
Panolapse – Best for adding motion in post-production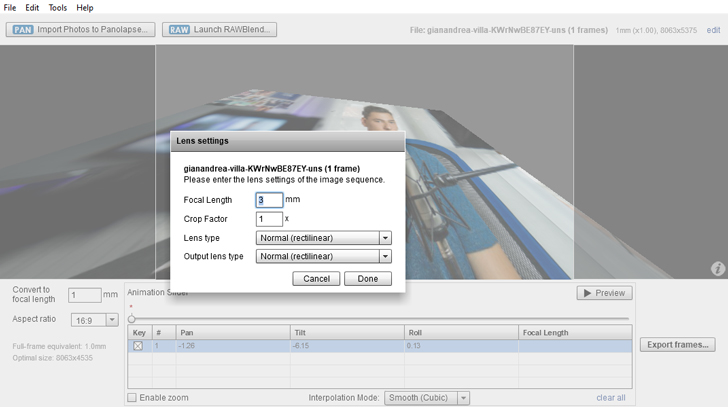 OS: macOS and Windows
License: Free trial, $99.95 for full version
Panolapse allows you to add motion to your time-lapse videos. You can turn still videos into a video that rotates in real time and turns into a more interesting end result. The "pano" comes from the rotating feature that inserts movement. This has an option for use with Windows 10, 7, and Mac OS X. It's relatively straightforward to use on either operating system. Batch rendering makes light work of lots of high-quality photos, which can quickly be rendered into an excellent video.
Pros:
Easy to add motion in post-production
Cons:
No editing of video footage or using timelapse "effects
Limited editing options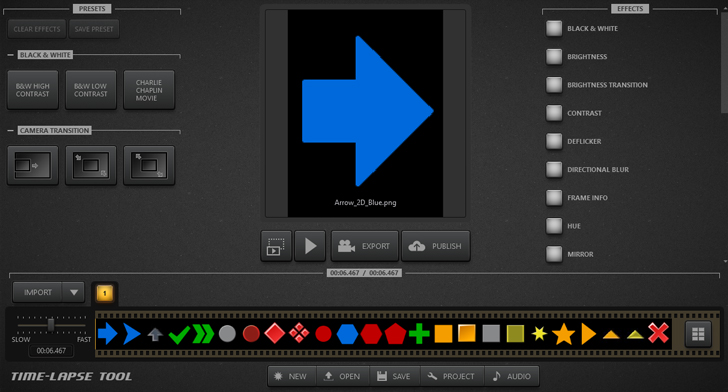 OS: Windows
License: Free trial, $99 for full version
Time-Lapse Tool has some good features for beginners and makes it easy to get started turning still images taken on your camera or phone into an HD video. It allows the simple merging of JPEG and other image formats, but keep in mind the fact that this app does not support RAW images, which is the maximum possible data, best for making full-quality 4K videos.
The software works on Windows and is easy to make videos, GIFs, and even upload directly to YouTube from the software.
Pros:
Easy interface for beginners
Affordable license
Cons:
No video editing options
Only works on Windows
ChronoLapse – Best free timelapse software using a webcam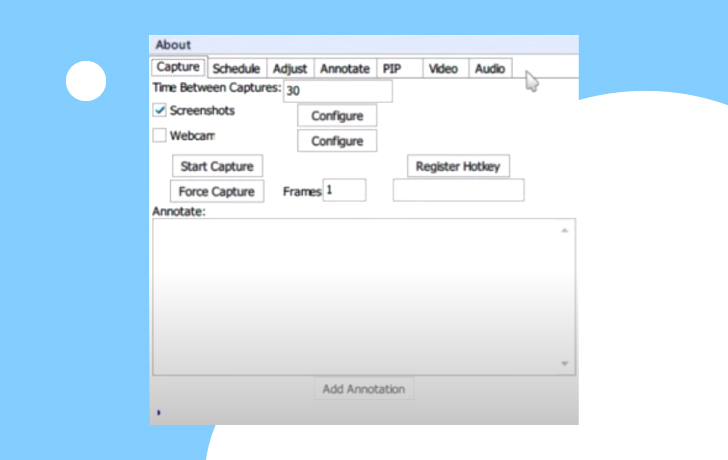 OS: Windows
License: Free
This is proof that even freeware recorders can do a really great job. To get time-lapse video software for free and know it is going to be reliable is rare. Chronolapse is simple to use and professional for merging videos into timelapse, and it can take the feed from your webcam or an external camera you have connected to the computer. It is set to take a still image at predetermined intervals live from your webcam or a DSLR camera, and then it will turn them into a timelapse video. As freeware goes, this is impressive, but it doesn't allow you to take images on your travels and then compile them at a later date.
Pros:
Free software
Easy to use with excellent instructions available from the makers
Cons:
Only works taking a live recording on your computer
No Mac version
Free timelapse makers that work online
Veed.io – Best for creating timelapse videos in your browser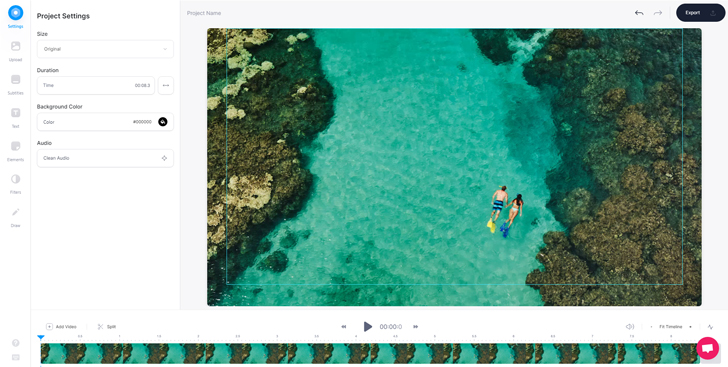 OS: macOS or Windows
License: Free plan, paid plan from $18 monthly
Veed.io is a web-based way of speeding up and slowing down video footage as well as creating stylish timelapse videos. You can start with either a video or a selection of images and end up with a smooth and high-quality timelapse, all without ever having to download any software to your computer. The simple tools also allow you to add text, effects, and music to the video. There's a free plan, but to make use of this you need to be willing to limit your quality to 720p (the standard plan is 1080p). You will also get a watermark and a limit on file size.
Pros:
Never have to download software to your computer
Very simple interface to get to grips with
Cons:
The free version adds watermarks and limits video quality
Kapwing – Best to use on tablets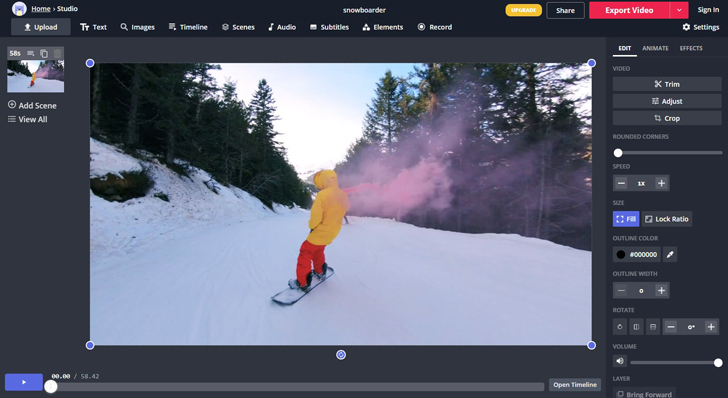 OS: macOS or Windows (free plan available)
Price: From $17 a month + free plan
Kapwing is another freeware solution that lets you speed up and slow down video online. It can be used in your browser and is even compatible with tablets. There are options to import AVI, MP4, MOV, and 3PG and turn these files into a timelapse video. 
Because this isn't the only function of Kapwing, it takes a little longer in the editing process than it would with some alternatives. Unfortunately, the free software does have some limits, but it doesn't watermark the pictures. Instead, it limits the file size and some of the advanced functionality.
Pros:
Simple to use in a browser and on tablets
Video creator accepts multiple file types
Cons:
File size is limited on the free plan
Timelapse creating apps for iPhones and Android phones
Framelapse – Best for creating 4K videos on Android devices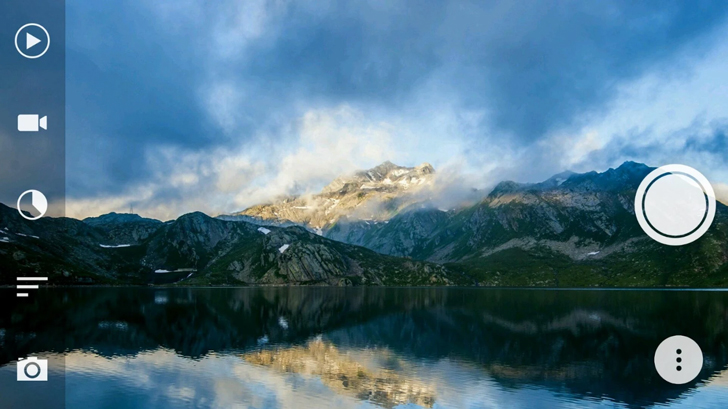 OS: Android
Price: Free
⬇️ 36,387 reviews and 1,000,000+ installs on Google Play
Framelapse gives Android users the option to use either their front-facing or standard camera to take the footage to be turned into a timelapse. You can set the interval at which you want the photos to be taken as well as some other options and create up to 4K videos from your phone or tablet.
Unfortunately, there are a few quirks, and if someone calls you while you are making your recording, it can stop the app altogether.
Pros:
Free version available for Android users
Create videos in up to 4K with effects
Cons:
Receiving a call may stop the app
Hard to get to grips with the interface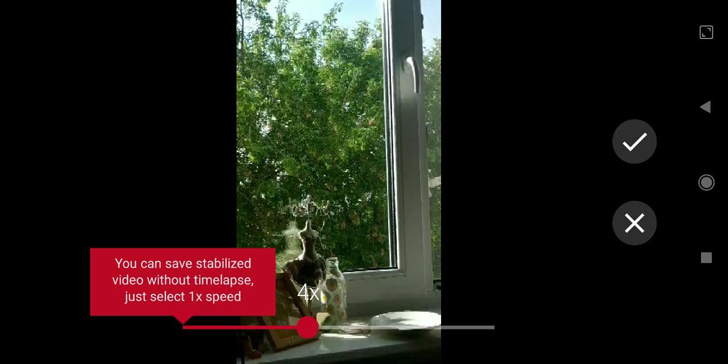 OS: Android
Price: Free
⬇️ 43,815 reviews  and 1,000,000+ installs on Google Play 
Microsoft Hyperlapse Mobile is totally free and effective software for your phone, which can use your camera to record a video or use any video that you have shot already. You can choose between 1 and 32 times the speed and save in 720 or 1080p formats. There is even an inbuilt stabilization mode. Once you create a time-lapse video, you also can keep the audio track from the original footage.
Pros:
Free
Includes stabilization modes
Cons:
No full 4K
Saving errors on some types of phones and tablets
iMotion – Best for iPhone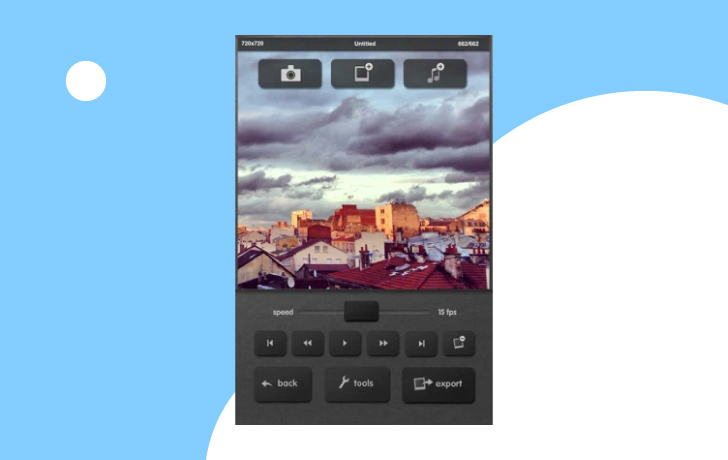 OS: iOS
Price: Free
⭐️ 963 ratings
iMotion is packed full of some really impressive features that you can make the most of on your iPhone or iPad. It allows UHD capture and exporting as well as four different capture modes. You can even shoot remotely from a device on your WiFi. Useful editing and exporting tools are great for sharing directly to your mail app or other iOS apps. You can also change the exposure and white balance of your images. 
Pros:
Simple to get to grips with
UHD capture and export
Cons:
When importing images, some can get blacked out
Only usable on iPad and iPhone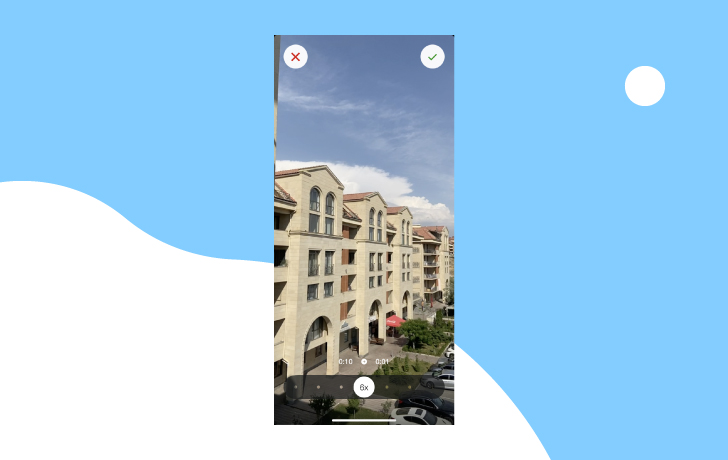 OS: iOS
Price: Free
⭐️ 2.1K ratings
Instagram has created its own timelapse software allowing people to enjoy the benefits of timelapse for their Insta videos. The app has truly impressive stabilization capabilities, and it is easy to create short, distilled video footage from longer videos or images taken at intervals. You don't have to sign up or have any account, and it is quick to get started. The automatic smoothing and the fact you can speed up footage up to 12x is a bonus for Apple users.
One downside to this software is the fact that once you've saved it, you can't go back into the project and edit things like the speed or effects, so you are stuck with the decisions you have made in the first edit.
Pros:
No account signup needed
Simple interface
Cons:
Designed for short, snappy videos for Instagram, not longer projects
No option to use an external camera like a DSLR
People are looking for the best free timelapse software for a variety of reasons. You might have videos that you want to add a timelapse-style effect to, or you might have lots of still images taken that you want to turn into a timelapse video by merging them together. Whether you want to use some simple software on your phone, such as iMotion, or you're looking for professional software like Movavi Video Editor Plus, there are options for anyone to create a sleek-looking video.