Even in the age of cloud storage and affordable hard drive space, big video files can be inconvenient to use. Whether it comes down to storage, sending to an email account, or burning to DVD, having the best free compression software can ensure that you trim those file sizes fast without having to worry about losing video quality. Read on to explore some of the top best free video compressor options.
Editor's pick
| | | | |
| --- | --- | --- | --- |
| App | OS | Rating | Link |
| Movavi Video Converter | Mac or Windows | 5/5, best fast conversion | Download |
| Наndbrake | Mac, Windows, Linux | 4.5/5, best for Linux users | Learn more |
| Any Video Converter | Mac or Windows | 4/5, best for HEVC conversion | Learn more |
| Fastreel | Mac, Windows, Linux | 4.8/5, fastest browser compression  | Go to Fastreel |
| Zamzar | Mac, Windows, Linux | 4.5/5, free converting  | Learn more |
Best MP4 video compressors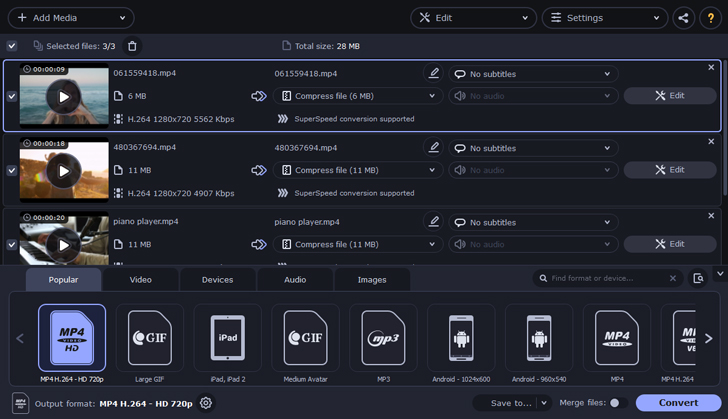 OS: Windows, macOS
Movavi Video Converter boasts incredibly fast conversion speeds. As well as recognizing a huge number of file types, there are some basic video editing functions within the video converter. You can trim videos to size, and even merge multiple videos together as scenes, and make a longer video. This is great for storage, or converting so that the video works on other devices.
Key features:
✅ Super fast conversion
✅ Compress any video style without losing quality
✅ Basic editing and subtitles
Pros:
Easy to use
Compatible with a Windows or Mac
Free trial to check out the software for yourself
Наndbrake – Best for Linux users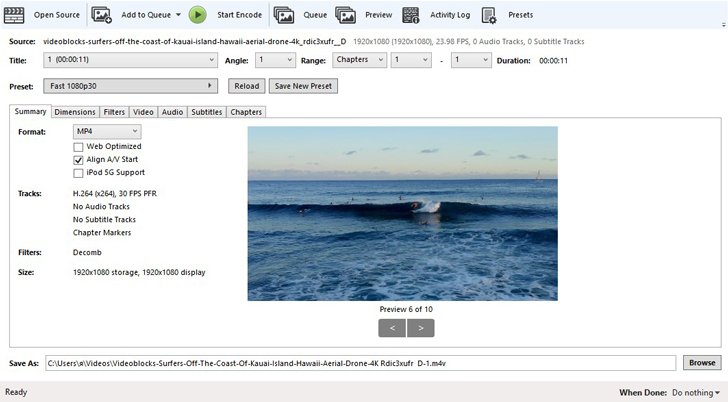 OS: Windows, macOS, Linux
Handbrake is video compressor freeware, so it is open-source software that can be a good option for a number of different operating systems. It's pretty basic so you can't expect a lot of editing functionality, but it does the job, even if you are using Linux, which is far from the most popular operating system. Some Linux users find it hard to get adequate software altogether. This freeware also has loads of different options and presets for different devices and conversions without losing quality.
Key features:
✅ Suitable for all operating systems
✅ Multiple video encoders, including H.264
Pros:
Totally free and open source
Lots of presets for different file types
Simple to use
Cons:
Limited editing functionality
Not much support
Could be quicker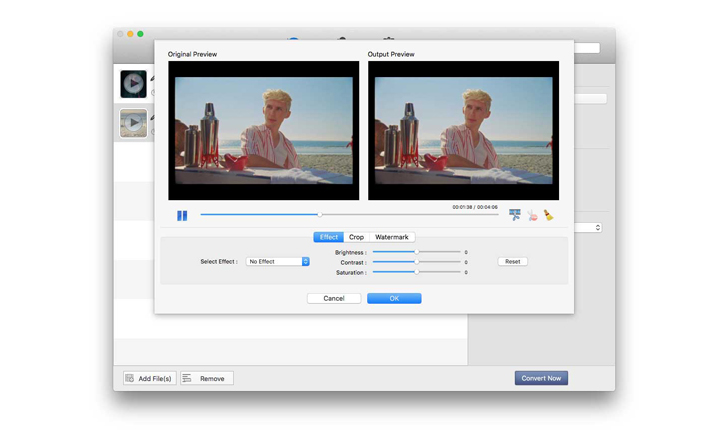 OS: Windows, macOS
Any Video Converter can be used for free if you are only looking for the basic functionality, but if you want more advanced features, you need to pay for the software. It is great for people who need to burn DVDs, even in high-definition formats. You can also enjoy some basic editing and merging features.
Key features:
✅ Highest quality HEVC/H.265 video encoding
✅ Convert a video to audio
Pros:
Recognizes a lot of different file types
Easy-to-use software
Some features on the free version
Cons:
Some DVD conversion is behind the "Ultimate" paywall
Screen recording only available with premium
Freemake – Best for super simple controls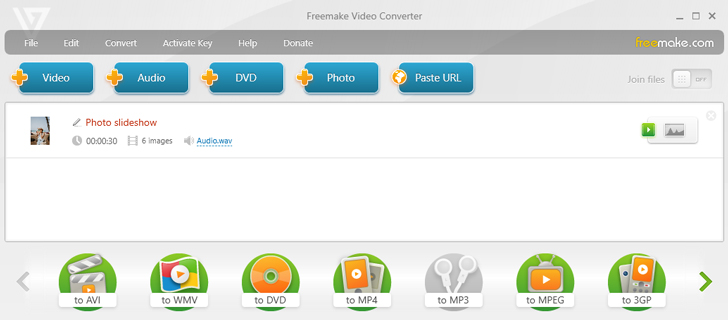 OS: Windows
Freemake is one of the most popular free programs that lets you rip video from YouTube but also grabs videos from DVDs, and converts different file types on your hard drive. It recognizes over 500 different types of video and audio files. This may be the best free video compressor for Windows 10 and 8, unfortunately, it doesn't work on Mac. 
Key features:
✅ Over 500 different file types to convert
✅ Presets for a number of devices
Pros:
Super simple presets for a number of devices
Totally free
"Maximum of three clicks" to make any conversion
Cons:
Some users have issues with videos not converting when queued
No Mac or Linux version
FFmpeg – Best for adding plugins and libraries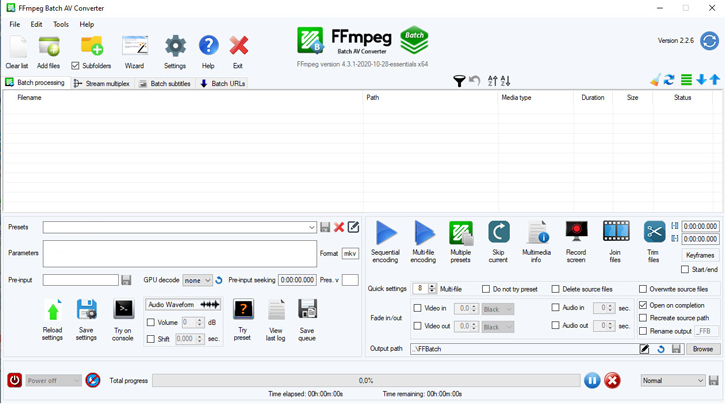 OS: Windows, macOS, Linux
FFmpeg is incredibly flexible software. It is a command line tool, meaning that to use the software, you need to input small lines of code and execute commands. The software allows you to "decode, encode, transcode, mux, demux, stream, filter and play," but only if you know roughly what you are doing with some code commands. It also has additional libraries and plugins you can download and use.
Key features:
✅ Command line tool allowing you to execute code conversions
✅ Encodes and decodes in a variety of different file formats
✅ Developers can access the source code
Pros:
Fast and efficient software
Allows encoding and decoding
Cons:
Not easy to use for beginners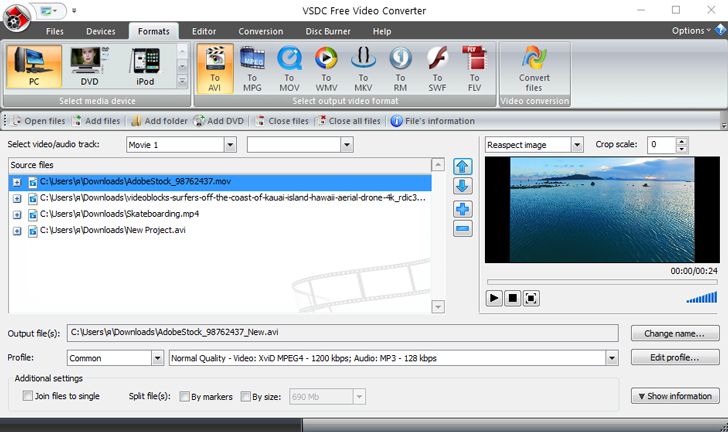 OS: Windows
VSDC Free Video Converter feels a little dated, but if you just want something that can perform basic conversions and some extra features like splitting and merging files, the VSDC Free Video Converter could be a good option. It has simple presets for converting to AVI and some other basic file formats.
Key features:
✅ Supports files including DVD, AVI, QuickTime Video (MOV, QT, MP4, and M4V), MPEG, WMV, FLV
✅ HD-quality options
Pros:
Lightweight and simple-to-use for Windows
Free
Cons:
Available only for a PC, no Mac option
Software feels dated
Not as fast as many other converters
Videoproc – Best for DVD conversion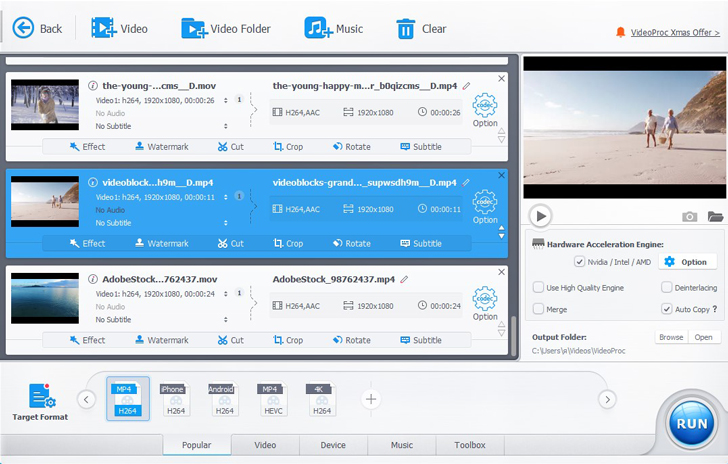 OS: Windows or Mac
The Videoproc software seems to have a real focus on ripping from physical media. You can easily grab files from DVDs and CDs and rip them in a variety of different file formats. It works on both Mac and Windows, and as well as ripping from discs, you can convert videos to video files or audio to audio. The software gives you settings on bitrate, frame rate, resolution, and more, so you can control every aspect of the conversion as you go along.
Key features:
✅ Convert from DVDs
✅ Easy to convert audio and video files
✅ Supports lossless codecs
Pros:
Works easily on Mac or Windows
Simple MP4 video compression directly from DVDs
Free tool to convert videos
Cons:
Not the best user interface and layout
Editing functions are very basic
Best free online video compressors
Fastreel – Best for browser-based size reduction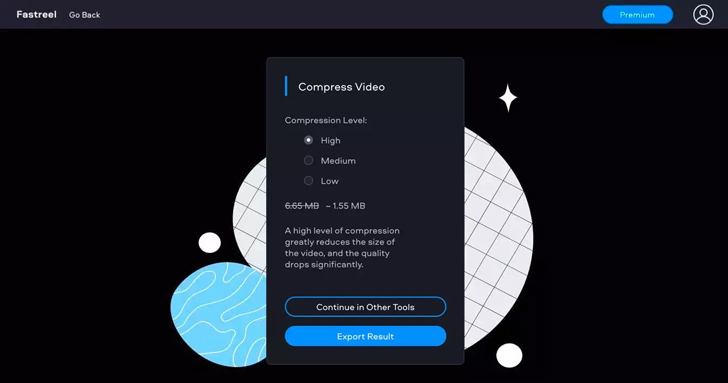 Fastreel is a powerful browser-based compressor, which is easy to get to grips with. With drag-and-drop functionality you can put the clip you want to convert inside and edit and export in a few clicks. It recognizes loads of file types and allows you to set the compression level and even the size. It's totally secure and incredibly simple, even for beginners. The free export option does watermark your videos.
Key features:
✅ Exceptional file compression to shrink your videos
✅ Drag-and-drop functionality
✅ Multiple compression options
Pros:
No download required
Much smaller file sizes for storage and sharing
Cons:
Videos are watermarked in the free version
Acethinker – Best for simple edits before converting

Acethinker is another free piece of browser-based software. You can really easily start to convert with no download or install needed. The compression is powerful, and the tool is relatively fast, but there are some downsides, including the fact you get watermarked videos, and the file size is limited.
Key features:
✅ Codec and bitrate options
✅ Supports more than 100 video and audio formats
✅ Browser-based and works on Windows or Mac
Pros:
Free to use
Includes basic editing functions
Cons:
Software prompts you to download a launcher for your files
File size limitations
Zamzar – Best for free converting and compressing

Zamzar recognizes a wide range of different file types. Whether you want MP4 video compression or to convert a rare video file into an MP3, Zamzar can do the job. It works in your browser and while it is free of charge to use the basic features, you need to sign up to remove some of the daily limits on uploads and downloads.
Key features:
✅ Recognizes a huge number of file types and formats
✅ Works on any OS
✅ Secure and reliable
Pros:
Simple to use
Convert file types or just compress a file to be much smaller
Cons:
Daily upload and download limits
No editing functionality or option to merge videos
There is a variety of different options available if you're looking for free software to compress or even convert videos, from MP4s to WMV files. Some of the tools on this list work perfectly well in your browser, while others need to be downloaded and installed, but the list of the best free video compression software has something for each operating system and for your individual needs.
FAQ
How do I compress a video file on my computer easily?
One of the easiest ways to compress or convert a file on PC is to use Movavi Video Converter. There are a couple of ways to convert. The easiest steps are:
Click the Add Media button and then Add Video in the upper left corner of the program interface. Choose the video you want to convert and click Open.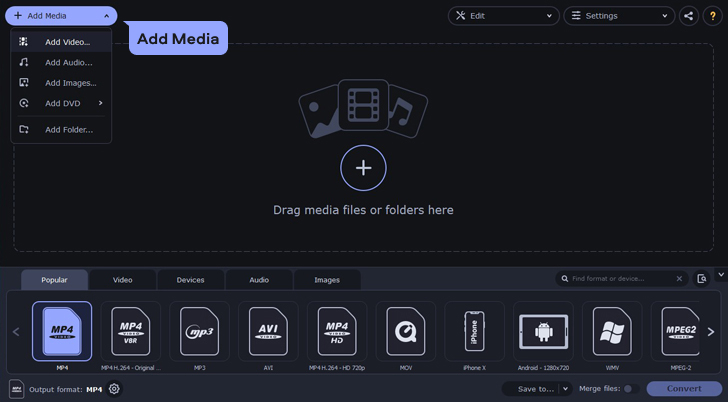 Choose the output format for your video from presets.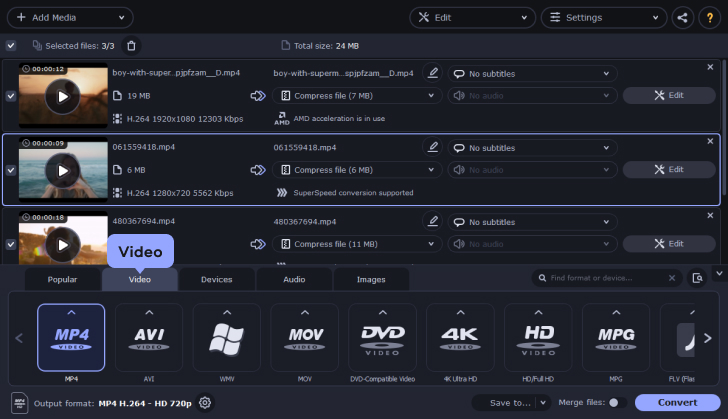 Next, define the compression rate for your video. To do this, click on the file size in the output information. A new dialog box gives you options on file size and bitrate. You can click Convert Sample if you want to see a short clip of what the file will look like.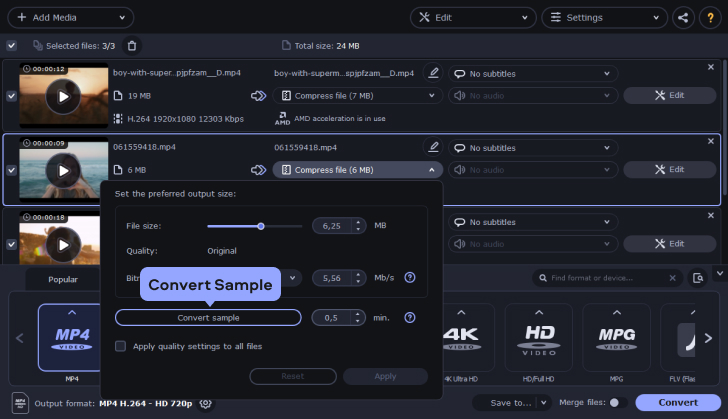 Start the conversion process. Choose the output folder for the compressed videos by clicking the Save to button at the bottom of the timeline. Press the Convert button to start the compression process. Videos are saved in the "Movavi" folder by default.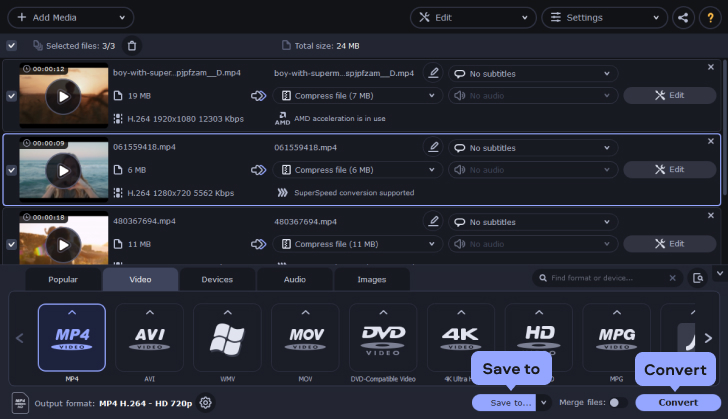 Which is the best free video converter?
There are a lot of handy video converters available, here are some of the best ones:
Fastreel

Handbrake

VSDC Video Converter