When it comes to editing a video, it might be hard to know where to start.  There are dozens of different apps to use and not all of them may fit all your needs. Before investing in a costly professional program, it's worth trying some free options. Find the best free video editing software with no watermark for your Windows 7, 8, 10, or Mac computer with our guide.
Top picks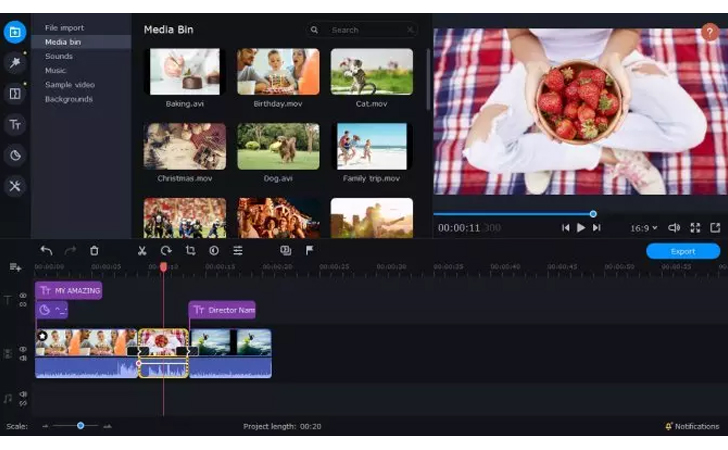 OS: Windows, macOS
It can be hard to find video editors with no watermark that are 100% free and offer all the features you need, so you may want to find a paid alternative in order to get the extra features and functions required for advanced editing. Movavi Video Editor Plus gives you a lot more editing options than many free equivalents, including titles, filters, transitions, chroma-key effects, and more.
Key features:
✅ A variety of editing tools: trimming, stabilization, and more
✅ A lot of video effects, including Chroma key and slow motion
✅ Many titles, filters, and transitions
✅ Ready-made intros for your videos
✅ Voiceover
Pros:
Ideal for advanced editing
Lots of filters and special effects
Extremely user-friendly
Cons:
The free trial is only 7 days
Top Free Video Editors with No Watermark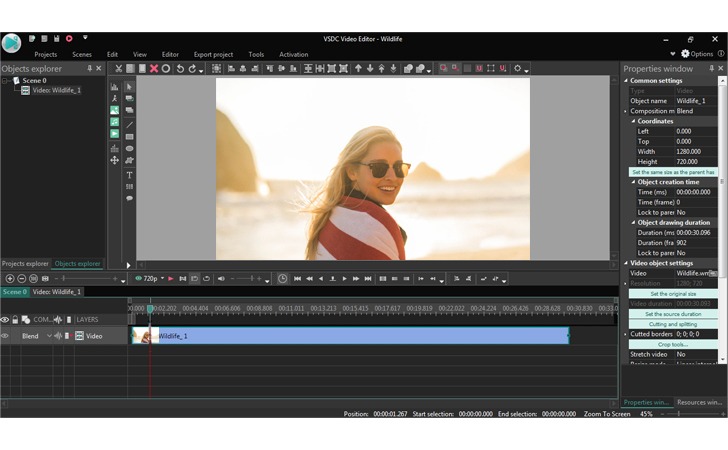 OS: Windows
This free video editing software for Windows 10 with no watermark is designed for creating and editing videos. The program has a simple and intuitive interface that allows you to create videos with ease.  This top editor for PC supports video and audio files recorded on drones, smartphones, cameras, and can be used for all common video editing tasks necessary for producing good quality, high-definition video. There is no demo or no trial needed to access the full version of this software.
Key features:
✅ Provides five advanced categories of visual and audio effects like color correction, object transformation, object filter, transition effects, and special effects
✅ Provides subpixel features for smooth animation, rotation, and transformation
✅ Allows masking to hide, blur, or highlight
✅ Ability to track movement of objects in a video
✅ Provide easy to social media networks like Facebook, Vimeo, YouTube, Instagram, and Twitter.
Pros:
Great for conversions
Try for free before buying
Easy to use for beginners
Cons:
The free version has limited functionality
Best for: editing and converting videos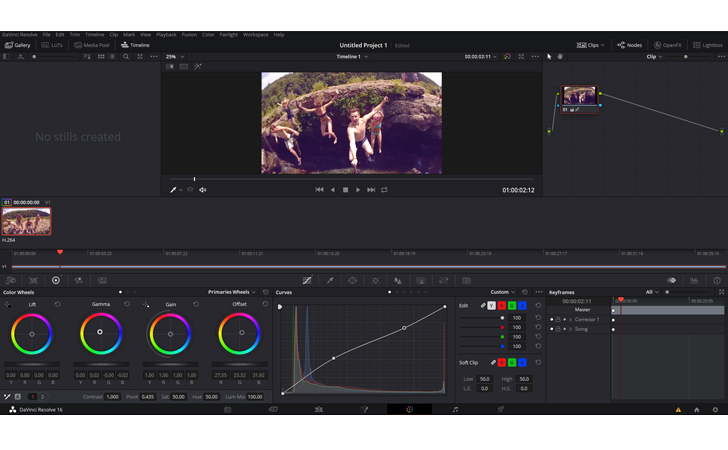 OS: Windows, Mac, Linux
This software believes to be the world's fastest and most advanced professional nonlinear editing software.  The free download without watermark comes with new editing features like on-screen annotations and good quality playback to help you craft the perfect story. It is easy and simple to use for beginners, but for more in-depth and advanced editing tools it requires a $299 upgrade to get access to all the studio features.
Key features:
✅ Allows to add subtitles and closed captioning
✅ Offers the option to see audio waveforms and video clips at the same time
✅ Allows multiple timelines to be open to make quicker edits
✅ Provides advanced features like motion graphics, speed effects, and color correction
✅ Allows to add filters, like blurs, lens flares, and film grain (with upgrade)
✅ Supports video from multiple cameras
Pros:
Perfect for professionals
Trusted by Hollywood professionals
Countless options and features
Best for: professional editing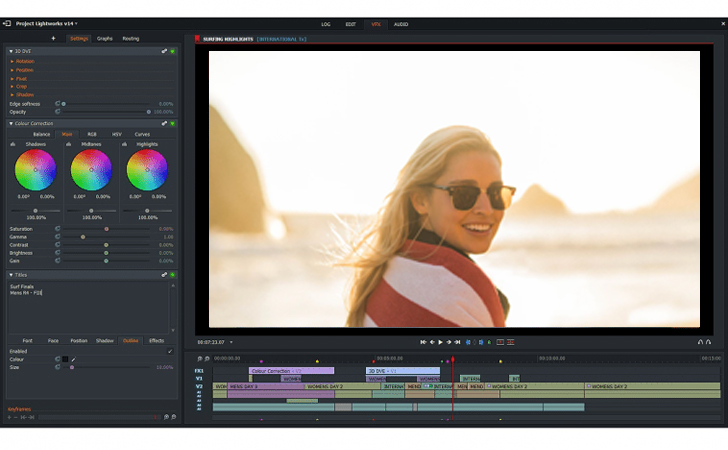 OS: Windows, Mac, Linux
If you're interested in making your own movies on a budget, Lightworks is a useful free professional video-editing software with no watermark you can try out. Used in major Hollywood movies like Pulp Fiction and The Wolf of Wall Street, this editor is highly advanced, fully customizable, and fitted out with dozens and dozens of different features. The free version is great for crafting clips to share online via social media, with exporting to YouTube made very easy, while the paid version gives you even more options to bring your projects to life.
Key features:
✅ Simple and easy timeline editing and trimming
✅ Auto-detect and rotation for mobile device footage
✅ Supports a variety of file formats and frame rates
✅ Ready-to-use audio and video effects
✅ Access to royalty-free audio and video content
✅ Exports video for YouTube/Vimeo, SD/HD, up to 4K
Pros:
Trusted by professional film studios
Easy-to-understand user interface
Lots of features and effects
Cons:
The free version has limitations
Best for: film editing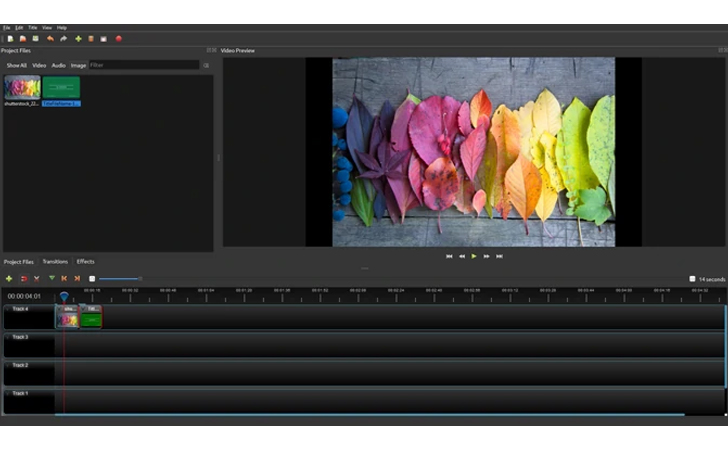 OS: Windows, macOS, Linux
This free professional video editing software no watermark is an award-winning and open-source video editor. It's totally free to use for Mac and for Windows. This program was designed to be simple and easy to use for beginners.  It is best for 3D animated titles, audio mixing and editing, frame accuracy, and more.  There is no demo or no trial needed to access the full version of this software.
Key features:
✅ Provides a selection of video and audio effects, like brightness adjustment and visual audio files
✅ Allows you to quickly trim and slice video
✅ Provides animation and key frame features, like slides and fades
✅ Provides advanced features like 3D animation, slow motion, and time effects
Pros:
Works for laptop, PC, and other devices too
Over 70 language options to suit users from around the world
Totally free and open source
Plenty of effects and editing options
Best for: professional video editing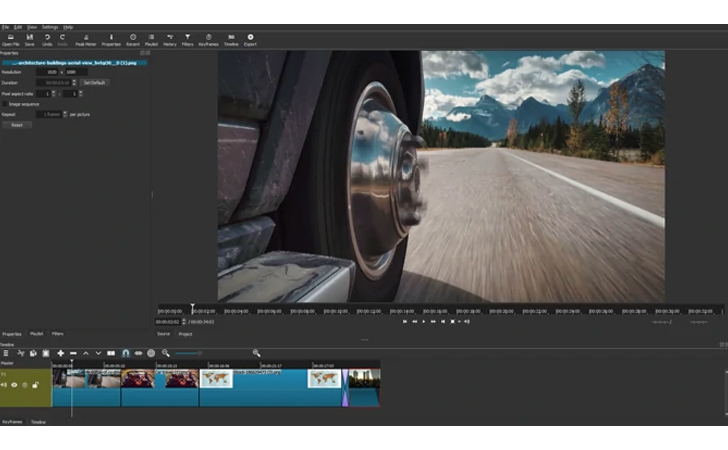 OS: Windows, Mac, Linux
Shotcut is an easy-to-use, free download, open-source video editor that runs on Mac, Windows, and Linux devices without taking up too much space or system resources. There's no trial or demo with this editor; you get the whole thing for free, for life, and it offers simple video management and a range of accessible editing features, giving it a lot of appeal for beginners.
Key features:
✅ Supports the latest audio and video formats
✅ Allows multi-format timeline capabilities to mix and match resolutions and frame rates
✅ Provides dozens of audio and video filters with effects like a tone generator and color wheels for color correction and grading
✅ Allows 3-point editing with effects like unlimited undo and redo for playlist edits
✅ Provides advanced interface with multiple panels, job queue and supports drag-and-drop of assets
Pros:
Works on all major platforms
Very simple and straightforward
Open source and regularly updated
4K capture for very good quality clips
Cons:
Doesn't have as many editing features and effects as other apps
Best for: editing on the go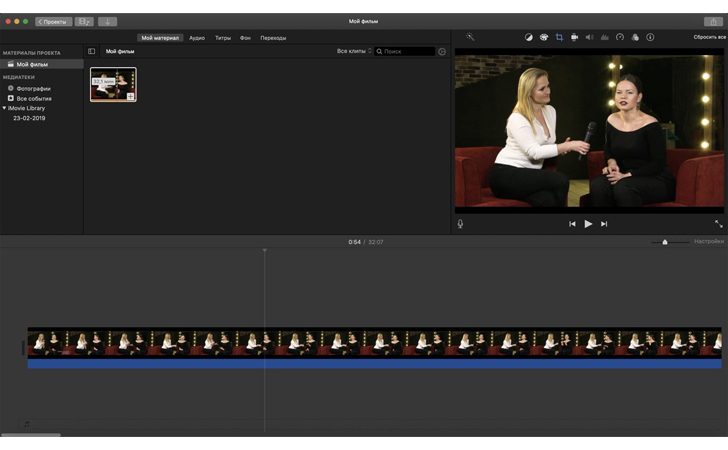 OS: Mac
Mac users already have a built-in app that is well-suited for simple video editing: iMovie. iMovie allows you to trim, merge, adjust, and enhance your clips to create 4K films, trailers, elegant home movies, and more. You can also use this app for editing videos for YouTube. It supports editing on other Apple devices like iPhones and iPads.
Key features: 
✅ Provides video effects like stabilizing shaky videos, changing the speed, and creating cutaways
✅ Provides advanced features like green screen effects and picture-in-picture
✅ Allows the manipulation and enhancement of audio like reducing background noise and boosting audio levels
✅ Allows importing and exporting from other Apple software
✅ Provides templates to create movie trailers
Pros:
Free to use with no demo or trial
Great for beginners
Lots of fun effects and filters to try out
Easy to use across all Apple devices
Cons:
Won't work for users of non-Apple platforms
Best for: Mac users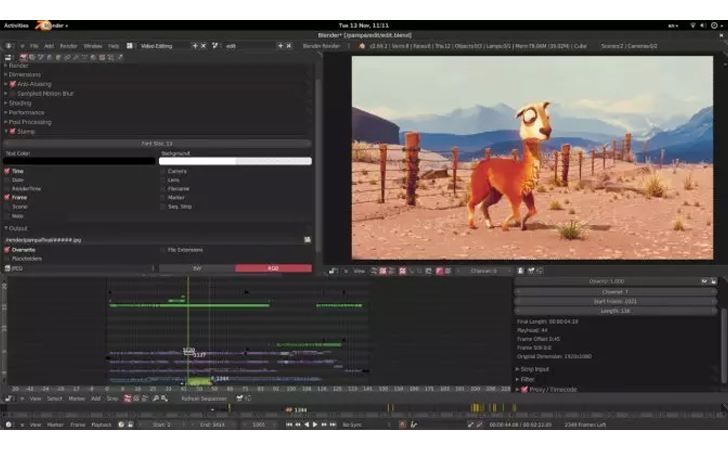 OS: Windows, Mac, Linux
Blender is a totally free and open-source 3D computer graphics creation suite. This free video editor with no watermark was designed to use for any purpose, forever like creating animated films, 3D printed models, and more. It supports the entirety of the 3D like modeling, animation, and motion tracking, video editing. It also supports 2D animation. There is no demo or no trial needed to access the full version of this software.
Key features:
✅ Provides advanced design and modeling tools
✅ Provides stimulation feature to create effects like smoke with flames or even a falling building
✅ Allows you to draw in a 3D viewport
✅ Provide basic editing features like video cuts, splicing, and color grading
✅ Supports a wide range of import and export formats
Pros:
Very appealing for advanced users and animation enthusiasts
A highly versatile app with lots of different uses
High-end technology for top-quality videos
Fully customizable user interface lets users make adjustments to suit their needs
Cons:
Very advanced and not particularly beginner-friendly
Best for: animation and creative editing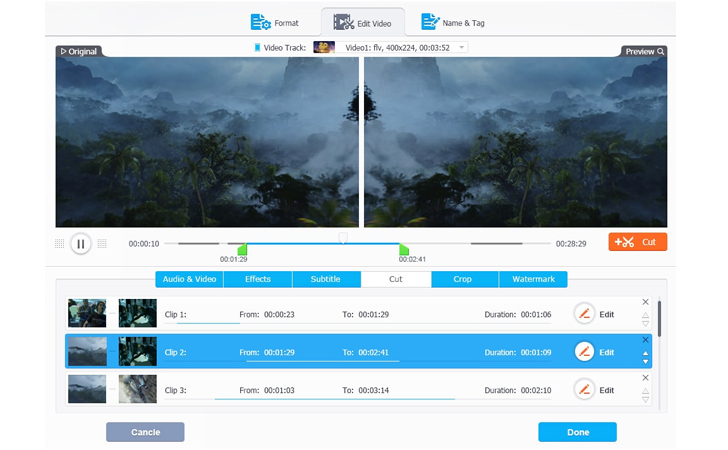 OS: Windows, macOS
If speed is what you want from your video editing and processing, VideoProc will appeal to you. This is a GPU-accelerated video editing app that is able to process videos remarkably quickly and allow the user to move from project to project with maximum speed and convenience. It works with up to 8K videos and supports a range of editing effects and features like cutting, cropping, merging, subtitles, filters, stabilization, and more, while also featuring a built-in screen recorder tool too.
Key features: 
✅ Simple editing feature like cutting, cropping, and merging
✅ Allows converting video and audio to another format or device
✅ Provides advanced features like stabilizing, noise reduction, and color ✅ correcting
✅ Allows the creation of GIF
✅ Creates M3U8 and MakeMKV files
Pros:
Lightning-fast video processing
Plenty of features to suit all users
Works with many different devices
Excellent for conversions
Cons:
Can be a little overwhelming for new users
Best for: super-fast editing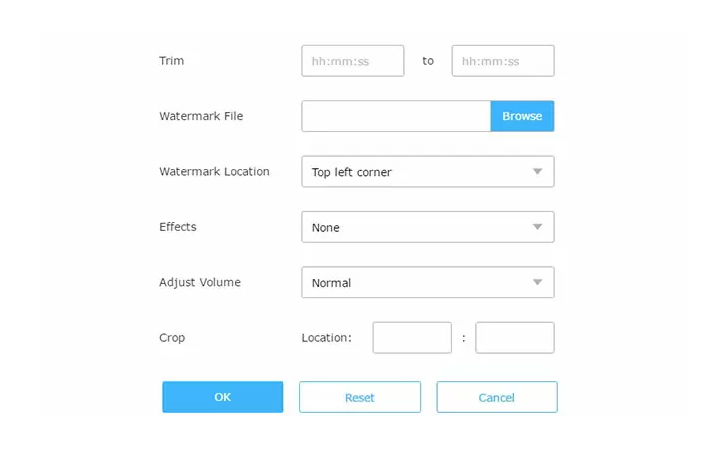 OS: Windows, Mac
Video Grabber is both an online video editor with no watermark and an app that you can download to your device, so it's up to you how you choose to use it, and there are no platform limitations to worry about. It's free and easy to use, and it works great for editing videos from popular sharing sites like YouTube, DailyMotion, Vimeo, Vevo, and Facebook. You can use Video Grabber to "grab" videos from any of these sites, and many more, and then make basic edits or adjustments before downloading in your preferred formats like MP4, FLV, 3GP, and WMV.
Key features: 
✅ Ability to convert audio and video between formats
✅ Provides editing suite with tools for professional screen recording
✅ Available online and also provides a desktop application
✅ Supports sites like YouTube, Vimeo, Dailymotion, etc.
✅ Provides a how-to guide for application usages
Pros:
Very beginner-friendly
Online editing on the fly with no downloads needed
Works with many different social media and video streaming sites
Cons:
Not as advanced as other editing suites
Best for: online video editing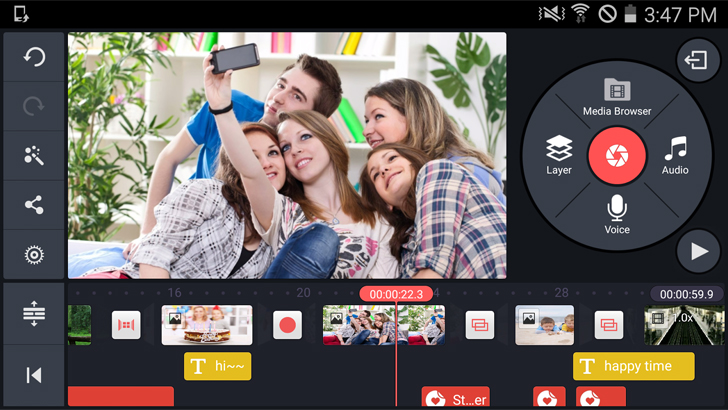 OS: Android, iOS, Windows
KineMaster is a lightweight and fun-to-use app that runs on phones, tablets, and other devices like Chromebooks too. It's designed with user-friendliness in mind, making it as easy as possible to edit videos without holding back any useful tools or features. You can cut, splice, and crop videos, as well as adding music, voiceovers, sound effects, special effects, stickers, subtitles, and more.
Key features:
✅ Provides eight different blending options allowing videos and images to overlay
✅ Provides advanced video effects with the reverse tool like making focal shifts, and in-camera transitions
✅ Provides advanced visual effects like a chroma key to composite two or more videos
✅ Supports editing with exporting 4k video projects at up to 60fps
✅ Allows playback of multiple videos up to nine at a time, depending on the device and video resolution
Pros:
Very easy to use with an attractive, engaging user interface
Works really well on portable devices for on-the-fly editing
Useful for social media fans and content creators
Cons:
Watermarks and ads when using the free version
Best for: video editing on phones and tablets
There are many different free video editing apps you can download and start using today. If you're not sure where to start, download a couple of the free video editors with no watermark from our list and test them out to see which one works best for you.