Finding the best professional video editing software is no piece of cake. So many things to consider, so many different options, and the prices… (ouch!). Don't worry, we're here to help. We have selected what we believe to be the 11 best professional video editors and you'll find described below all their pros and cons, so it's easier for you to choose the perfect program for you.
The 11 Best Professional Video Editors in 2020
Instead of reading tons of reviews, ranking lists, and ratings, just check out our top!
Top Picks
DaVinci Resolve
Avid Media Composer
Price

$59.95

$299

$49.99 per month

Free demo

✅

✅
✅
OS
macOS, Windows
macOS, Windows
macOS, Windows
For whom
hobbyists and advanced users
advanced users and independent filmmakers
professional filmmakers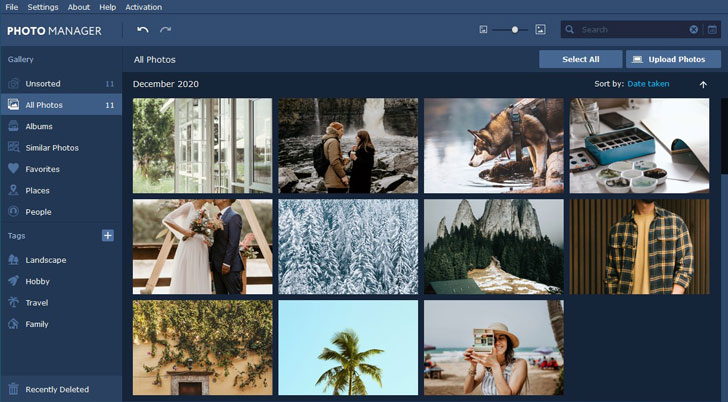 OS: macOS, Windows
Price: $59.95 + free demo version
Movavi Video Editor Plus is one of the best video editing programs for creating professional-looking movies. Also, the easiest one on this list. It's aimed at hobbyists, YouTubers, and video enthusiasts who want to take their editing skills to the next level and have more fun creating films.
This software from Movavi features great stabilization tools, tons of special effects, an easy chromakeying tool, and so much more. Movavi will help you to apply color correction, add a voiceover, or create a picture-in-picture effect in just a couple of clicks.
The best thing about this app is its intuitive interface – it makes video editing really easy. No need to watch tutorials on YouTube or slog through long manuals. With Movavi Video Editor Plus, anyone can start making cool movies with effects right away.  
Pros: 
➕ very intuitive interface
➕ easy-to-use
➕ suitable for beginners and advanced users
➕ great collection of effects
Cons:
➖ the demo version adds a watermark to every export
Who'd like it: beginning filmmakers who want to make better movies, vloggers
As you continue reading, you'll notice that Movavi Video Editor Plus is more affordable than most of the options on this list of professional editing software. Let us make this app even more attractive for you! As a reader of our blog, you can use a secret discount on this program: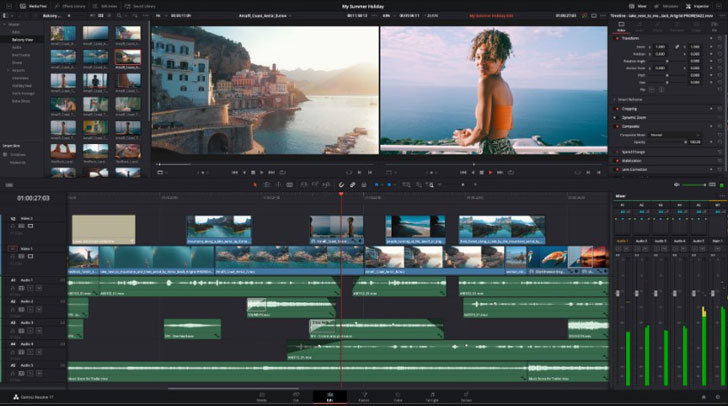 OS: macOS, Windows, Linux
Price: $299 for the pro version.
DaVinci Resolve is a non-linear video editing program for PC produced by the Blackmagic Design processing company. It's a professional-level program that many filmmakers use. In fact, DaVinci developers claim their product is the #1 post-production solution in Hollywood. This application is famous for its high-end post-production features – not only video editing but also color correction, audio production, and motion graphics.
DaVinci provides editors with HDR grading tools, 3D tools, collaborative workflow, and many more features – replace an entire studio with just one app! 
Okay, and now the best thing about DaVinci: it has a free basic version. Not a trial, not a kinda-free-app that adds a watermark on every video you save, but a good multi-featured and completely free version.
Pros:
➕ exceptional color grading tools
➕ has a free app for beginners and hobbyists
➕ collaborative workflow
➕ one-time fee
Cons:
➖ no direct import from cameras
➖ can sometimes slow your PC down
Who'd like it: professional filmmakers, as well as YouTubers and amateur video editors who want to upgrade their skills.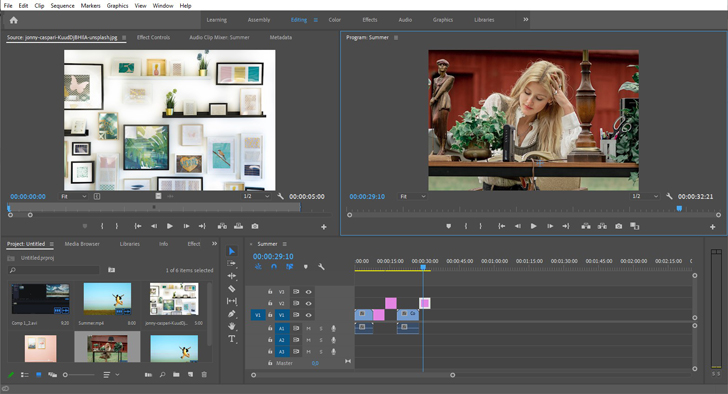 OS: macOS, Windows
Price: $20.99 per month or $239.88 per year (prepaid)
Another industry-leading digital video editing application is Adobe Premiere Pro. Not only does it feature all the advanced tools you might need to edit an amazing Hollywood blockbuster, but it also has a really simple layout. The interface is customizable and easy to use. Still, it can be a bit overwhelming for amateur video makers – not because of lack of organization, but the sheer range of professional tools.
Adobe Premiere Pro offers powerful color grading tools, 360-degree and Virtual Reality (VR) video support, excellent stabilization, multi-cam editing, and lots of other features. Of course, it doesn't come cheap. To get this software, you'll have to pay a monthly subscription fee. The good news is that, before committing, you can get a 7-day free trial.
Pros:
➕ support for VR and 360-degree video
➕ flexible interface
➕ lots of tutorials and interface hints
➕ royalty-free music for subscribers
Cons:
Who'd like it: professionals who don't mind the subscription model and relatively high price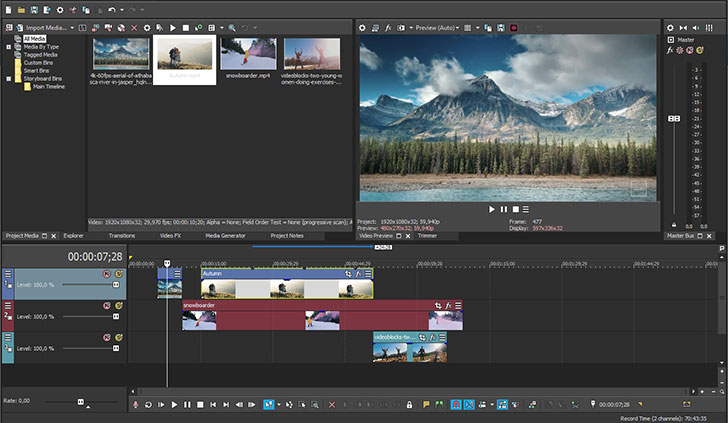 OS: Windows 
Price: $20.99 per month/$239.88 per year (prepaid)/$319 one-time purchase
Vegas Pro, formerly known as Sony Vegas, is one of the most fully-featured video editing programs on the market. This application is most popular among advanced video enthusiasts, YouTubers, and people who are on their way to professional video editing. Vegas Pro also has its fair share of professional users who use it to edit TV shows and movies, but it's not as popular as the abovementioned software from Blackmagic and Adobe.
This program features an intuitive interface. It has truly great color grading, stabilization, and video editing tools, including HDR color support, professional special effects, and an exceptional audio editor.
You can get this software with a one-time purchase, or take out a subscription. Either way, you get to try it for 30 days free first. 
Pros: 
➕ intuitive interface
➕ great built-in effects
➕ great selection of plugins – both paid and free
Cons:
➖ Adobe Premiere Pro offers more benefits for the same price (but with a more complex interface)
Who'd like it: YouTubers, video hobbyists, and other enthusiasts who want professional tools but aren't ready for heavyweights like Adobe Premiere or Final Cut (below).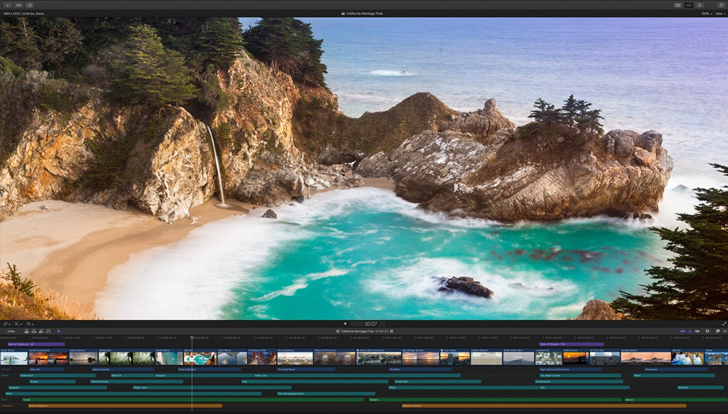 OS: macOS
Price: $299.99
Final Cut Pro X is professional video editing software from Apple. It is also widely used by professional filmmakers for films like No Country for Old Men (2011), The Girl with the Dragon Tattoo (2011), and The Social Network (2010).
Final Cut Pro X has support for 360-degree and multi-cam video editing, Ultra HD, HDR color grading, 3D animation, and professional effects. You can also add third-party plugins to extend the program's functionality even further. Final Cut Pro X provides users with excellent organizational tools to make teamwork as easy and productive as possible. 
Not surprisingly, the latest Final Cut Pro X is optimized for Macs and MacBooks – it supports Touch Bar and iPad Sidecar, which helps you focus on the task at hand and makes the editing experience truly exceptional. If you want to know more about this software, check out this article where we compared two video editors from Apple.
Final Cut Pro X costs $299.99, with no subscription options available. At a first glance, it may seem quite expensive. But you only have to pay for it once: all the further updates are included. In the long run, it will be cheaper than Adobe Premiere or DaVinci. – and don't forget about the 90-day trial period!
Pros:
➕ extremely powerful tools
➕ optimized for Apple hardware
➕ free updates
➕ effective workflow
Cons:
➖ Only works on Apple computers
Who'd like it: professional filmmakers who work on Macs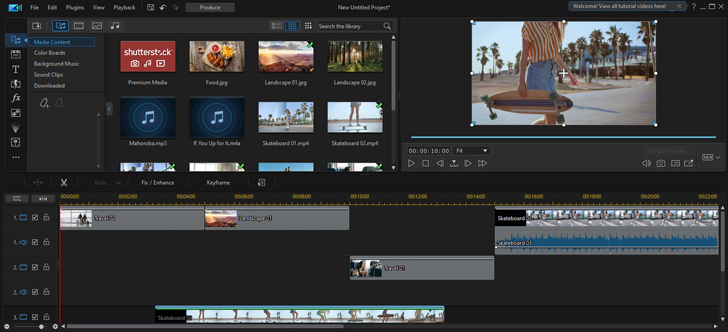 OS: macOS, Windows
Price: $19.99 per month/$69.99 per year + 30-day free trial
CyberLink PowerDirector is an affordable yet fast and powerful consumer-level video editor. It will help beginning filmmakers take their work to the next level and make their movies look more professional.
This application makes editing fun and easy, with many few-click editing features. For example, the Magic Movie Wizard literally does all the editing for you by putting the clips, pictures, and music you've chosen into one movie template and adding effects. It really does look like magic!
Aside from the cool semi-automatic tools, CyberLink has everything you need to create a professional-looking movie: multi-cam editing, 3D and 4K support, motion tracking, 360-degree editing, and much more.
Pros:
➕ "magic" video-making tools
➕ plugins available
➕ very fast
➕ adaptable interface 
Cons:
➖ adds a watermark during the trial period
Who'd like it: amateur video makers who are ready to move on from beginner level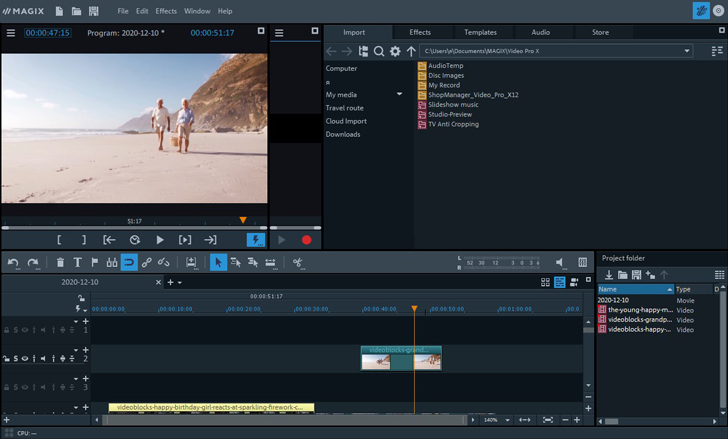 OS: Windows
Price: $399 one-time purchase + 30-day free trial
Video Pro X is the most powerful video editing program in the world of Magix software developer portfolio. Aside from the essential basic video editing tools, it supports advanced color grading, 3D movie making, 360-degree video editing, multi-cam editing, and much more. Video Pro X lets you edit 4K and 6K videos, has a great stabilization tool, as well as convenient sharing options. Also, the software has an in-built DVD burner – you never know when you might need it. 
The program interface is not the most user-friendly and organized, however. It will take a little time to get used to it – especially for those who are used to working in other programs. 
Pros:
➕ great audio editing
➕ good choice of built-in effects
➕ advanced color grading
Cons:
➖ complex interface
➖ may slow down on some computers
Who'd like it: semi-professionals and advanced hobbyists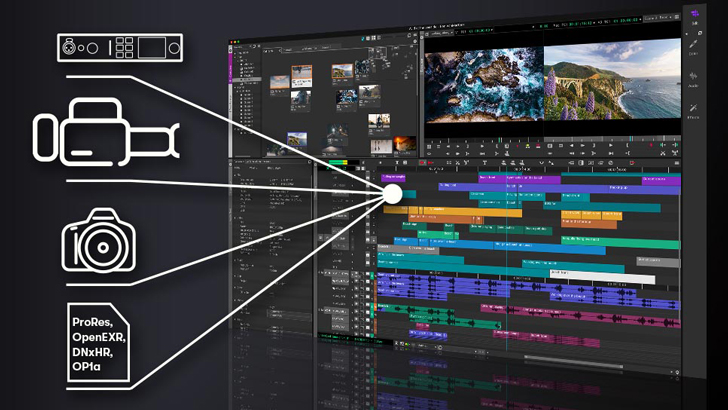 OS: macOS, Windows 
Price: Subscriptions start at $49.99 per month
This is the ultra-pro level. Avid's Media Composer is one of the most powerful video-editing applications on the market right now. It's a cross-platform software that's designed to make the lives of professional filmmakers easier. Really, it can do anything.
This software is packed with advanced tools like multi-cam editing, support for HDR, 3D editing, exceptional color correction, 8K editing… Literally, you'll find anything you might ever need to create a movie of the highest quality in this package. But that's not even the best thing about Media Composer. The developers clearly worked really hard to make it easy to use inside a distributed team – organizational and real-time collaboration tools are truly impressive.
Of course, all of that can't come with a beginner-friendly interface. It will take some time to get used to Media Composer and start appreciating all its features. Also, it's pretty expensive – even compared to Apple or Adobe software. But you can't really expect a program of this caliber to be cheap. The bottom line is that if you want to buy all the advanced tools in one app – get Media Composer. 
Pros:
➕ all-in-one video editing software for professionals 
➕ exceptional organizational tools
Cons:
➖ complex interface
Who'd like it: Professional filmmaking teams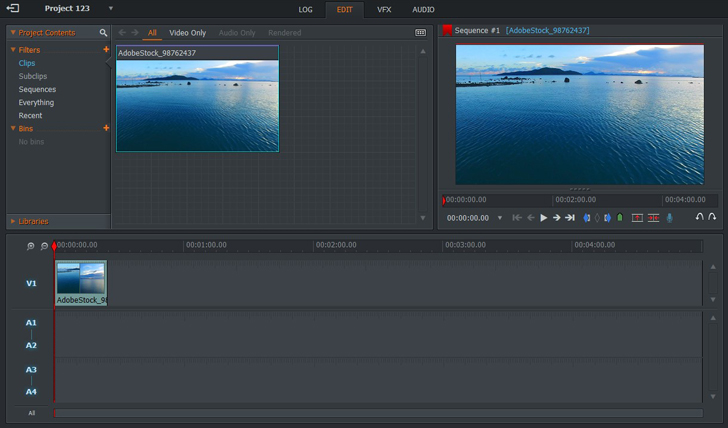 OS: macOS, Windows, Linux
Price: $24.99 per month/$174.99 per year
Lightworks is a fast, powerful, and flexible video editing program for advanced filmmakers. It offers multi-cam editing, 4K support, HDR, and all the other good things we look for in a professional video editor. It has a great collection of built-in effects, and you can add even more thanks to the plugin support.
Some people say that the interface is not very user-friendly, but we'd say that's a matter of taste. You can get used to Lightworks pretty easily. The only real flaw in this software is that it is missing some smart media organization features.  
Pros:
➕ one of the fastest program for amateurs
➕ works on any platform
Cons:
➖ lacks some organizational features
Who'd like it: professionals who don't like using "mainstream" software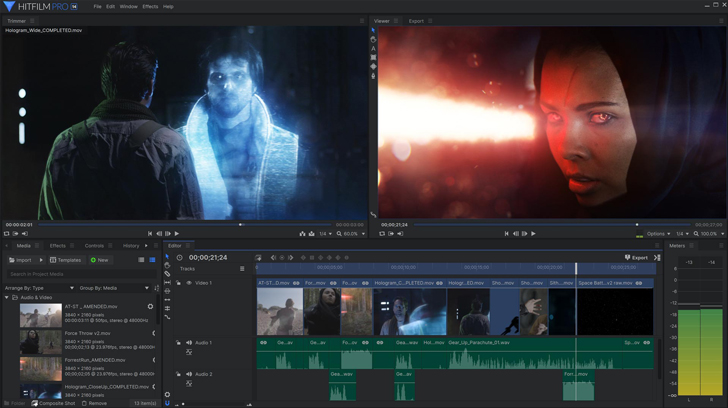 OS: macOS, Windows
Price: $349 one-time purchase (to run on 3 computers simultaneously) + no-time-limit demo version (which adds a watermark on every export)
This is another great non-mainstream professional post-production program. Aside from all the advanced video editing tools, like 360-degree video editing and HDR color grading, HitFilm Pro also supports importing and animation of 3D models and simulated 3D cameras. It all comes in a nice intuitive interface. 
HitFilm Pro is a great choice for professional or almost-professional filmmakers who are looking for a tool to boost their creativity. It's fast, lightweight, and packed with cool special effects. What more could you ask for? 
Pros:
➕ intuitive interface
➕ great collection of special effects
➕ 3D support
Cons:
➖ lack of organizational tools
Who'll like it: independent filmmakers, advanced video enthusiasts
OS: macOS, Windows, Linux
Price: free!
What if we told you that there is a completely free pro-level program for working with 3D animation? Yeah! Meet Blender, an open-source 3D creation suite that you can download any time – no fees apply. 
This freeware offers 3D modeling and sculpturing tools, 2D animation features, and a decent in-built video editor. So, if you want to make something beyond a regular movie, create a cartoon, mix live action with animation, or even a video game – Blender would probably be your best choice.
The only thing that might come as a disadvantage of this software is its not-so-user-friendly interface and lack of collaborative workflow. But, you know, we've mentioned that it's totally free, right? No subscriptions, no watermarks, no in-app purchases. And, by the way, it works on any operating system.
Pros:
➕ 3D and 2D animation
➕ basic editing tools
➕ tons of add-ons created by users
Cons:
➖ no advanced editing tools, like HDR color grading
➖ complex interface
Who'd like it: creative filmmakers who want to get into animation, beginning game creators
How to Choose the Best Video Editing Software for You
Take your skills into account. Just because the program is expensive and has a large variety of features doesn't make it perfect for you. Make sure you gain some experience in video editing before investing in a professional tool – and do it sensibly. It's not worth paying for the tools you're not going to use – even if they sound cool.
Make a list of the instruments you need. If you want to upgrade your color grading skills or try 360º video editing, make sure that the software meets your needs. If necessary, address your questions to the support service.
Never skip the free trial. The best way to make sure that the software is good enough for you is to try it for free. As you can see on our list, almost all programs provide at least a week of free use. Usually that's enough to try the software and understand if it has all the necessary features.
Have fun! No matter how good the software is, if you feel uncomfortable editing in it, you won't enjoy it. Odd layout, boring interface, inconvenient add-ons – each of these factors matters. If you didn't get to like one particular software solution, don't give up on editing – try another program instead!