Why keep all your holiday pictures and family albums on your phone, when you can easily compile them into a dynamic slideshow? It's a fun way of presenting your photo and video collections in the form of a video clip, and it's great for sharing on social media.
Thanks to app developers, we can now create content on our smartphones, which is super convenient if you're always on the go. And, as you have most likely figured out from the title of the article, we're here to help you explore the top software options available for Android-based phones.
Why not start with one of the handiest slideshow apps available, Movavi Clips? It's an easy-to-use slideshow maker that will help you transform ordinary pictures and videos into an extraordinary slideshow by adding features like transitions and background music. It is our top choice as the best slideshow app for anyone who's looking for a powerful tool with a simple, user-friendly interface.   
Download Movavi Clips App for Android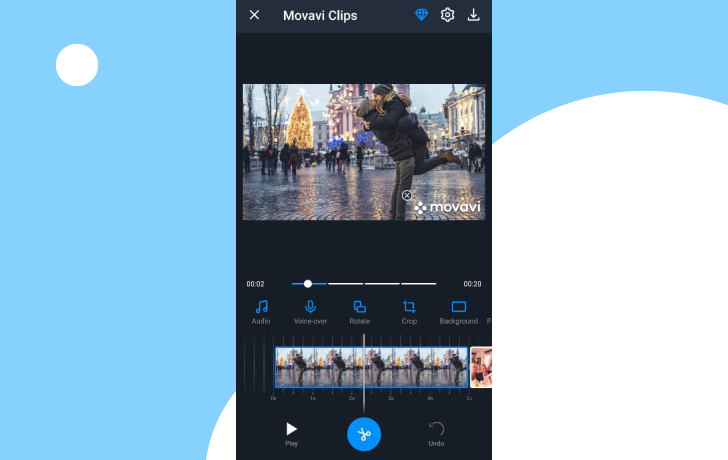 Certainly there are a number of alternatives available. Some are free, but offer a smaller range of features. Others may offer a wider selection of transitions and effects, but the interface might be trickier to master.
Here are highlights of the best 10 slideshow apps for Android in 2020.
Top Free Android Slideshow Apps
| | | | |
| --- | --- | --- | --- |
| Name | Supported Platforms | Price | Link |
| | Android | Free | |
| | Android | Free | |
| | Android, iOS | Free or $5.99/month | |
| | Android, iOS | Free or $6.99/month | |
| | Android | Free or $2.99 | |
Dayframe: Best for Photo Browsing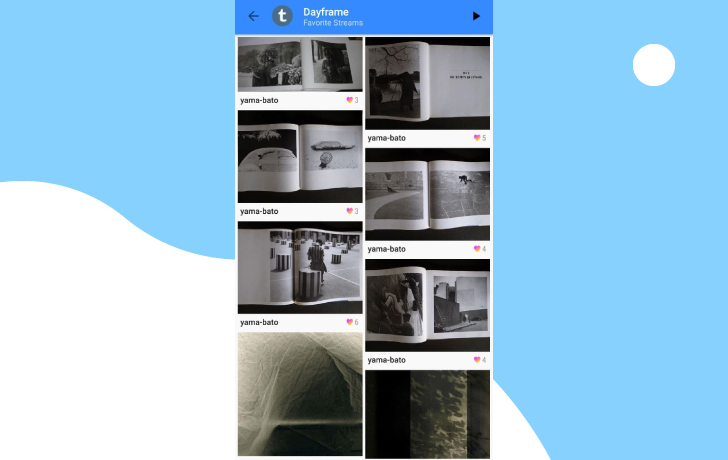 If you are familiar with HD Widgets, this may be a good choice for you. Dayframe has been designed by the same developers and puts a unique spin on HD Widgets. This Android slideshow app is designed for experienced editors and can be used for more than just photo slideshows – it's also good for photo browsing and screen saving.  The app enables you to pull pictures from different social media sites like Instagram and Facebook. One way this app stands out from others is its behind-the-scenes settings, which let you pull your own personal photos or choose from multiple categories. These pictures will populate a jpeg gallery of photos from others on your feed. It is free for Android users with no limit.
Price: Free
Compatibility: Android
Pros:
Can be used offline
Customize settings to run when you want them to
Cons:
Not easy for beginners
May deliver low picture quality
Pixgram: Best for Photo Slideshows with Music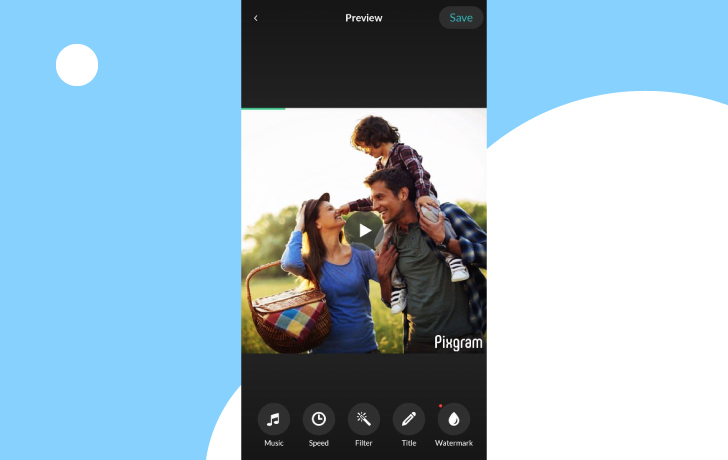 Pixgram claims to be best for customizing your own video and photo slideshows with music. When it comes to importing, you can mix your favorite videos and photos together. This slideshow app for Android is good for beginners, because it requires just three easy steps to use. The first step is to pick the video or images you want. The next step is to choose the filter effects and music. Finally, you create the slideshow and share it. This app is free to download, but has in-app purchases for $1.99 each.
Price: Free; in-app purchases are $1.99 each
Compatibility: Android and iOS
Pros:
Add your own favorite music
Different slideshow video sizes (1:1, 16:9 or 9:16)
Cons:
In-app purchases are $1.99 each
Supported by ads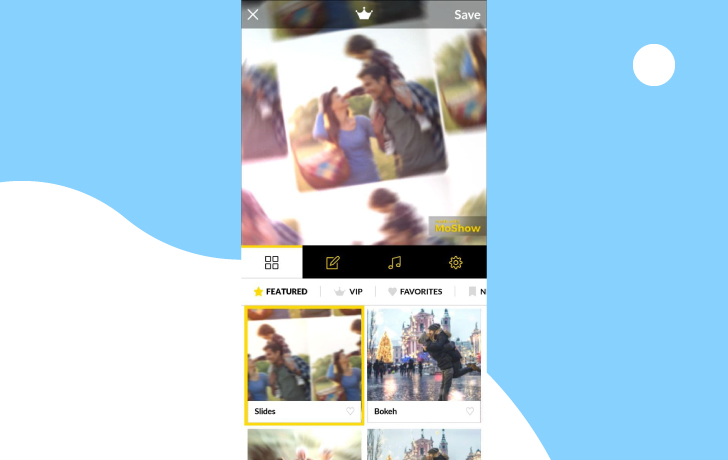 MoShow Slideshow Photo & Video is one of the best photo slideshow apps for Android. It was designed for people looking for a creative way to make an impact on social media. According to reviews, it's perfect for Instagram, because it automatically produces 30 second slideshows or 11 second Instagram stories. If you need longer durations, you'll need to upgrade to the VIP version. The app includes a variety of effects like glitch, ripple, and brush. The app has a free version, but it's limited and applies watermarks to the videos. In order to remove the watermarks, you'll need to upgrade to the MoShow VIP version, which costs $5.99 per month or $35.99 per year. The paid version has no ads.
Price: Free or $5.99/month
Compatibility: Android and iOS
Pros:
Good for GIF Fans
Can add text to slideshows
Cons:
Free version has limited functionality
One week free trial
VivaVideo: Best For Video Editing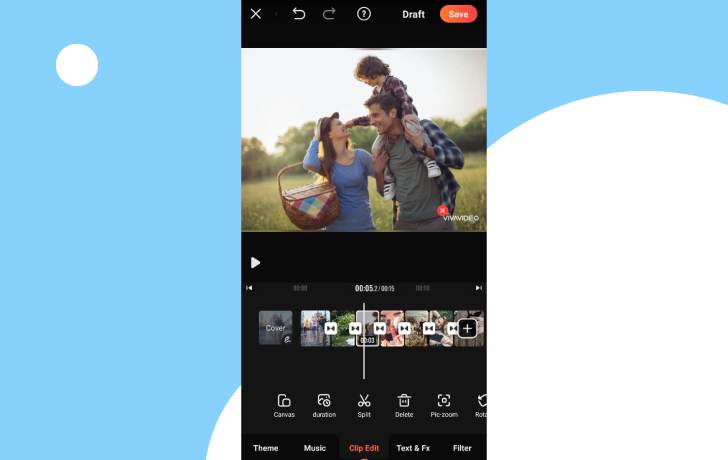 VivaVideo is one of the top applications for video editing, but it's still a great option as a slideshow creator. It's good for turning everyday photos into an exciting movie. It is free to use, but, for unlimited access to features, the app requires an upgrade to $6.99 a month. With that access, you will be able to apply on-point effects and esthetic filters, include stickers and text, add multi-music and multi-layer editing, and take advantage of features like green screen and key framing.
Price: Free or $6.99/month
Compatibility: Android
Pros:
Mini step-by-step tutorials
Also compatible with iOS
Cons:
Need to upgrade to remove large watermark
Slideshow must be less than five minutes in free version
Pic Flow: Best for HD Slideshows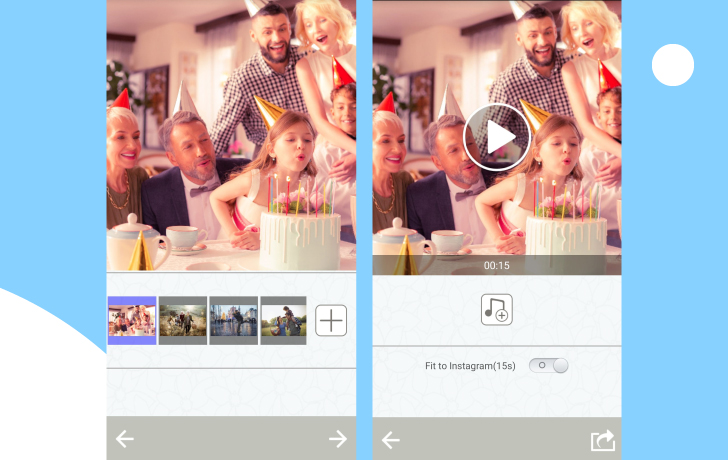 Pic Flow is one of the simplest apps for making slideshows. This Android slideshow app uses a drag and drop approach, which makes it perfect for beginners. In three easy steps, you can create an amazing slideshow. First, select photos from your album. Second, add a music track and set photo timing, and finally save and share. With this app, you'll be able to add music from your library as well as cool transitions. It even enables you to crop pictures if you need to change their size. The app can be used for free, but has limited functionality without the upgrade. To access the unlimited version, you'll need to make a one-time purchase of $2.99.
Price: Free or $2.99
Compatibility: Android
Pros:
Set timing for each photo
Save slideshow to camera roll
Cons:
Limited to 30 frames per second
Free version has limited functionality
SlidePlus: Best for Special Occasions/Themed Slideshows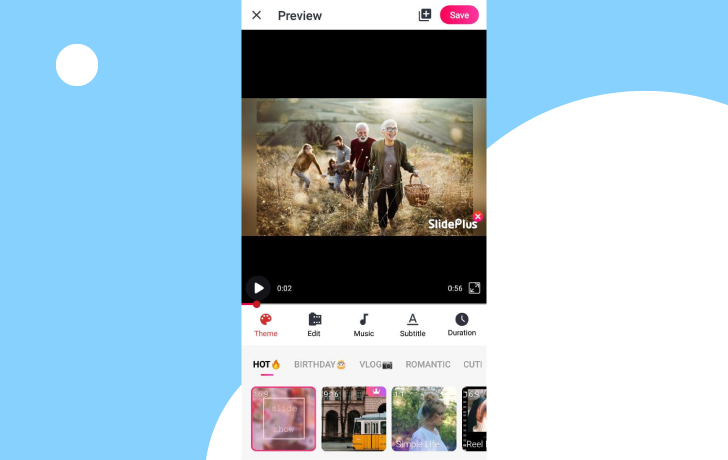 SlidePlus is one of the best photo and video slideshow makers with music. With this app, you don't need to be a master video editor to create amazing clips. The app has over 100 themes to choose from so you can create a slideshow for any occasion. You can also share your slideshows to your Instagram and Facebook feeds and share your video stories with friends.
Price: Free
Compatibility: Android
Pros:
Built-in background music library
Basic video editing tools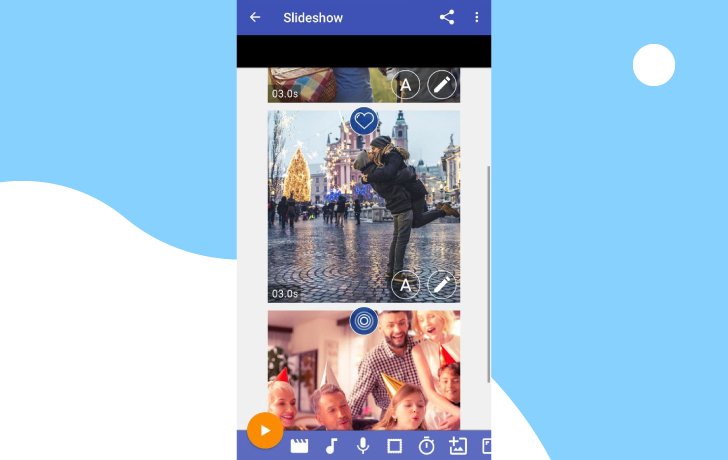 Scoompa Video claims to be the most user-friendly slideshow app on the market. This candidate for the best photo slideshow app for Android is fast and easy to use with many options to customize and personalize your slideshows. The app comes with a variety of video styles and animated video frames as well as over 100 stickers and 55 different fonts to choose from for text narration. You can select one of the many soundtrack options or add your own to create a simple music video with your photos. The Scoompa Video app is free, but there are many in-app purchases available to remove watermarks and access the full benefits of the app. In-app purchases range in price from $0.99 to $11.99.
Price: Free, with in-app purchases starting at $0.99 per item
Compatibility: Android
Pros:
Good for video making
Ability to edit published video
Cons:
Requires upgrade in order to save slideshows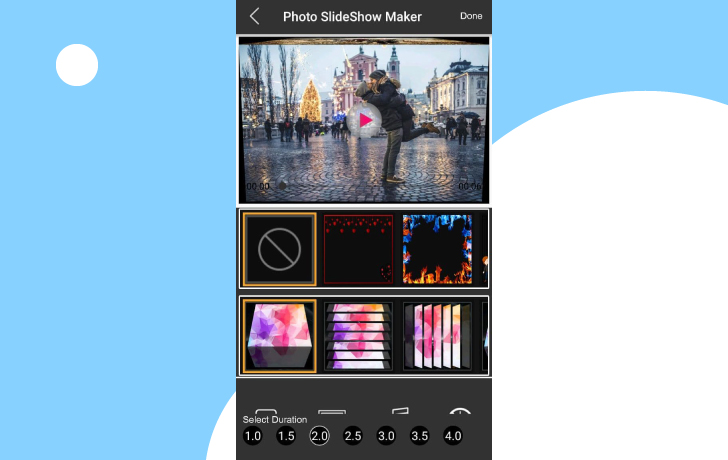 Photo SlideShow Maker is an easy photo-to-video maker. As it's also one of the best slideshow apps for Android, it enables you to create great slideshows by simply dragging and dropping, which makes it easy to rearrange picture positions. The app has 18 different themes, which lets you add some personality to your slideshow. What is great about this app is that it lets you bring your videos to life by adding music and cropping it to the right length.  You can even set the length of time you want an image to be displayed in the slideshow.
Price: Free
Compatibility: Android
Pros:
Easy to use
Add snap stickers to images
PicPlayPost: Best for Creating 3×3 Grid Collages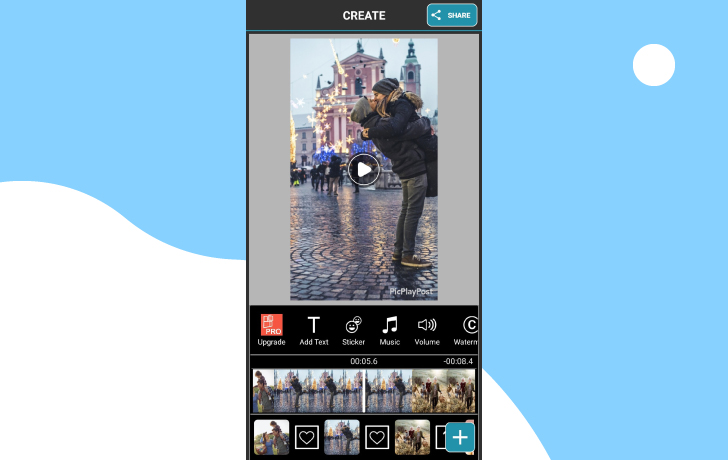 PicPlayPost is an all-in-one content maker that allows you to create videos, slideshows, video collages, photo collages, and photo grid collages with music and gifs. With this app, you can create collages of up to 10 minutes. PicPlayPost is free to download for a 14-day free trial period. After the trial period is over, it will cost you $6.99 per month but, to maximize savings, you can pay $47.99 per year or make a one-time purchase of $99.99.
Price: Free or $6.99/month
Compatibility: Android and iOS
Pros:
Ability to create 30-minute movies with upgrade
Compatible with iOS
Cons:
Limited music selection
Can drain device battery
Google Slides: Best for Work Presentations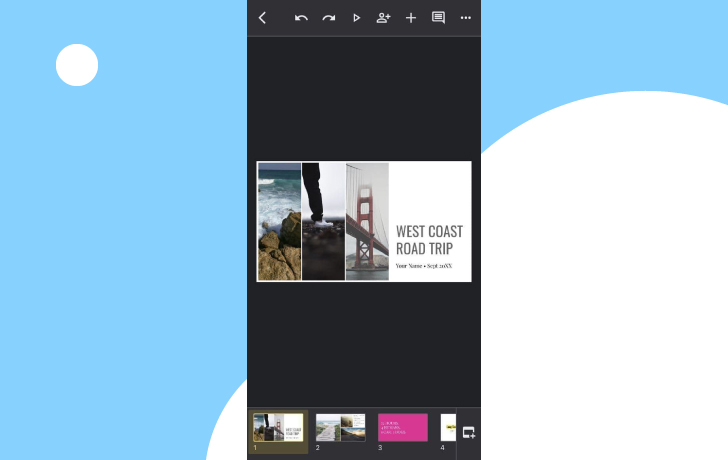 Google Slides is designed for creating, editing and collaborating with others on professional presentations from your Android phone or tablet. With Google Slides, you can create amazing slides instantly. It has an automatic save, so you don't have to worry about losing the location and date of your work.  One way this app stands out is that you can present your slideshow directly on video calls straight from your mobile device for anyone to view.
Price: Free
Compatibility: Android and iOS
Pros:
Work anywhere, anytime – no network required
Ability to link to PowerPoint files
Conclusion: Regardless of your background in creating visual content on your smartphone, you can still make a perfect slideshow in minutes – as long as you use the right app!  Now that you know which Android app is best for work presentations, special occasions, collage making and more – it's time to get started. So, search through your social media albums and phone gallery to find those photos and videos you've forgotten about: it's time to create amazing slideshows that will preserve your favorite memories forever!