If you're into video editing, you've probably heard of and tried out Adobe© Premiere© – a program that is a part of Adobe CC (Creative Cloud©). There is no doubt that it's a great program – thanks to its excellent integration and advanced features for video editing. But it is also quite pricey and a bit complex. Definitely not for hobbyists and amateurs. Today's market has a range of Adobe© Premiere© alternative products, each one with impressive features, applications, and strengths. Chances are you'll find a great program that meets your needs for much cheaper – or even for free at all. 
Editor's Pick
Here's the top of our favorite alternatives to Adobe© Premiere©:
Best Adobe© Premiere© Free Alternatives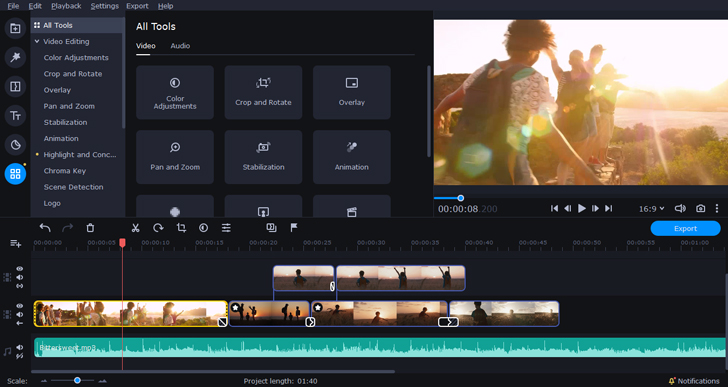 OS: Windows, macOS
License: $16.95 for a one-year license or $21.95 for a lifetime license

Movavi Video Editor Plus is a versatile video editing program that allows you to get truly creative with your movies. It provides users with a wide range of video editing features – both basic and advanced. Thanks to its user-friendly interface,  this inexpensive program is perfect for beginning and amateur video creators. Experienced users won't be disappointed either: while being extremely user-friendly, Movavi Video Editor Plus offers a great set of powerful tools that enable you to create exactly what you have in mind without any limits. 
Main features:
✅ Basic video editing, special effects, and keyframe animation
✅ Ready-made intros, filters, and titles
✅ Superfast rendering
✅ Aspect ratio selection
✅ Stabilizing effect
✅ Picture-in-picture effect
Pros:
User-friendly interface
Both macOS and Windows versions
Allows using footage from multiple sources
Cons:
The free trial is only 7 days
Doesn't have a Linux version
Best for: hobbyists as well as professionals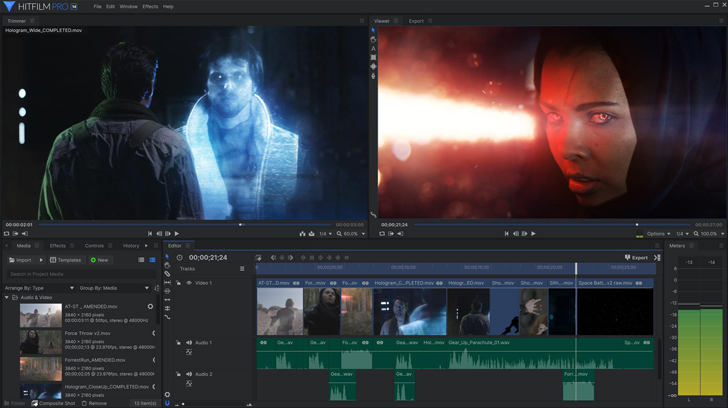 OS: Windows, macOS
License: Free + paid add-ons 
This freeware is surprisingly versatile. It's mainly designed for beginners, which makes it a good option for film students practicing their craft. There's also a huge community of HitFilm users, which means that there are tons of tutorials on this program you can easily find online. 
Main features:
✅ Voice recorder
✅ Tutorials included
✅ Transitions and tracks available
✅ Over 400 effects and presets
✅ 2D and 3D compositing
Pros:
Frequent updates
Quality, free software
Add-on options are available
A wide variety of tools
Cons:
Learning all tools may take time
Limited transitions
Not ideal for midrange hardware
Best for: Basic video making for beginners and YouTubers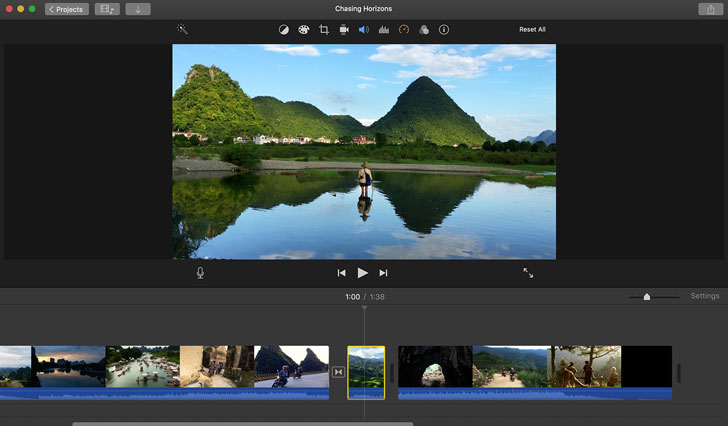 OS: macOS and iOS
License: Free
An Adobe© Premiere© free alternative exclusively for Mac users that has made film making super easy even for the very beginners. It works not only on Mac computers and laptops but also on iPads and iPhones which allows users to edit their movies anywhere they go.
Main features:
✅ Different movie quality exports, 4K video support
✅ Special effects like speeding footage up or slowing it down
✅ Voiceover recording
✅ 13 video filters with intensity adjustments
✅ Background colors, patterns, and gradients 
Pros:
Free on any Mac device
Wide range of features
User-friendly interface
No watermark
Easy access to the same project from different Apple devices
Cons:
Text animation and some other tools are limited
Heavyweight program: takes a lot of space on a device
Regular changes to layout can be confusing
Best for: Apple users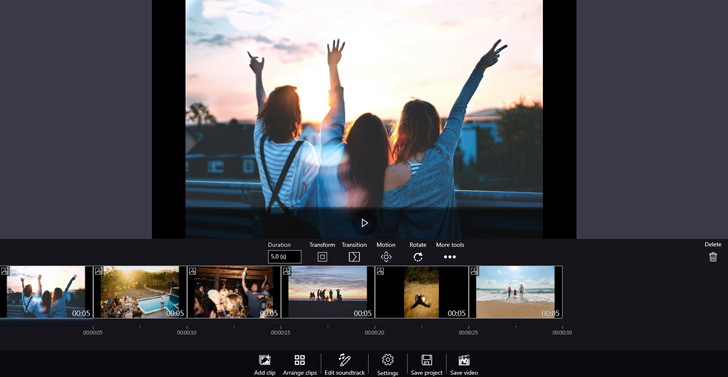 OS: Windows (use Movie Maker 10 for Windows 10)
License: Free + $14.99 for the Pro version
This program, designed specifically for Windows makes video editing super easy. It's completely free to use, so it's definitely worth a try. On the other hand, it doesn't include many advanced tools, so it will suit only beginner video creators.
Main features:
✅ Voiceovers
✅ Built-in transitions and tracks
✅ Text captions in 30+ fonts
✅ Trimming of audio clips
✅ Animated pan zoom
Pros:
Beginner-friendly
Supports many video formats
Allows exports in HD quality
Cons:
Very few updates
Advanced features only in the Pro version
Not available for Apple users
Best for: beginners, Windows users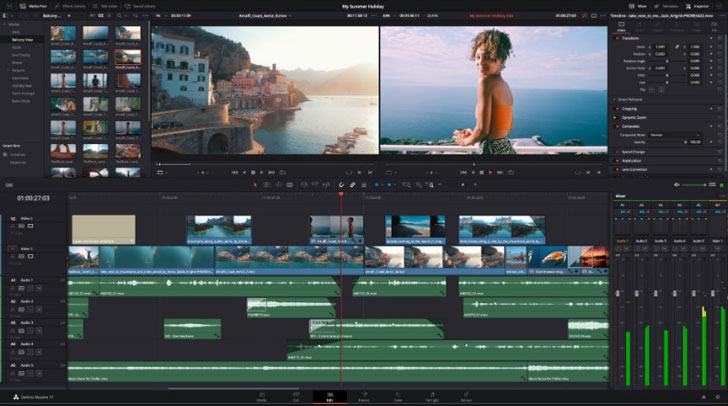 OS: Windows, macOS, Linux
License: Free
DaVinci Resolve provides users with powerful tools for video editing, audio postproduction, and color grading. This program is a free version of an industry-leading program that is used by Hollywood filmmakers. Being a widely popular program, DaVinci Resolve has millions of users from all over the world – some of them create tutorial videos on how to use this software. That makes it really easy to learn video editing on a pro-level in no time.  
Main features:
✅ Advanced HDR color grading tools
✅ Fairlight audio postproduction tools
✅ Slate view containing bin dividers
✅ Wide-format media and delivery pages
✅ Neural engine using machine learning
✅ Compatible with 3rd party plugins
Pros:
Created titles and effects can be used on your edit or cut page
Project collaboration capabilities (in the paid version)
Improved workflows thanks to advanced editor keyboards
Customizable layout
Cons:
Not the most straightforward program, requires quite a learning curve
Not ideal for low-end PCs
Best for: hobbyists with high-end devices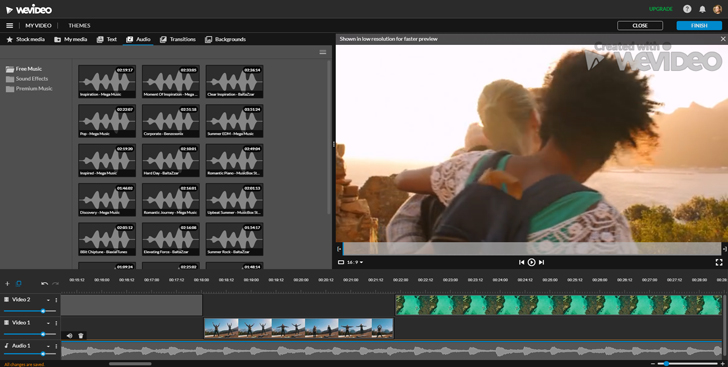 OS: Windows, macOS, Android, iOS
License: Free trial
This brand caters to different industries, from business to education. WeVideo is a practical solution for companies and educational facilities' video editing needs. This is an online video editor, which means that you don't need to download it.
Main features:
✅ Green screen
✅ Multiple formats
✅ 1 000 000+ stock media (available royalty-free and licensed with business plans)
✅ Cloud-based
✅ No need to download anything – the program works online 
Pros:
User-friendly interface
Use on many devices
Unlimited storage thanks to being cloud-based
Paid subscriptions that relevant to different uses, such as business or education
Cons:
Not easy to collaborate on a project
Some features only available on paid plans
Limited video time on the free version
Best for: remote employees; business use; education workers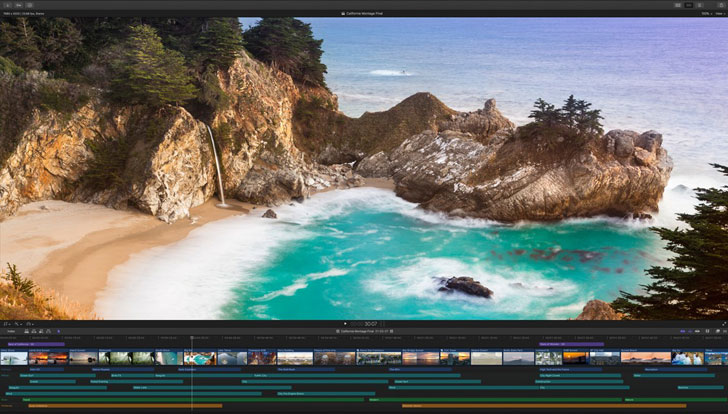 OS: macOS
License: $299.99 + 90-day free trial
Another product for Apple fans, Final Cut Pro X, has a few innovative and unique features, including Smart Conform. This is an industry-leading postproduction solution – many movies you've watched were created in Final Cut Pro. This application is designed specifically for professionals. Still, it boasts a nice straightforward interface that is easy to navigate through. If you're aiming at becoming a professional video editor or YouTube blogger, give it a try. Especially since it has a 90-day trial – it's plenty of time to find out whether this software suits you or not.   
Main features:
✅ Smart Conform – automated adjustments to suit social media custom sizing
✅ Advanced video editing and color grading
✅ Motion graphics
✅ Machine learning tools
✅ Metal engine speeds up processes
✅ Optimized to use on Mac Pro
Pros:
Compatible with iMovie
Excellent workflows
Can work with 8K resolution
Cons:
Not available for Windows users
Some footage can't benefit from the stabilization effects
Some users prefer features of previous Final Cut versions
It takes time to get used to
Best for: professionals and those who are looking to become ones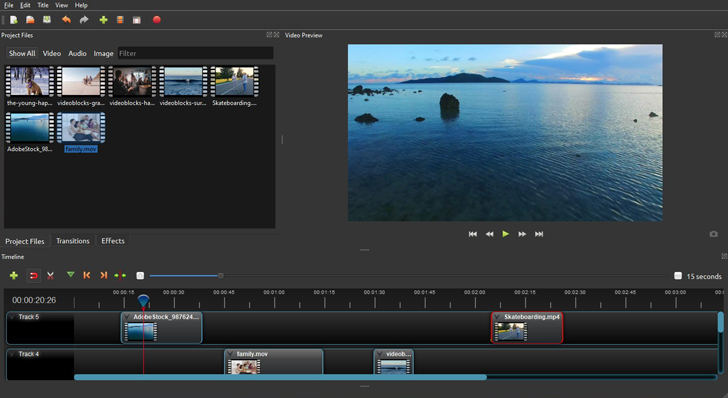 OS: Linux, Windows, macOS
License: Free
For those who love open-source software solutions, OpenShot is the video editing program you need. All the features you need and regularly updated – and completely free to use. 
Main features:
✅ Cross-platform video editing
✅ Easy trimming and merging of footage
✅ Slow-motion and other time effects
✅ Unlimited number of tracks
✅ Effects including color inversion
✅ Waveforms for audio tracks
✅ Creating and editing titles
Pros:
Drag and drop to add new tracks, video, or images
Supports over 70 languages
System requirements aren't very high
User-friendly interface
Cons:
Video processing can take long
More limited in effects than some other software
Updates to fix bugs can take long to be implemented
Best for: hobbyists and video enthusiasts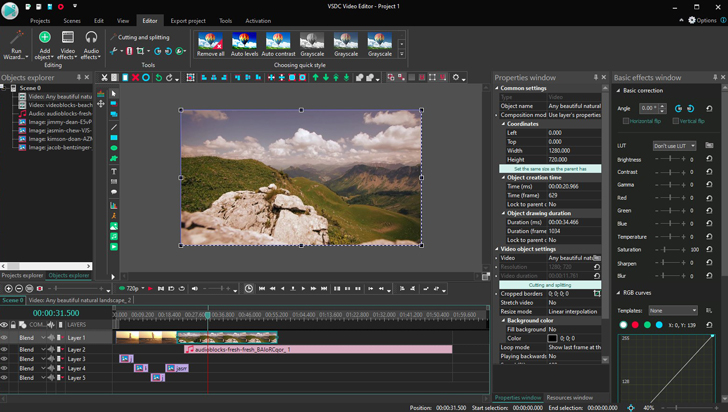 OS: Windows
License: $19.99 + free trial
VSDC is a great program for basic video editing. Thanks to it straightforward user-friendly interface, it's a great option for beginners and amateurs who are getting familiarised to video making. VSDC also boasts some more advanced video editing features, like 4K editing – which is great, but certainly not quite enough to make this software suitable for pro-level video creation.
Main features:
✅ Built-in DVD burning tool
✅ Video and audio effects
✅ Color blending and filters
✅ Automatic upload to YouTube
✅ Built-in screen capturing tool
Pros:
Supports a wide range of video formats
License valid for two PCs
Has a built-in conversion tool for video and audio files
Can export in 4K and HD
Beginner-friendly interface
Cons:
Effects like stabilization are available only in the Pro version
Not available for Apple users
Best for: beginners and amateur video creators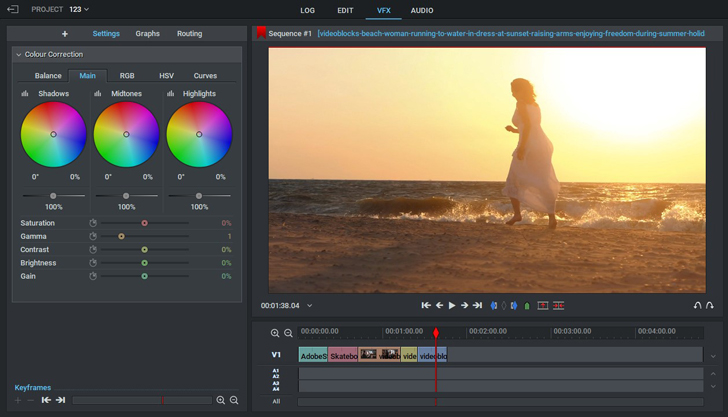 OS: Windows, Linux, macOS
License: Free with paid premium
A product from a company that's been in the business for 25 years. This means you get quality based on experience. Lightworks is a program that many professional and independent filmmakers use – it has all the basic and advanced features one might need to create a professional-looking movie. 
Main features:
✅ Wide file format support
✅ Variable frame rate media
✅ Low-resolution proxy workflows (4K)
✅ Asset grouping association
✅ Custom definable sequence output formats
✅ Royalty-free content (audio & video) 
✅ Social media templates
Pros:
Compatible with many formats
Intuitive user interface
Autosaves regularly
Cons:
It takes a while to learn all its features
Limited features on the free version
Best for: Professionals
As you can see, there's more than one solution for video editing. The market has to offer lots of different options – and we only covered 10 of them! In reality, there are so many more. Have fun trying out something different, and you may find even more appropriate features for your needs than what you see on Adobe.
We suggest you take a look at Movavi Video Editor Plus first. Thanks to its user-friendliness and the impressive toolkit it's relevant to most people's requirements. Check out the trial version and see if it suits you.