Looking for a good video editing app but don't want to spend hundreds of dollars? Two leaders among the free options for beginning video creators are DaVinci Resolve and HitFilm Express. Both programs are great and have a huge base of loyal users. But which one suits you best and has the features you need? Read on for the answer!
HitFilm VS DaVinci: A Quick Comparison
| | | |
| --- | --- | --- |
| Feature/Parameter | DaVinci Resolve | HitFilm Express |
| supported platforms | Windows, macOS, Linux | Windows, macOS |
| add-on/plugin support | ❌ | ✅ |
| basic video editing | ✅ | ✅ |
| visual effect composition | ✅ | ✅ |
| color correcting tools | advanced | basic |
| upgrade policy | flexible | strict |
| target audience | beginners and amateurs | beginners and amateurs |
About HitFilm Express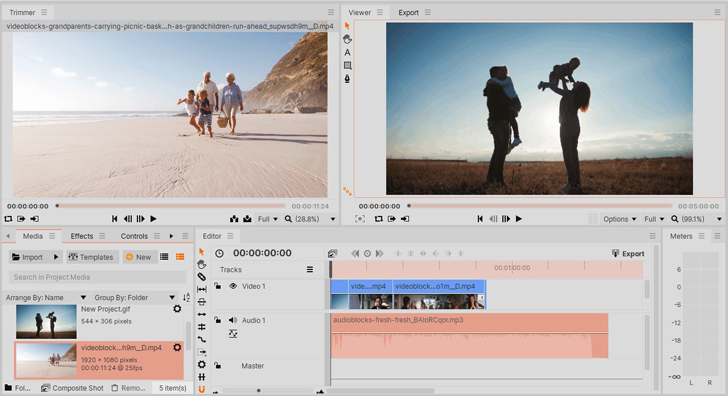 HitFilm is a comparatively new video editor created by the developer FXhome. It's a professional-grade program that offers full 2D and 3D composing tools, built-in video tutorials, loads of transitions, and a huge library of customizable presets and effects.
FXhome software is often used by experienced YouTubers and independent movie makers for creative editing. Mostly it's known for its visual effect composition tools. HitFilm Express is a free version of the program that enables beginners and amateurs to get creative with their videos. The app has support for add-ons and plugins, which makes it customizable for everyone.
Pros: flexible layout, advanced visual effect composing tools, a huge library of effects, built-in free tutorials and projects 
Cons: some of the features are available only in plugins, basic color correction tools
About DaVinci Resolve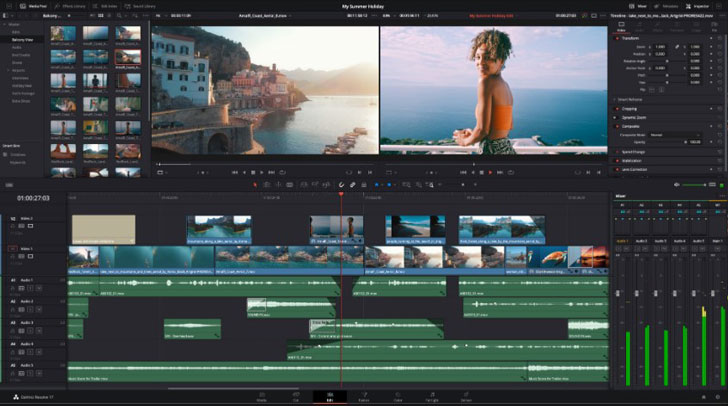 The DaVinci app from software developer Blackmagic Design has been around for quite a while. Their main product, DaVinci Resolve Studio, is one of the most widely used post-production solutions in Hollywood. It started off as a color correction tool and evolved into a 360º movie editing tool for professional filmmakers.
DaVinci Resolve Studio was used for color grading and/or editing feature films such as Deadpool 2, La La Land, Pirates of the Caribbean, Ad Astra, and more. And it's truly amazing that an industry heavyweight like this has a totally free video editing program for less-experienced users. DaVinci Resolve 16 has enough features to keep beginner and amateur video creators occupied for at least a couple of years before moving on to a paid program.
Pros: advanced color correction tools, advanced video editing, built-in library of effects, intuitive interface
Cons: may seem too complex for beginners, can crash on older PCs
HitFilm vs DaVinci: The Main Differences
Now that we know a bit more about both programs, let's do a few "HitFilm Express vs DaVinci Resolve" comparison rounds with the benefits to see which is better for you.
Features
Both of the programs provide users with advanced video editing tools: visual effects, motion graphics, audio post-production, color correction, and much more. It's worth mentioning that DaVinci Resolve has more interesting coloring tools than HitFilm Express (DaVinci started as coloring software, after all). Also, you can only get some of the advanced tools in HitFilm Express by adding a plugin. Among HitFilm's advantages are its visual effects composition tools, which are slightly more advanced than its competitor's.
As you can see, these differences are not THAT significant – especially for beginners. There's one more thing though… While DaVinci "hides" in its paid version features that only high-level professionals would need, HitFilm's free version's limitations are a bit more restrictive. For example, the free version of DaVinci Resolve won't let you export 8K videos, use a couple of its complex effects, collaborate on projects, automatically mask faces for color grading, or use some of the 3D tools. So you can see that these are the things that you will hardly need unless you're a movie editor with many years of experience. 
HitFilm, on the other hand, removed a larger number of commonly used features from its free version. For example, a major part of the effects library must be paid for. The good news is that you don't have to buy the full pro version of the app to get one effect. In most cases, you can get the desired feature or effect separately. 
Winner: DaVinci Resolve
Update Policy
As we mentioned above, HitFilm Express lets you pay for the features you want, or add paid plugins that will broaden the software's functionality. Add-ons come in packs or separately – so, if anything, you can choose how much to pay. One effect usually costs around $10-30. 
When it comes to DaVinci, there are not so many options: you either get the pro version for $299 or stick to the free one. You can't add any tools or effects separately.
Winner: HitFilm Express
User Interface
Price-wise, add-ons are a good thing. But the flip side of the coin is that it complicates HitFilm's interface and requires more time from users to install the extensions. Also, it can be annoying to see add-on "ads" everywhere on the home screen. Another weak point in HitFilm is that its interface, in general, is rather different from other products in this category. If you're switching from/to another program, it'll take some time to adapt. Meanwhile, DaVinci's interface looks more like what you're probably used to. For example, it shares a lot of keyboard shortcuts with programs like Final Cut Pro and Adobe Premiere. 
On the other hand, DaVinci Resolve can seem a little overwhelming for complete beginners, and there's less layout flexibility compared to HitFilm.  
Winner: tie
Ease of Use
HitFilm Express includes tons of free built-in tutorials and projects to help you learn the program and start using it. It really educates beginners very well and helps them to get into video editing. 
DaVinci doesn't have such options. If you don't know how to edit and you start off with this program, you'll have to google a lot.
Winner: HitFilm Express 
User Complaints
We've already mentioned that HitFilm's interface is different from what people are mostly used to. This means that many users have faced difficulties in doing simple things like adding text to a video. Another common issue is that HitFilm renders and works slower than other programs. 
When it comes to DaVinci Resolve, the main complaint is its complexity. Also, as the program is quite a heavyweight, if you're working on older hardware, it can crash sometimes.
Winner: DaVinci Resolve
Support for File Formats and Resolution
Both programs enable you to edit and export 4K videos. If, for some reason, you need a higher resolution, you'll have to pay for the pro version.
When it comes to file formats, DaVinci has support for a longer list. On the other hand, HitFilm's addons will eliminate this issue. For example, it's possible to add an MKV converter to HitFilm Express, if you need to work with files of that type, while DaVinci doesn't have that option.     
Winner: tie
DaVinci Resolve vs HitFilm Express: The Winner
Both applications are great free tools worth trying. Both of them have everything you need to make a good professional movie. They are not too complex, so both are a good choice for beginners, too. 
Your choice will really depend on what you're editing and what your goals are. If you're aiming to become a professional filmmaker one day and want to try creative editing for free, then DaVinci Resolve would probably be the better option for you. It will help you learn the basics and introduce you to the workflow most professionals are using today.
If, on the other hand, you just need a reliable piece of software to edit videos and want to learn to build your own effects, HitFilm would be your better option. Also, it's a great choice for those who don't like going mainstream 😉 
Overall, we see DaVinci Resolve as a more universal tool that will help you to start your exciting journey to creative video editing.