If you're a regular user of video editing software, you've probably wondered why there are so many different export formats available, and which one is better. Some of the most common options include MPEG4 and MP4, and these two are often confused. Many people think that MP4 is a shortened version of MPEG4 – but it's far more complicated than that!
So, what's the real difference between MP4 vs MPEG4? Let's explore the key strengths of each format.
MP4 versus MPEG4: What Does Each Mean?
Let's start with defining the origins and characteristics of each file type.
MPEG4 is a video decoding algorithm – or, to put it simply, a video codec. As we explained in our earlier article about video codecs, these are used to compress a large video file so that it can be easily played by most media players and devices as well as broadcast online and on TV. It was released by the Moving Picture Experts Group in 1998. MPEG4 represents a group of formats, including MPEG-4 part 2, MPEG-4 part 10, and many others.
MP4 is a media container format – or, technically, MPEG4 part 14. MP4 is usually referred to as a video file extension, which defines how the components of a video clip are stored. By components, we usually mean the video itself, the audio, any still images, and subtitles. It's one of the most popular file formats and is supported by pretty much all computers and mobile devices.
The Key Differences Between the Two
History
As we explained above, MPEG was initially developed as a method for multimedia data compression. With the evolution of technology, it has become divided into many parts.
MP4's predecessor was created in 2001 as MPEG-4 Part 12, which was based on the QuickTime File Format (.mov). The current version of this extension, which is now known as MP4, was released in 2003. So, there is technically no such construct as MPEG4 vs MP4 – the latter evolved from the former.
Application
MPEG4 is generally used for compressing audiovisual data for online streaming and broadcast media. The technology helps preserve the quality of the original video while making it more flexible for transporting data.
An MPEG4-encoded video can be contained in an MP4 file. At the same time, MP4 is not equal to MPEG4, as it can also contain MPEG-H. Likewise, MPEG4 doesn't necessarily have to be encoded in MP4 – it can also be packaged into AVI, MKV, or a variety of other formats.
MP4 is, to put it simply, a convenient way of storing video files.
Compatibility
Some MPEG4 formats are not supported by older media players or mobile devices – for example, an MTS file won't play on iPhones. Many devices are also likely to struggle with MKV and other less common file formats.
On the other hand, MP4 is supported by most video hosting platforms, players and devices. So, if you're planning to upload your videos to your YouTube, Instagram or Facebook account, in most cases it's best to choose MP4. This format isn't likely to cause you (or your viewers) any hassle, as most websites and services support it.
| | | |
| --- | --- | --- |
| Criteria | MP4 | MPEG4 |
| Type | Format | Codec |
| Developer | Motion Picture Experts Group | Moving Picture Experts Group |
| Released in | 2003 | 1998 |
| Pros | Supported by most media players and devices | More flexible – can be exported in a variety of formats |
| Cons | Doesn't give you any control over the quality of the video | Doesn't play on some devices and platforms |
| Supported Media Players & Devices | All video players | Some formats cannot be played on mobile devices |
| Best for | Social media | Video editing needs |
Conclusion
Rather than considering MP4 versus MPEG4, it would be more appropriatte to describe MP4 as an extension type for MPEG4 files – same as MKV, MTS, AVI, and other formats. However, there isn't necessarily always a direct connection between MPEG4 and MP4, as MP4 can contain a file from another compression system.
Because of the way these filetypes are related, we cannot really define which of them is better. Both have advantages and disadvantages, so it's all about what you're planning to do with your videos.
How to Convert MPEG4 to MP4
MP4 is probably the most common filetype, as it's supported by the majority of devices. So, it's often best to convert MPEG4 to MP4. The best way to do this is to use a video converter program that can easily transform your file into the right format in minutes.
One of the top software solutions for changing formats and resolutions is Movavi Video Converter, a versatile program that supports the majority of existing filetypes. The latest version enabes you to preview and trim your files before the final export, choose from a variety of pre-defined output settings, and even add subtitles.
Take advantage of our special offer for all blog readers – a special discount of 10%! Simply enter the promo code Converter21blog when completing your purchase – or click on one of the buttons below:
Download Movavi Video Converter with 10% discount for Windows
Download Movavi Video Converter with 10% discount for Mac
Converting MPEG4 to MP4 with Movavi Video Converter takes just a few steps:
1. Download the program setup file from the website. Once the download is complete, follow the instructions to install Movavi Video Converter.
2. Launch the software. Click the Add Media button, then Add Video and choose the videos you're looking to convert.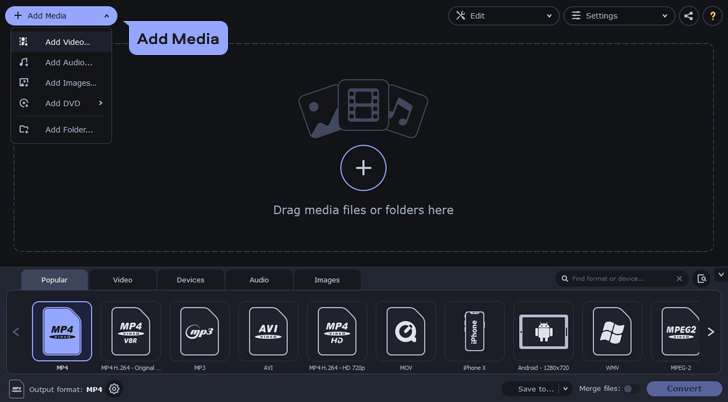 3. Open the Video tab and find the MP4 preset menu. Choose one of the presets that fits your needs best. The first thing you need to consider while choosing the preset is the size. As a general rule, Full HD 1080p is good for YouTube, Vimeo and other specialized video hosting platforms. For Instagram, Twitter and other non-video-specific social media, it's best to select a smaller size. SD formats will also do just fine, as social network platforms are likely to compress it anyway.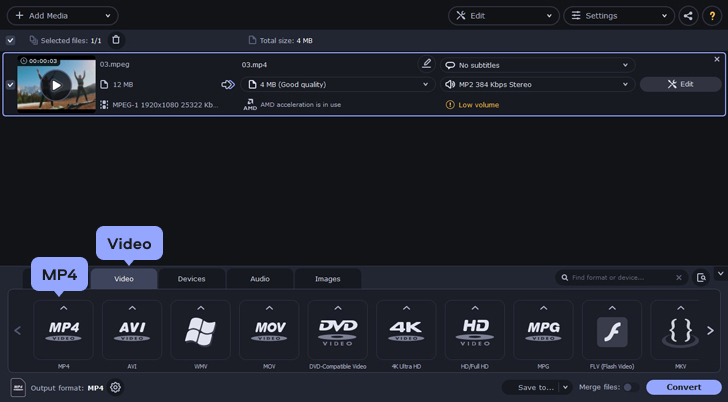 4. Alternatively, you can click Devices to select the device you're planning to play your video on. Or Cell Phone to let the program suggest the best format for your situation.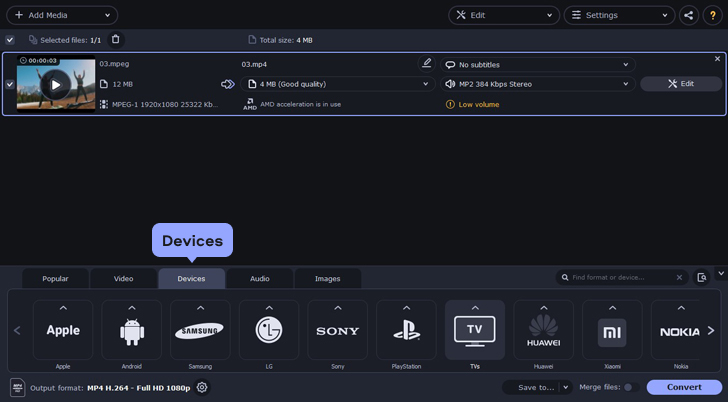 5. Specify the output folder where you want to store your file by clicking Save to. Once you've done that, click Convert and wait for the program to process your video. That's all there is to it!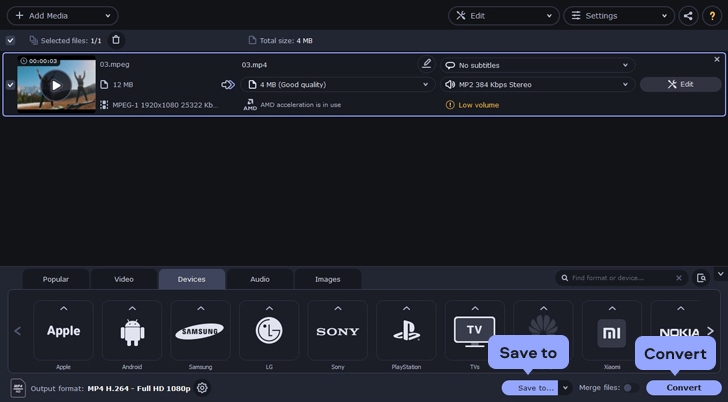 There are also some online video conversion services that can help you transform your videos into the right format. However, these websites usually only work with short clips and offer limited settings when it comes to editing, compressing and adapting the footage to a particular device.