In this guide, we're exploring the best explainer video software for making both simple and complex explainer videos. Whether you are working with raw video files and you need to annotate them and turn them into a detailed explainer video, or you just want something simple to make 2D animations on a mobile device. In this guide, we review both free and paid options that can allow you to make videos either to show your users how to use your website, issue other instructions, or make YouTube videos in the "explainer" format.
Our top picks
Software
OS
Price
Best for

Storyboarder

Windows, Mac,

Linux

Free

Storyboard style videos

PowToon

Windows,

Mac,

Linux

From $19/month

Simple video production for beginners

Raw Shorts

Windows,

Mac,

Linux

From $39/month

Hand-drawn animations and whiteboard style graphics

Biteable

Windows,

Mac,

Linux

From free

People with no prior experience

iSpring Suite

Windows,

Mac

$770per user / year

Explainer videos for courses
What is an explainer video?
As the name implies, explainer videos are short movies that are created to explain or teach something. Explainer videos are widely used by digital marketers, online educators, and bloggers to make a stronger bond with their viewers and help them find answers to their questions. If you want to know more about explainer videos and how to make them yourself, check out this article.
Explainer video software types
Here are the most common types of video explainer software:
Live-action tools
Live-action explainer videos are shot with actors or other presenters as talking heads. This means that you will need to record footage which can then be added to a live-action tool, for instance, adding annotations and further layers and graphics on the video project. This sort of video often contains video effects to keep the audience interested.
Slideshow software
Slideshow software allows you to edit together slides, often with interesting transitions and blending. Slideshows often simply show text, but you can add more interesting graphics and, of course, voiceover in order to make it more interesting and give more of a professional feel.
Animation software
Animated explainer video software allows you to create both 2D and 3D animations that can use cartoon representations of people, moving graphics, and text. All of this can add up to a much more engaging video than something text-based.
Whiteboard tools
Whiteboard software lets you create simple graphics that resemble a whiteboard. These can make good explainer videos, simply giving something a little bit more interesting than just having to look at infographics.
Interactive software
It's amazing to see how much technology has changed, and some brands are making use of interactive videos. This software requires you to take a complex script and edit footage in a way that lets the users decide what they need to see next, or interact by answering questions, for example.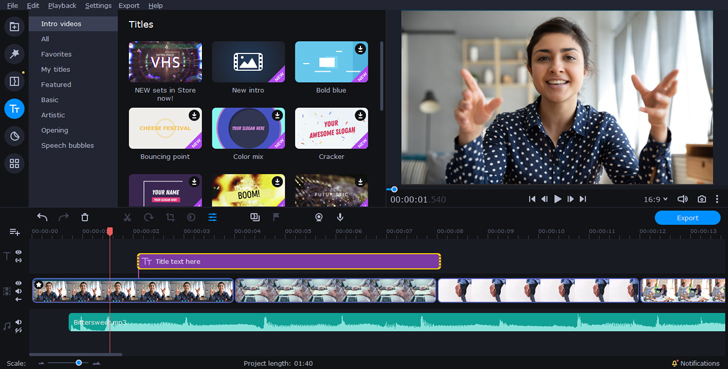 OS: Windows, macOS
Movavi Video Editor Plus allows you to edit your footage and create exceptional videos, whether you want to use stock graphics and effects or you have a lot of videos stored that you want to use to create an explainer video. The versatile software allows you to create titles, add a voiceover, and edit footage in all sorts of exciting ways for your explainer video. You can add text to help with explanations, too.
Best for: full video-editing projects
Key features: 
✅ Comes with a built-in media pack
✅ Keyframe animation as well as video editing
✅ Easy visual effects and transitions
✅ A variety of effects, including titles, transitions, and filters
Pros:
Super simple interface, great for beginners
Automatic video creation feature, great for explainer videos
Much more affordable than many of the video editors out there
Cons:
The cheapest plan only gives a year membership, so if you want to use the software longer, it is worth getting a better plan.
Best free explainer video software of 2021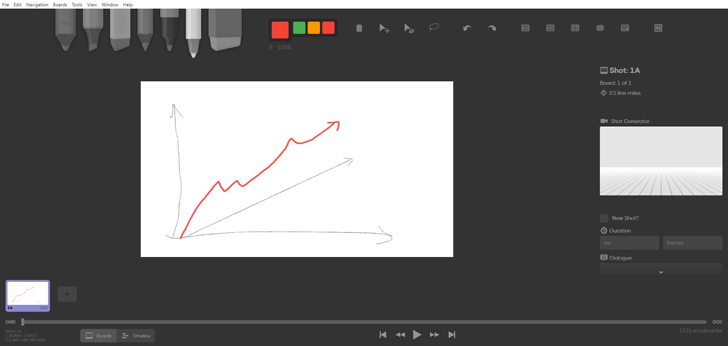 OS: macOS, Windows, and Linux
Storyboarder, the free explainer video software that focuses on storyboards, was made out of frustration at how much it costs to get video software that can create storyboard-style videos elsewhere. It started just for storyboard artists but it has grown hugely and can be used for making videos for YouTube or for your own website.
This software has great compatibility and allows you to import images you've drawn or made on other software. You can also export to other video editing software to add a voiceover or other effects.
Best for: storyboard style videos
Key features:
✅ Easy import and export
✅ Comes with lots of preset shot angles to start your concept storyboards
✅ Works with graphic tablets and Photoshop
Pros:
Totally free without hidden charges
Simple interface with five easy-to-use tools
Cons:
You need other software to add voice overs or further effects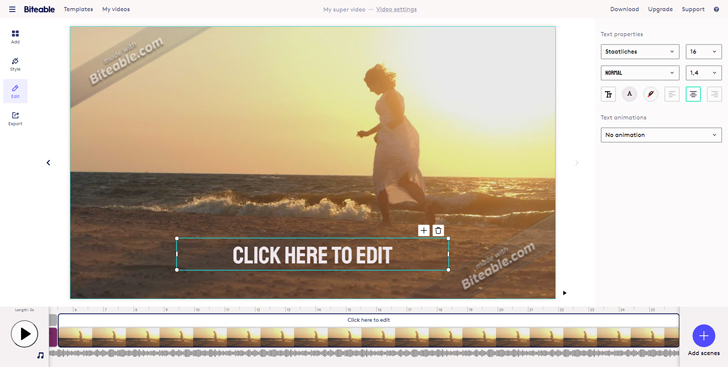 OS: macOS, Windows, and Linux
In their own words: "Make videos with animation, stock footage, and photos. Studio-quality results, the easy way."
Biteable is one of the easiest ways that you can make a professional-looking video even if you don't know a great deal about video editing. The site comes with loads of stock images, graphics, and effects that you can simply drop in to start creating your project. You can make a combination of script videos, animations, stock videos, and graphics.
While free of charge, you do need to pay for some of the upgrades and continued use. You can still access over 4 million graphics without paying, and as long as you don't mind an added watermark when you download the video, this isn't too much of an issue.
Best for: people with no prior experience
Key features:
✅ Easy import and export
✅ Over four million graphics and effects to use
✅ Easy features to make videos align with your brand colors
Pros:
Very easy layout with a lot of click-and-drag functions
No need to download software that takes up lots of memory on your computer
Cons:
Watermarked videos and limited video formats unless you pay for the full tool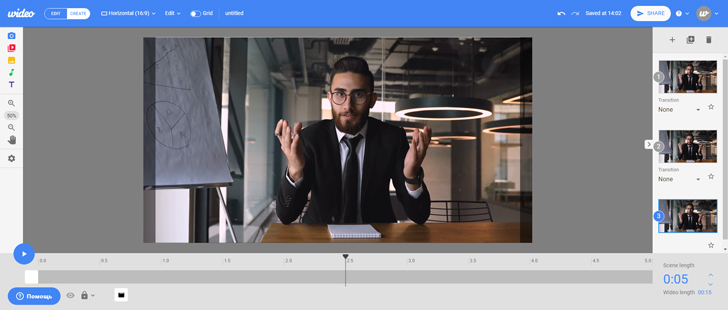 OS: macOS, Windows, and Linux
While not totally free, Wideo lets you sign up for a seven-day trial and start to use their software, which doesn't require you to download anything to your computer as you can do it in a browser.
It has a lot of templates and stock media you can use, there are over 1,000 images and 50 pieces of music, but you can also add your own if you want to.
There are some really cool animations and effects in this software, which is very simple to get to grips with, and works no matter what your computer setup, you just need a modern browser.
Best for: adding free stock audio
Key features:
✅ Browser-based editing so no need for downloads
✅ Free stock images and music you can use
✅ Export MP4s straight to video upload sites, no need to download to your desktop first
Pros:
Easy to create great videos with professional images and music
No need to download software, make videos in your browser
Cons:
Only free for a limited period of time, eventually you move to a subscription-based payment.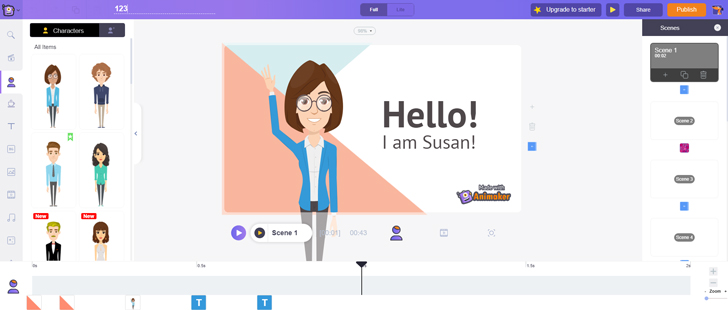 OS: macOS, Windows, and Linux
Animaker will help you to do things you didn't think you could! You can make some beautiful infographic and explainer-type videos with 120 different animations, so you can make simple 2D animations using charts and characters as well as effects. The videos can even be optimized for certain video formats and dimensions for mobile screens.
In spite of having these amazing functions, Animaker lets you use them free of charge and way more easily than you might have assumed. The end results usually look professional even if you have never tried to make a video explainer video before.
Best for: making animation videos for free
Key features:
✅ 120 animations and presets to start to make animated videos in no time
✅ Character maker allowing limitless combinations of assets to make your own unique characters
Pros:
Easy to use in your browser
There is a free plan
Limitless possibilities when it comes to animations and charts
Cons:
You need to upgrade to access the full features
Videos made on the free plan are watermarked
Limit on file sizes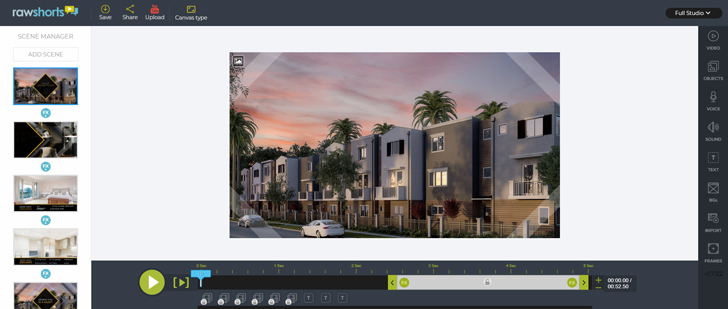 OS: macOS, Windows, and Linux
Raw Shorts provides people with the option to create whiteboard animations even if they have virtually no skills or experience. There are templates inbuilt with characters, rich media, and text, and you can make a choice as to what you want them to say. There are some great animation styles and effects in there, which create some very nice whiteboard-style videos with the "hand-drawn" effect that keeps things interesting.
There's a free plan, though paying for the software opens up more options and gives you full access to the software. The screen resolution is one of the things that is limited if you don't pay for the full version on a monthly plan.
Best for: hand-drawn animations and whiteboard style graphics
Key features:
✅ Easy YouTube integration
✅ Simple interface even for absolute beginners
✅ AI features match up footage with the subject of your video
Pros:
Excellent hand-drawn animations
Perfect for whiteboard style
Cons:
Limited to 480p unless you pay for a membership
Videos can look pretty similar if you opt for the templates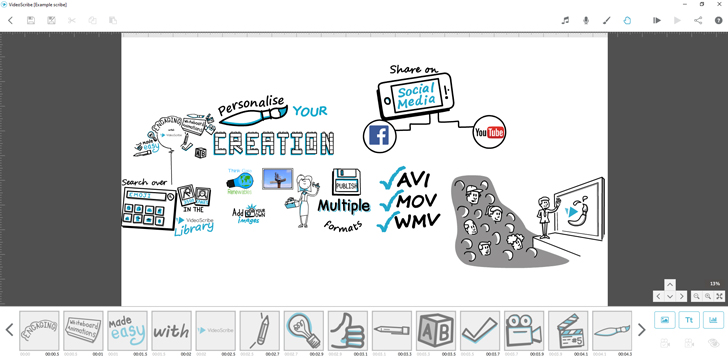 OS: macOS, Windows, and Linux
This is another video maker that you can use totally within your browser. It features loads of in-built images that you can drag and drop, and they will then automatically animate on screen. You can add text, still graphics that don't animate, and even free music from the audio library, which has 200 tracks that you can drag straight into your project, ideal for a variety of uses and all giving a different feel to your video.
The free version is watermarked, which is frustrating. You can pay for a yearly membership to the platform if you need to remove this, and it is relatively affordable compared to a lot of the other options.
Best for: Automatic animations on graphics
Key features:
✅ Over 7,000 free graphics and 200 free audio tracks
✅ Free version which allows watermarked videos
✅ Simple browser-based platform
Pros:
Easy to add audio, including voice over and stock music
Free version allows watermarked videos
Cons:
Payment required to enjoy all of the different graphics and presets
Tough to import your own images and video footage
Best paid tools for explainer video development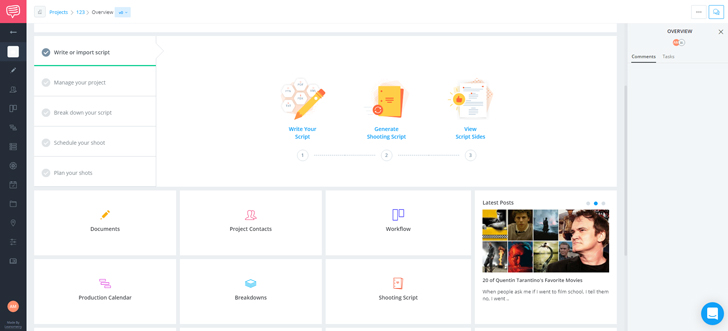 OS: macOS, Windows, and Linux
StudioBinder is very powerful software, developed mainly to help in the running of film studios and video projects. It can also be used to create explainer videos, as the powerful storyboarding features and basic editing software inbuilt is good for creating both text and image-based videos, which you can export and use on YouTube or your own website.
Best for: paid software for storyboard-style explainer videos
Key features:
✅ Lots of project management features, including call-sheet makers
✅ Import and preview scripts easily
Pros:
Lots of functionality that helps you to manage a video shoot if required
Smart script importing and storyboarding modes
Cons:
More expensive than many other explainer video software
Not designed specifically to make explainer videos, this is just one of the features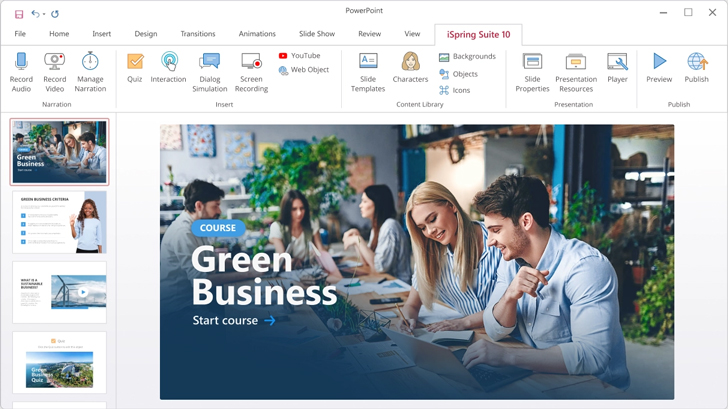 OS: macOS, Windows
iSpring Suite was originally designed for making courses, and though it is PowerPoint-based, it is very powerful software that allows you to make video explainers and also interactive options for teaching or making course content that the user can be a part of. 
It allows you to take video from screencasts, webcam footage, import video, and mix it with audio. It's also got loads of PowerPoint effects and transitions that you can use to advance the video. A lot of people are using this to create online courses, and it is easy to see why. It has over 68,000 different presets that can allow you to make videos with virtually limitless possibilities.
Best for: explainer videos for courses
Key features:
✅ Over 20GB of presets and assets that you can use
✅ Cloud storage for hosting your courses
✅ Discounts for multiple users
✅ Integrates with PowerPoint
Pros:
Over 20GB of free assets and materials you can use
Flexible software allowing a variety of video sources, including webcam videos
30-day money-back guarantee
Cons:
Requires a lot of memory on your computer
More difficult to learn than some of the alternative options
Expensive, with yearly memberships costing a lot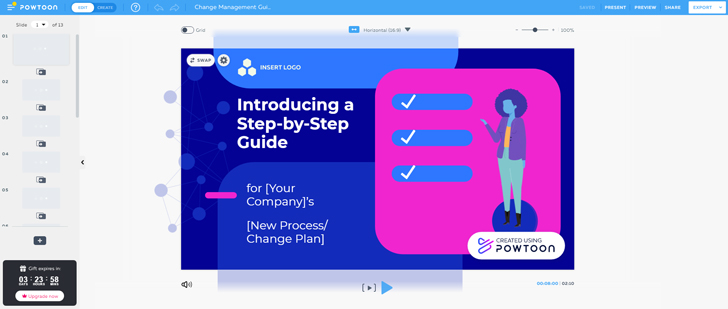 OS: macOS, Windows
PowToon lets you make animated and text-based videos and has plenty of features that are very useful for explainer videos. If you find yourself sometimes needing cartoons, sometimes needing video, sometimes needing text, then this versatile software can do the job.
PowToon does have a fairly large cost, and even some of the paid platforms limit usage.
Best for: simple video production for beginners
Key features:
✅ HD videos made within your browser
✅ Easy-to-use graphics and animation
✅ Constantly updated library of templates and media
Pros:
Extremely simple layout and controls
Easy to share and integrate with other platforms like Facebook
Cons:
Limits on usage and memory storage even on some paid memberships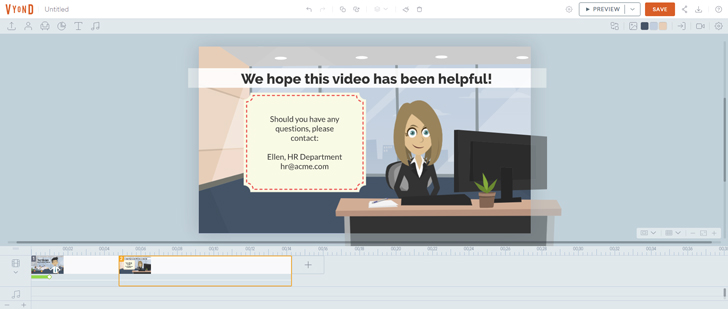 OS: macOS, Windows
Vyond may have a cost attached to it, but it is an excellent piece of animation software allowing you to create excellent videos in three different styles, including whiteboard and a contemporary animation style.
There are loads of inbuilt templates and props that you can use, and even live support. There's also the option to collaborate with colleagues in real-time using the platform. 
Best for: animation software with live support
Key features:
✅ Real-time collaboration
✅ Secure server to store video and to collaborate
✅ Thousands of free assets and media to use
Pros:
Choose from near-limitless media and assets to use
Great for whiteboard animations as well as character animations
Easy to add voice overs
Cons:
The cheapest membership still has a watermark on the videos
OS: macOS, Windows, Linux
Mysimpleshow is a smart piece of software that works closely with whatever script you choose to upload. From this, it will automatically create a storyboard-style video that you can tweak. This smart, AI-powered software is great for those who don't really know how to edit videos. It gives you the option to generate something that looks good even without technical skills.
Best for: automatically generating explainer videos
Key features:
✅ Automatically generates video from your text
✅ Text-to-speech if you want an automatically-generated voice over too
✅ Add your own media
Pros:
Easy-to-use
One of the quickest ways to create explainer videos
Cons:
The graphics don't look the best, some feel a little bit "'90s clipart"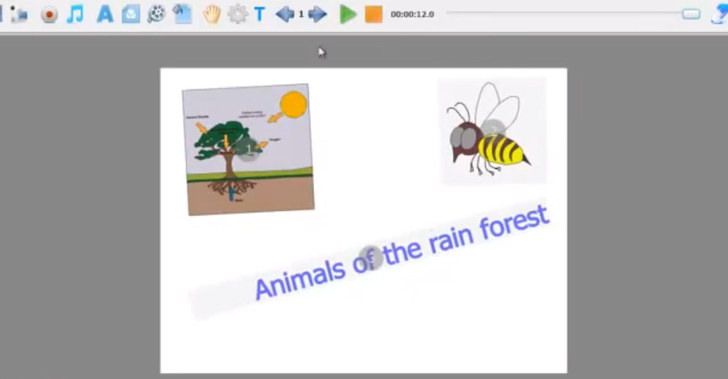 OS: macOS, Windows
Easy Sketch Pro is a powerful piece of software with a one-off payment rather than having to keep paying a monthly or annual membership. It is based around doodle-style videos so that you can transition from live videos to sketches and turn your photos and images into doodle-style, as well as using 50 brushes to create your own drawings and images.
Best for: doodle-style videos
Key features:
✅ Easy to upload your own assets
✅ Comes with loads of images and a library of backgrounds
✅ Automatic sketching and doodling features
Pros:
Pay only once rather than a membership
Excellent for making doodle-style videos
Cons:
Some graphics aren't the most modern and professional-looking
Can be harder to use than some of the "click-and-drag" browser-based software
Explainer videos come in all different formats. You may just be looking for a free option to make a video for your small business, or you might want enterprise-level software that you can use to make a full-blown video course. Our list of the best explainer video software options has you covered with the best explainer video software for you and your team, whether you're working with professional designers and animators or you are brand new to explainer videos.