It isn't always easy to get the exact look you want when shooting a video. And unfortunately, clips sometimes come out off-center or even completely rotated. No worries! This article will give you an overview of the top video rotation apps along with some other software options and tools that allow you to create the final version you want.
Top picks
Top video rotation apps
The ability to shoot a video with a smartphone nearly anywhere has been an awesome jump in technology. While shooting videos on your phone isn't difficult, saving them in the right format and orientation can be tricky.
But no worries! These top video rotation apps can help you correct your orientation for easy sharing with family, friends, and on social media.
Movavi Clips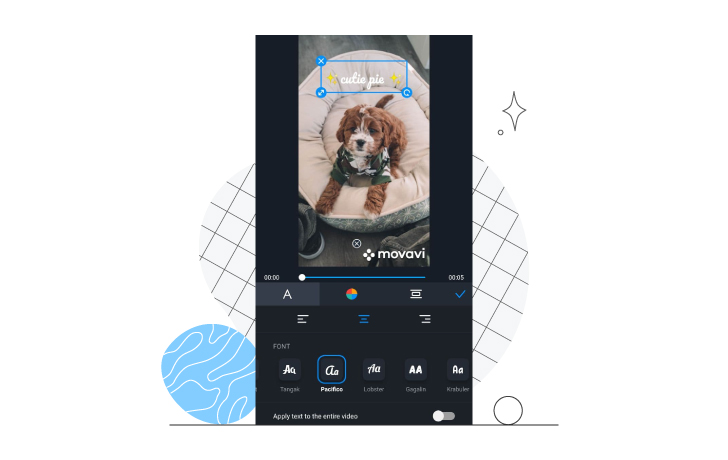 Best for: Individuals who need an app to trim, cut, and create videos for Instagram or YouTube with a clean, easy-to-use interface.
Price: Free to download. Costs $2.49/mth, $8.99/yr, or $18.99 one-time to remove Movavi watermark from videos and access additional features.
Movavi Clips provides everything you need to create videos and trailers on your smartphone. You can trim, crop, and rotate videos and convert them into easily shareable and uploadable filetypes. The controls in the app also allow you to enhance your videos in a number of unique ways with color filters, effects, themes, and transitions. It also comes with a built-in music library.
Key features:
✅ Merge and split videos
✅ Video rotation, transitions, and effects
✅ Audio adjustments
✅ Upload and share directly from the app
Pros:
Easy-to-use interface
Royalty-free library of music
Fast video editing
Cons:
Additional features are paid
VivaVideo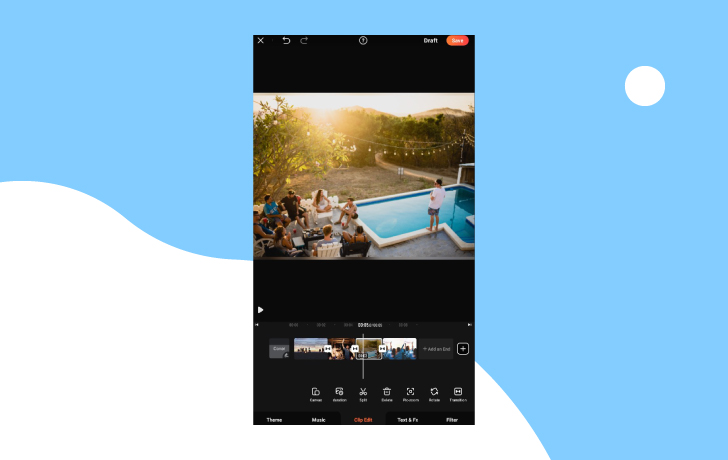 Best for: Teens and kids looking for a lot of theme presets and effects. It's also great for camera slideshows.
Price: Free to download – with paid in-app features. $19.99/year or $3.99/mth to access the VIP version that removes watermarks and ads and gives access to additional features. $35.99/year for the pro version.
Video editor that's free to download, but has in-app purchases to open up a lot of extra features. With VivaVideo, you can create photo slideshows with special animated texts and edit videos with standard features like cutting, trimming, merging, loops, speed adjustment, fades, etc. The app also offers a free library of music for your videos. 
VivaVideo also comes with a camera function with five different modes so you can directly create videos with different effects and themes and then export them to a linked social media account.
Key features:
✅ Slideshow and live camera features
✅ Text effects options – animated and art
✅ Speed adjustment and transition features
✅ Custom watermarks
Pros:
Lots of themes and effects
Library of royalty-free music
Great for slideshows
In-app camera function
Cons:
You can only export videos up to 5 minutes on the free version
Ads during editing on the free version
Vidstitch Free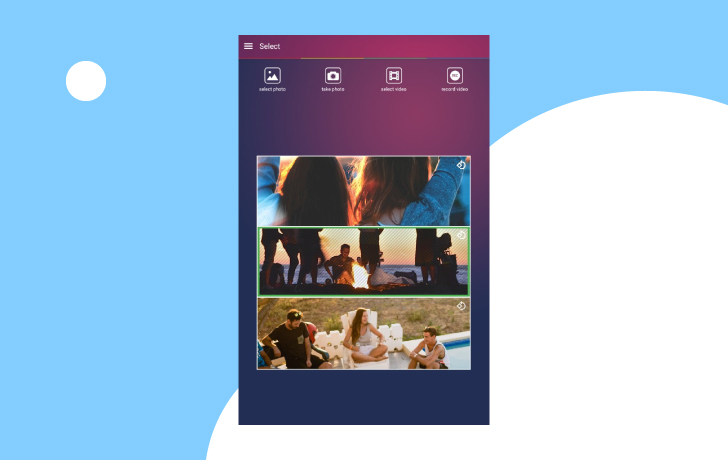 Best for: People looking for an app to rotate and combine photos in preset frames for Instagram. It's called Vidstitch for Instagram on the iOS version.
Price: Free to download – $2.99 for pro version
This is a simple photo and video collage creator mainly for social media. In the app, you start with a frame or collage and then integrate photos or videos from your library. You can also take a photo or record a video directly in the app for use in the collages. 
Key features:
✅ Combine videos and photos from your library
✅ Video rotation app
✅ Post to social media from the app
Pros:
Integrates well with Instagram
Lots of frame and collage options to choose from
Easy-to-use photo and video collage app
Cons:
No editing features
Soundtracks only available on Pro Version
Video rotate + flip video easy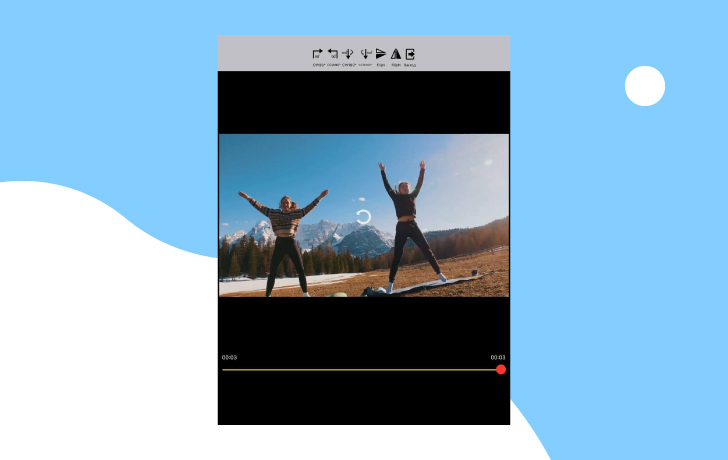 Best for: Anyone looking for a simple video flip app with no watermarks.
OS: iOS
Price: Free, paid to disable ads
It's a simple, no frills video rotation application for mobile phones. The app has no watermarks or time limits, but it only rotates the video. 
Key features:
✅ Video flipping and rotation
✅ Flip large videos
✅ Rotate in any direction – clockwise, counterclockwise, or mirror
Pros:
No watermarks or time limits on videos
Export directly into camera roll
Easy-to-use video flipping app
Video rotation software for PCs or laptops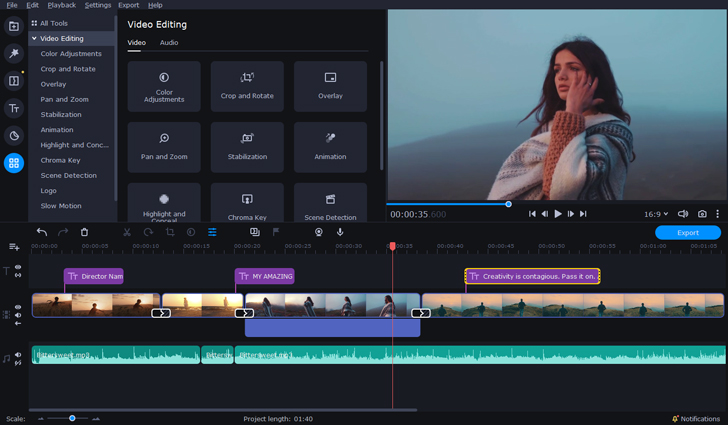 Best for: Users looking for bang-for-your-buck video editing with a simple interface – offers video rotation software and tools as well.
OS: Windows, macOS
Price: $64.95 lifetime use on one PC or Mac computer, free trial available
Movavi Video Editor Plus can help you bring your video ideas to life in an easy-to-use interface that doesn't hide features behind walls of tabs and drop menus. You can make great videos that include special effects, animations, and color correction. It also comes with ready-made intros to take some of the burden off your workload.
Key features:
✅ Simple interface
✅ Stabilization and Overlay tools
✅ Montage Wizard that allows you to drop media files and quickly build a video in pre-set templates
Pros:
PIP and motion tracking tools
The interface is superbly user-friendly
Offers sound with transitions
Cons:
No advanced trimming modes or clip pre-trimming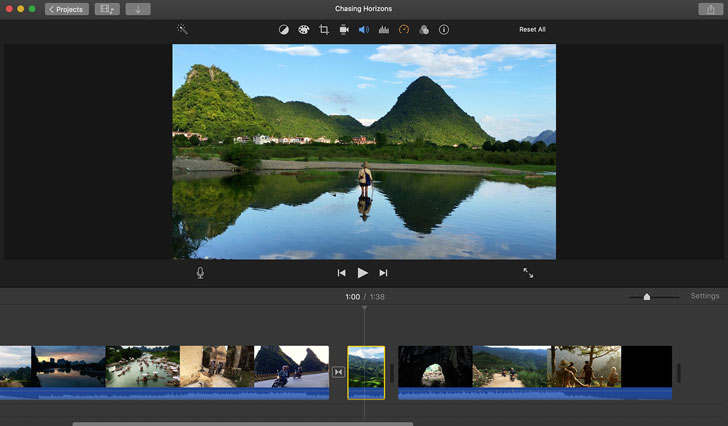 Best for: People looking for the absolute basics in video editing functionality. The Windows version mainly just integrates video capabilities to the Windows Photos application.
OS: macOS
Price: Free
Apple's free video editor is great for entry-level editing with solid features for a free editor. It offers storyboard editing that's clean and clear – especially for beginners – along with tons of effects features for video and audio. 
Key features:
✅ Storyboard-based editing
✅ Color matching features
✅ Green-screen effects
Pros:
Lots of templates and themes
Great audio tools and functionality
Easy and simple interface
Cons:
Doesn't offer 360-degree editing
Edit only two tracks at a time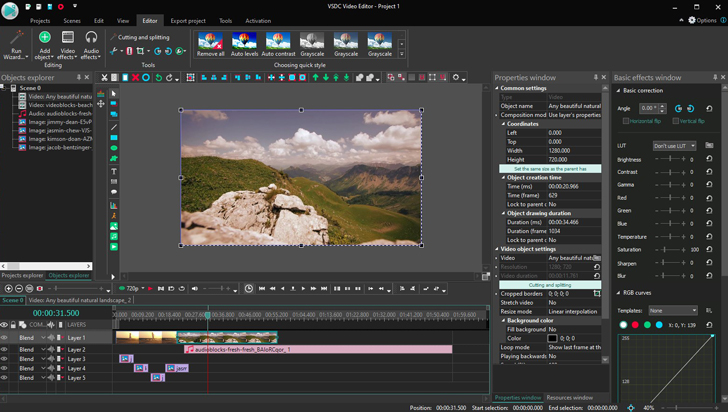 Best for: Users looking for a low-cost video editor.
OS: Windows
Price: $19.99 for pro version, but a free version is available.
VSDC Video Editor is a low-cost video editing platform that allows you to trim and cut clips and add audio and visual effects. It has some great video effects for the price but doesn't come with all of the bells and whistles of some of its competitors. The pro version gives you access to some additional file types, advanced features, and pixel and audio editing functions.
Key features:
✅ Art filters based on AI
✅ Text animations and motion tracking features
Pros:
Very inexpensive for what you get
Offers chroma key editing, 360-degree VR, and PIP
Cons:
The interface isn't very polished
Full-screen previews not available
Lots of sub-menus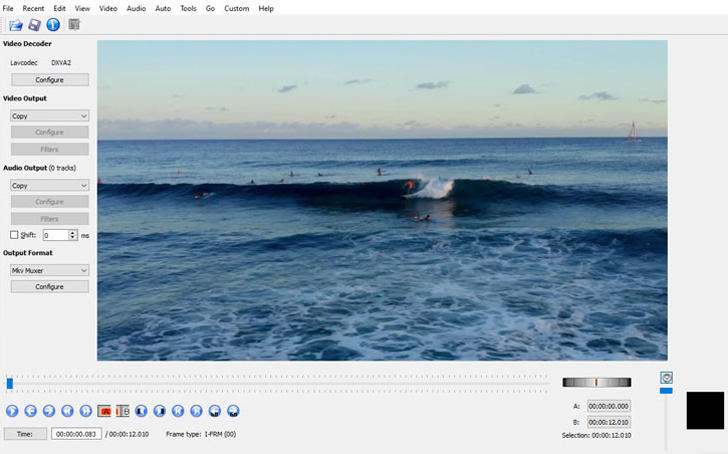 Best for: Making quick cuts and edits with no additional effects.
OS: Windows, macOS
Price:  Free
With Avidemux, you can create simple, quick-cut videos with ease. This software acts more like a free tool in that there's no place to import multiple video, picture, or audio files. The software is straightforward in that you just clip, cut, and trim and then adjust your audio – that's it.
Key features:
✅ Non-linear editing
Pros:
Clean and clear interface
Lots of encoding options
Filters for sharpening pictures and reducing background noise
Cons:
Lacking effects and transitions
Timelines aren't available for storyboard editing
Online video rotation tools

Best for: Users looking for a simple online video rotation tool to flip their video from landscape to portrait and vice versa.
OS: Online software that supports multiple file types for Mac or Windows.
Price: Free
A free online video rotator that allows you to flip video files up to 16 MB. You can set your output format, rotation direction, and encoding quality on the site and then rotate.
Key features:
✅ Rotate videos in 
Pros:
Many supported file types
Multiple encoding options
Cons:
Can sometimes skew the original video due to metadata information and storage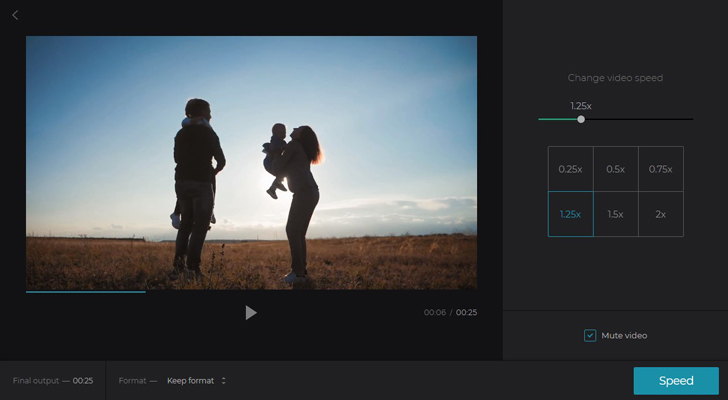 Best for: Users looking to use individual tools on specific videos instead of a full-on video editing platform.
OS: Online video editor that supports multiple formats for Windows, Mac, and mobile.
Price: $9/mth or $72/yr for unlimited videos
Clideo is an easy all-in-one online video editor with multiple functions – including video rotation – that allows you to create and edit videos, images, and GIFs.
Key features:
✅ Multiple video editing tools and functions
✅ Supports multiple formats
Pros:
All online video editor
Security encryption on videos
Cons:
Tools are broken into individual sections on the website, so there's no all-in-one spot to create your video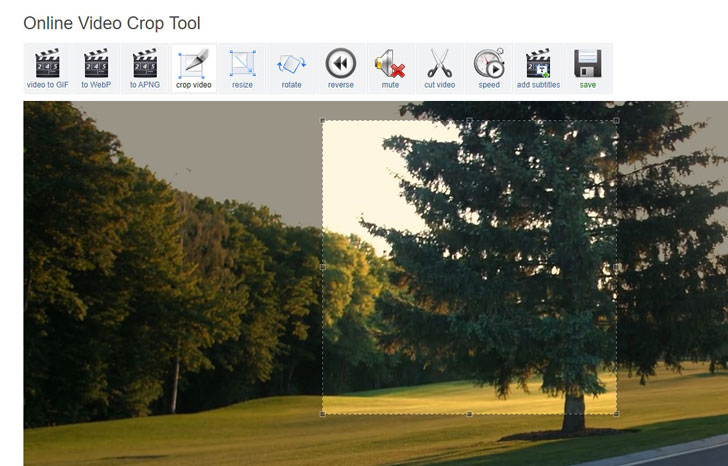 Best for: People who need a quick, simple online video rotation tool.
OS: Online video editing tool that works with multiple file formats.
Price: Free
Ezgif is known for being a free online video to gif conversion tool, but it also has lots of other features like video rotation and the ability to trim and cut clips.
Key features:
✅ Free video rotation
✅ Video to Gif creation
✅ Video resize, cut, crop, and adjust speed tools
Specific video rotation software features
✅ Horizontal mirror feature – This specific video rotation software feature creates a literal mirror image of a video. What was on the right is now on the left – just like a mirror.
✅ 180 degrees reverse – Flips the video upside down by 180 degrees.
✅ Converting video formats feature – This feature allows you to convert your videos into different usable formats like MP4, AVI, etc.
There are a lot of tools out there to help you rotate your video and perform a lot of other video editing functions. With these reviews, you should be able to find the right application, software, or tool to help you create the video you want.