Video making is easier than ever before. To record a memorable moment, all we have to do these days is pull out our smartphone. However, smartphone footage often turns out way too shaky to be worth including in your family archives or vlogs. Luckily, there are tons of video stabilization tools which can help you fix this problem in minutes.
Here's our list of top programs for making your videos look smoother, from free open source editors to complex professional solutions.
Top Video Stabilizer Software to Try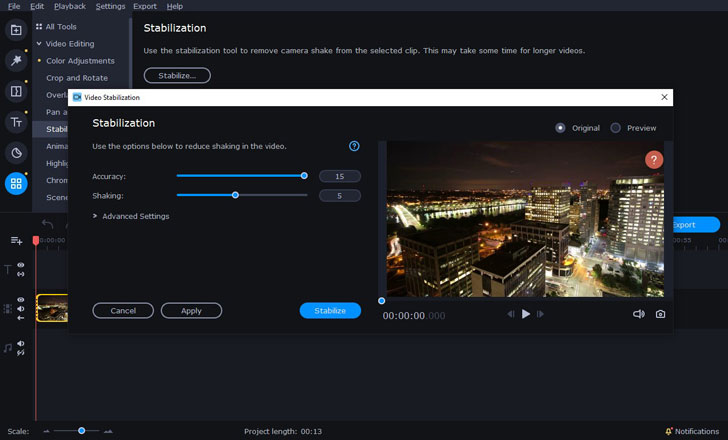 OS: Windows, Mac
Price: $59.95
Key Features: This program has been widely acclaimed by YouTube content creators – and there's every reason for that. It's far more than just another video stabilizer app, although that's definitely one of its stronger points. Aside from basic editing tools, it offers a whole array of other features – such as color grading filters, effects, creative transitions and graphic titles. It supports most video, audio and image formats, so you can create anything – a music clip, a vlog entry, or even a slideshow. A full-function trial version is free to download and enjoy for a whole week.
Best for: Beginners, aspiring bloggers and content creators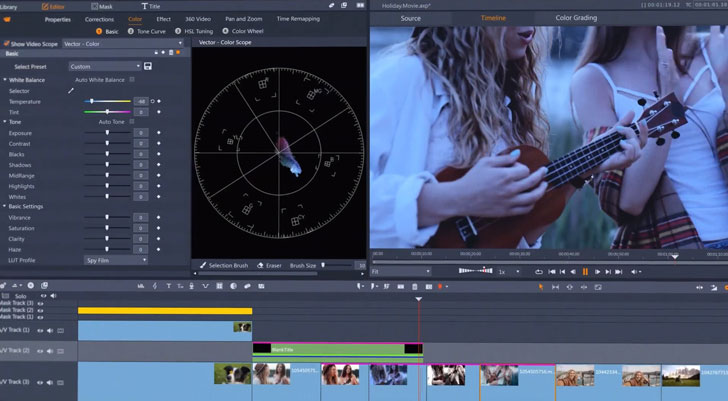 OS: Windows
Price: $60 or more
Key Features: The second place in this rating goes to Pinnacle Studio, which is often praised for its visual effects library and advanced key framing features. Its main drawback is that, in comparison to the top option in this list, it's only available for Windows. The basic version only lets you work with HD and lower resolutions – to edit 4K and 360° videos, you'll need to opt for a more expensive pack. If you're only looking to make your video smoother, there's no need to splash out cash – the basic Pinnacle Studio 24 version will do the job.
Best for: Experienced video editors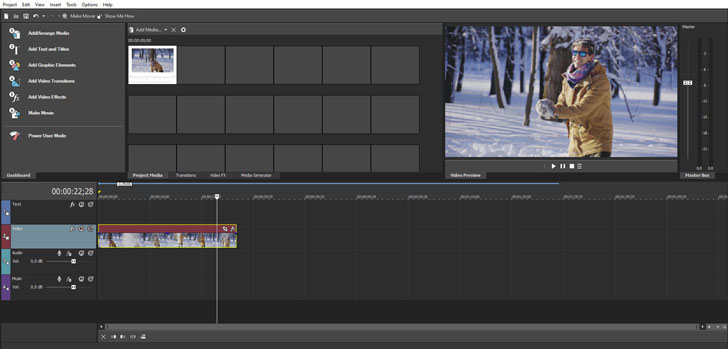 OS: Windows
Price: $79.99
Key Features: Another popular program for advanced-level editing – and it's not available for Mac, either. The most basic package will only cost you $49.99, but the video stabilization tool is only available in the Platinum version at a correspondingly higher value. The set of tools that the program offers totally justifies the price – but beginners should be prepared to invest quite a bit of time understanding how everything works.
Best for: Content industry professionals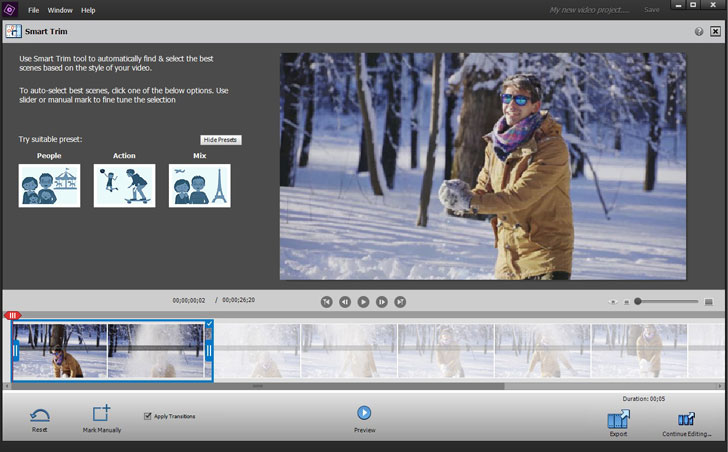 OS: Windows, Mac
Price: $99.99 – $149.99
Key Features: Adobe is the name that says it all when it comes to creative software. This program brings together the best of Adobe Premiere for making your videos stand out. Fortunately, the interface is easier to understand than in the full version of the better-known software solution. The shake reduction tool is totally on point, but the price can only be justified if you're going to be using all the other tools that come with it
Best for: Beginners looking to explore more of video editing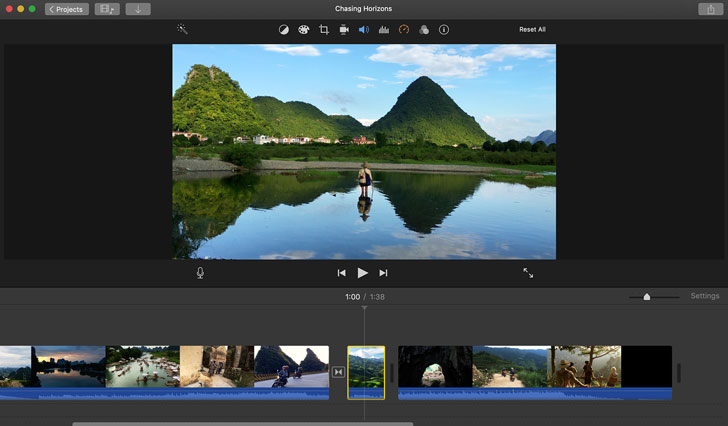 OS: Mac, iOs
Price: Free
Key Features: Quite a few of us started our video editing journey with this program. This Mac and iOs-based freeware offers a simple yet effective set of tools for tweaking your footage – including a stabilization tool. It's usually pre-installed on all Macs by default. Originally a desktop program, iMovie has also been adapted for mobile devices – you can find it in the App Store under the same name.
Best for: Beginners with any type of Apple device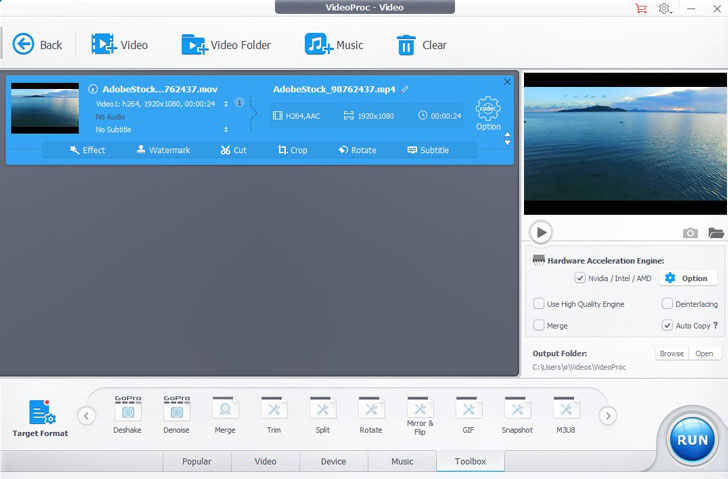 OS: Windows, Mac
Price: $37.95
Key Features: This versatile program offers a variety of tools for working with video files – including the Deshake function. If you're just starting to familiarize yourself with basic editing tools, you'll find it getting around in this software quite easy – the interface is exceptionally user-friendly. Judging by reviews, VideoProc is particularly appreciated by the owners of action cameras.
Best for: GoPro users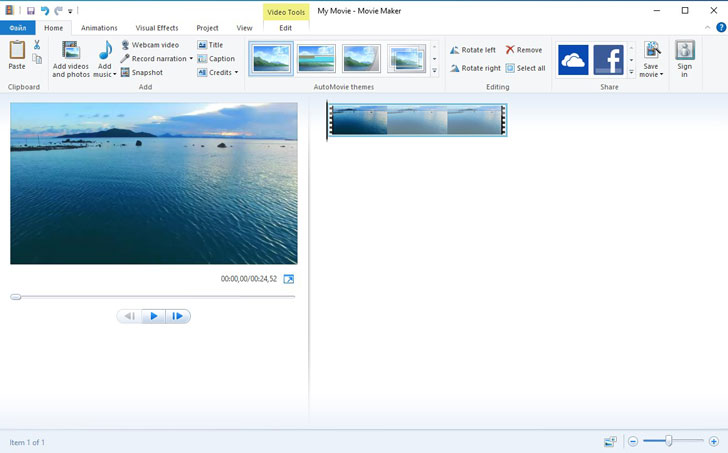 OS: Windows
Price: Free
Key Features:  Another well-known software solution for beginners – similar to iMovie, but for those with Windows-based PCs. It's one of the oldest programs on the market – and it's still good enough for everyday editing needs. Try the Anti Shake and Wobble Correction tools – despite the simplicity of the program, it does its job just fine. It's worth noting that the latest version will only run on Windows 10 and higher – Windows 7, XP and Vista are no longer supported by this editor.
Best for: Beginners with Windows-based devices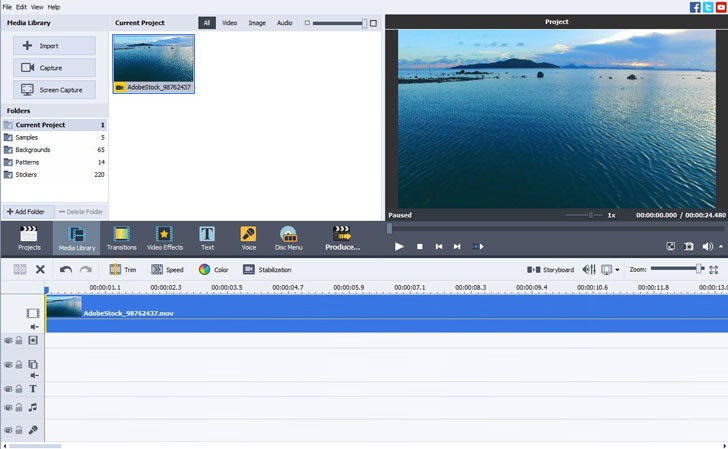 OS: Windows
Price: $59 for the Pro version with no watermark
Key Features: AVS Video Editor is the kind of video stabilization software that will be equally satisfying for beginners and experienced users. Aside from its decent anti-shake capabilities, it offers a wide array of tools for processing videos, such as cutting and cropping, effects, and transitions. What you can't do with it is edit audio, so bear that in mind if you're looking for a more broad-based solution.
Best for: Simple editing for personal archives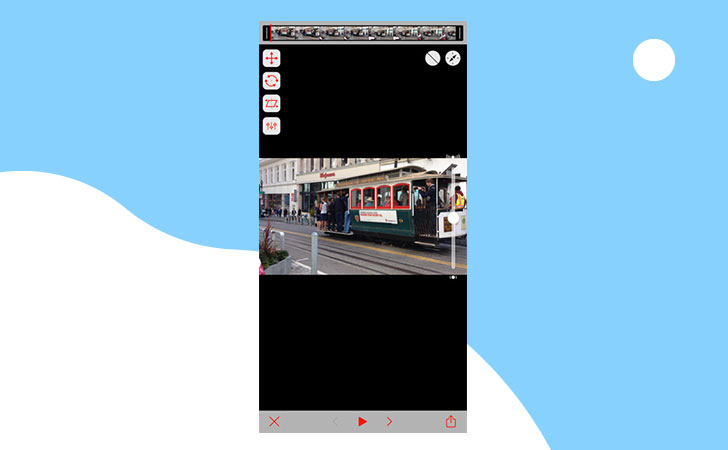 OS: iOs
Price: from $3.99
Key Features: This is a smartphone app specifically for stabilizing your footage – which is very practical, since most of our shaky videos come from our phones. According to reviews, Emulsio does an excellent job of stabilizing clips up to 15 minutes in length. Unfortunately, that's pretty much the only thing it's good for – there are very few tools for tweaking your footage in any other way.
Best for: Mobile videographers and journalists with Apple devices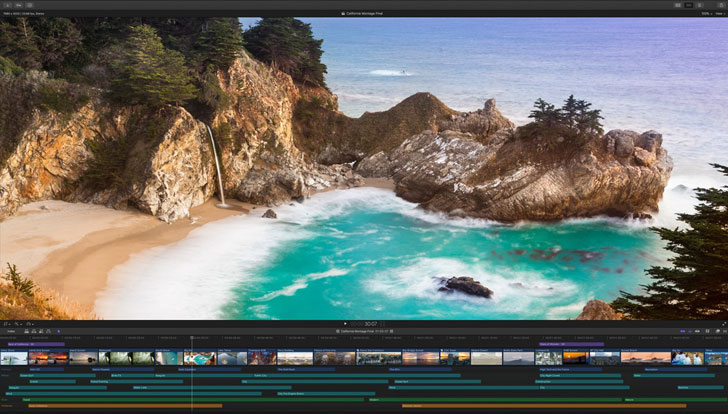 OS: Mac
Price: $299,99
Key Features: The big brother of its beginner-friendly version, iMovie. Final Cut Pro is a professional video editing program that's frequently used in the film industry and for professional editorial content. Its video stabilization capabilities are as impressive as you would expect from such an advanced program – however, the price might put you off this software option. That said, there's no harm in giving it a shot – the trial version is free.
Best for: Professional videographers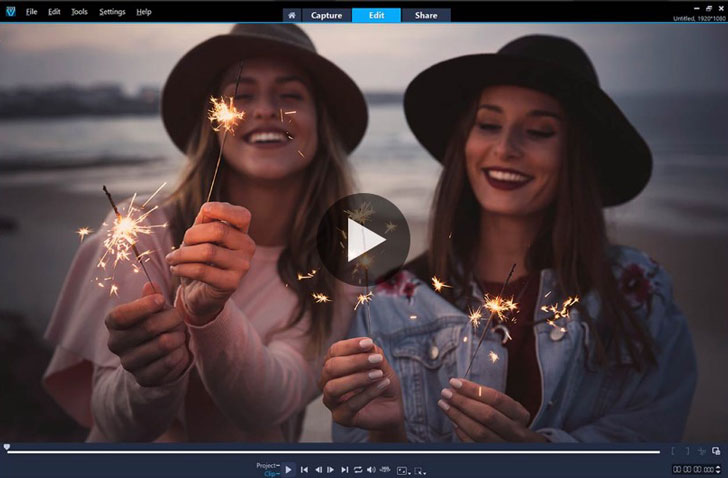 OS: Windows
Price: $59.99 -$76.99
Key Features: This is a powerful program for working with your footage – including less-common formats such as 4K and 360°. There are many fun tools to experiment with – including transitions, graphic titles, effects and animated elements. However, the stabilization tool is only available in the most expensive, Ultimate, version.
Best for: Semi-professional editing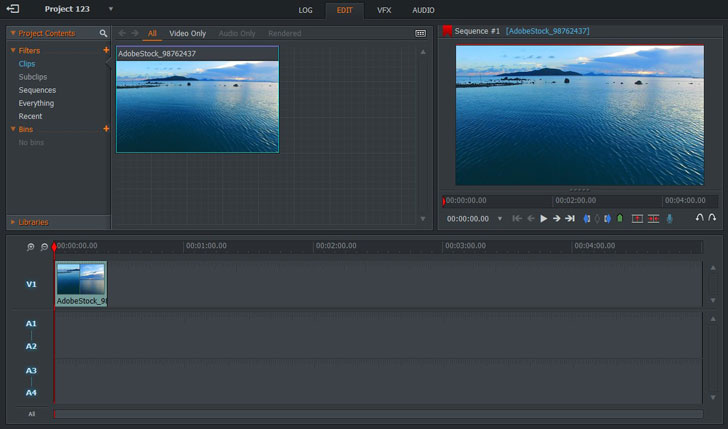 OS: Windows, Mac, Linux
Price: $25.99 monthly
Key Features: As one of the oldest professional editing programs, LightWorks is quite famous in the film industry – some well-known movies such as "The Wolf of Wall Street" and "Pulp Fiction" were edited in Lightworks! Naturally, its stabilization abilities are up to professional standards. The price may seem quite reasonable at the first glance, but the monthly fees add up to over $174.99 per year, when it doesn't look so budget-friendly anymore.
Best for: Filmmakers and vloggers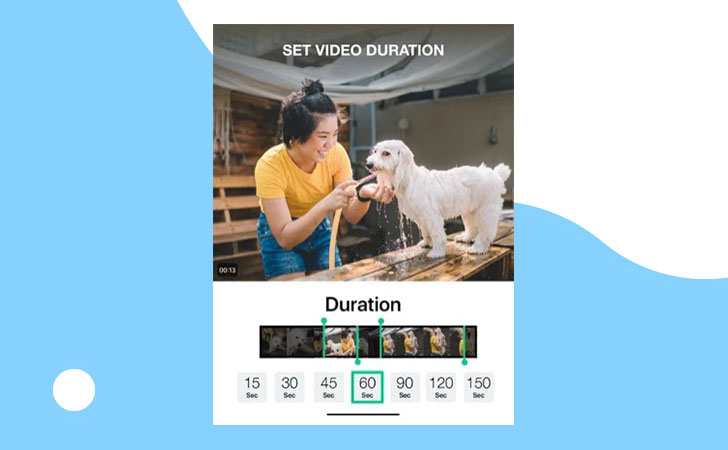 OS: iOs
Price: $4.99 monthly
Key Features: A great solution for creating engaging digital content on your smartphone. Not only does it help you effectively reduce shaking in your videos, but it also offers attractive templates for themed videos and slideshows. You can always apply manual editing, too: cut, trim and merge your clips, add effects and graphics, and incorporate music for the right vibe.
Best for: Digital storytellers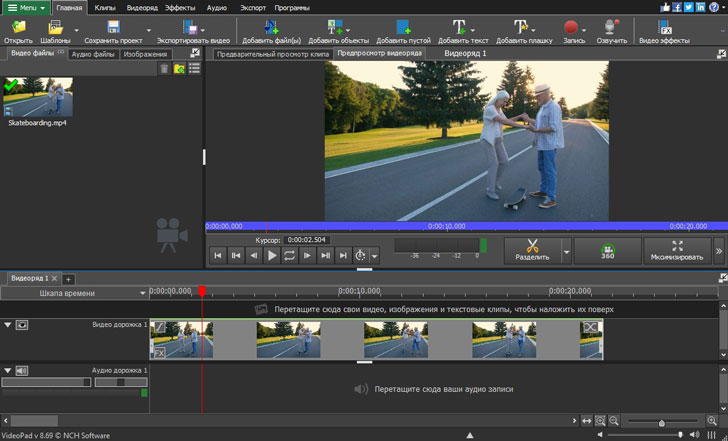 OS: Windows, Mac, Android, iOs
Price: Free
Key Features: VideoPad is an excellent multiplatform tool which reportedly offers one of the fastest video stream processors. As long as you use it for non-commercial purposes, it's completely free – so there's every reason to try out its video stabilizing feature. The program is available for both desktop and mobile devices and supports all popular video formats. The range of options in the effects library may be less diverse than in the paid versions, but there's still a lot to explore.
Best for: Entry-level editing for non-commercial use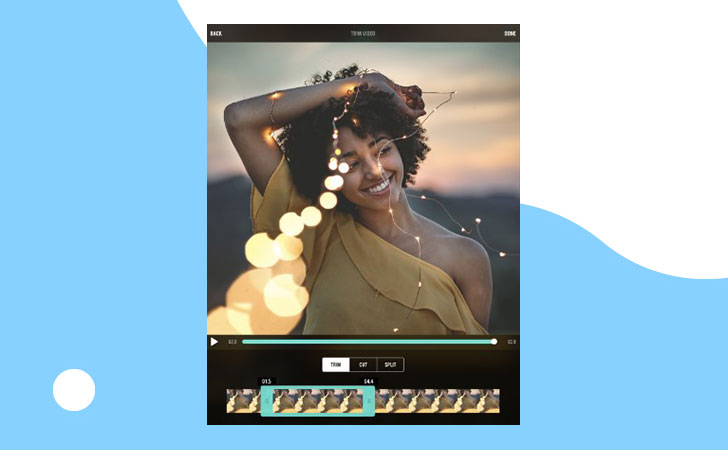 OS: iOs
Price: $4.99 monthly or $14.99 one-time
Key Features: This app is a must-have for all Instagram Stories lovers. Aside from its video stabilization tool, it features many more tools for creating fun videos for your social network accounts. The app enables you to edit clips, add animated titles and special effects, apply cinematic filters, and record voiceovers. It's also handy for direct export into social media accounts.
Best for: Instagram fans
How To Stabilize Your Video with Movavi Video Editor Plus
Here's a simple step-by-step guide to how to use the stabilization tool in Movavi Video Editor Plus:
Step 1. Launch the program and select Create project in full feature mode in the welcome window.
Step 2. Hit Add Media Files and choose the video you're looking to stabilize – or simply drag and drop it on the timeline.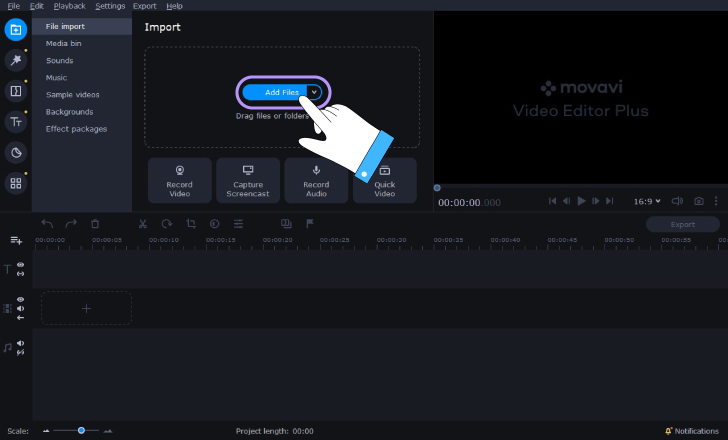 Step 3. Select the video on the timeline. Now open the Tools menu and click on the Stabilization option. Hit the Stabilize button.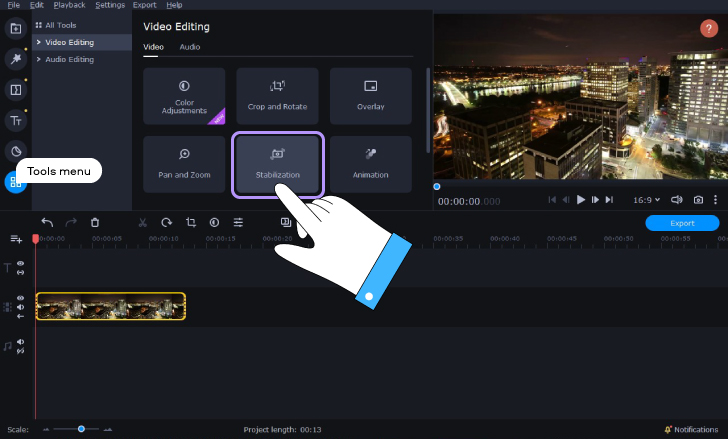 Step 4. Now you can see all the stabilization settings in a separate window. Adjust the Accuracy and Shaking slider to determine how much you want the footage to be tweaked. Click Stabilize to begin the process.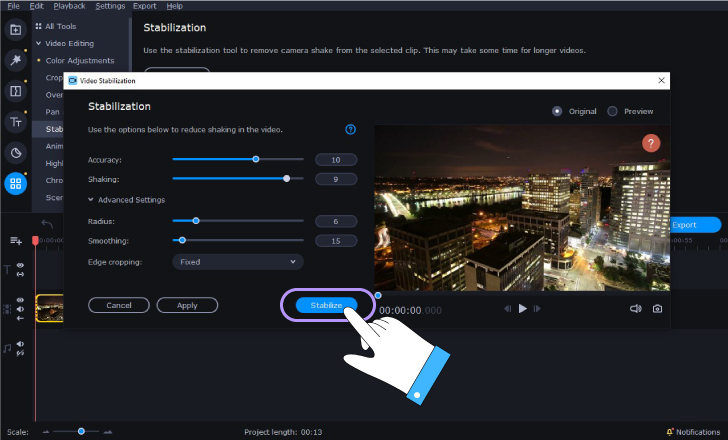 Step 5. Review the result by switching between the Original and Preview screens. Hit Apply to save the changes.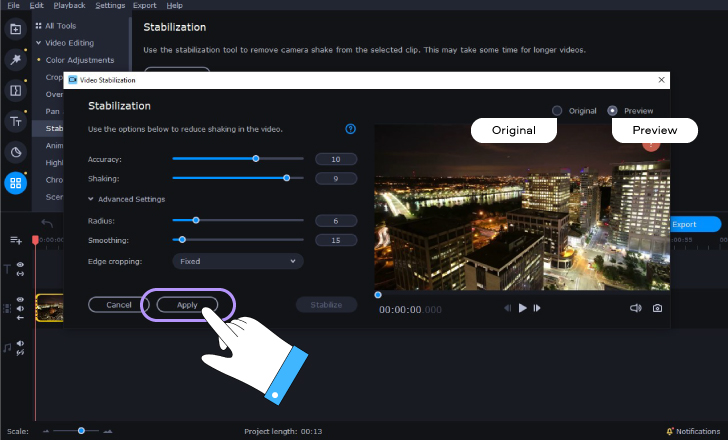 Step 6. Export the video by clicking the appropriate button. Choose your desired output format and hit Start. Done!
You can also watch this video to understand the process even better:
Try Movavi Video Editor Plus at 10% discount for Windows