Merging clips together is one of the basics of video editing. To do that, you don't necessarily need professional heavyweight software that will only confuse you. You can use simple video merging tools that work great for beginners. There are plenty of good apps out there – and some of them are completely free! In this article, we're going to talk about the best free video merger tools that make it really easy to combine different video files together.
Editor's pick
Movavi Video Editor Plus – a semi-professional alternative for perfectionists: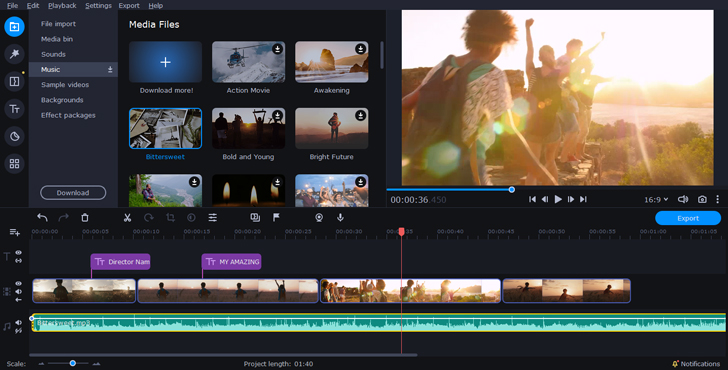 OS: Windows, macOS  
License: Free version, $39.95 – 1 year license, $59.95 – Lifetime license
If you really want to get the most out of your joiner program, Movavi Video Editor Plus might be the perfect desktop app for you. Suitable for PCs and Mac devices alike, this fully-featured video editor offers incredible creative potential for advanced editing while also providing a beginner-friendly user interface. Users can enjoy a wide range of video editing tools and functions, from basic merging and trimming to custom backgrounds, keyframing, and pre-made intros too. It's remarkably simple to use, letting even total beginners make Hollywood-level videos in a matter of minutes.
Best for: creative video editing
Key features: 
✅ Works on Mac and Windows, including Windows 10 devices
✅ Can be used for joining, cutting, trimming, and more
✅ A range of built-in editing features such as Chroma Key and Picture in Picture
✅ Install additional effects with ease from the Movavi Effects Store
✅ Choose from over 10 different user languages
✅ Supports processing and joining of 4K videos
✅ Built-in media pack featuring intros, outros, music, and more
✅ Supports many different video formats from WebM to WMV
Pros:
Offers all the benefits of advanced editing with beginner-friendly interfaces
Lots of different effects and functions to use on your creative projects
Super fast processing speeds allow videos to be finished in a matter of minutes
Cons:
Watermarks will appear when using the free trial
Best free video joiner software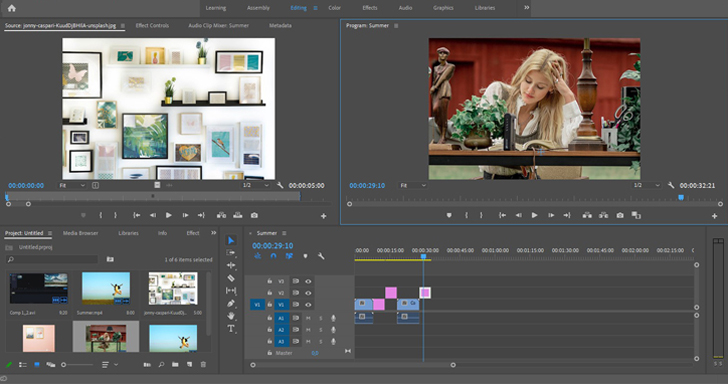 OS: Windows, macOS
License: Free trial (7 days), $20.99 – Monthly license 
Adobe® Premiere® is a professional video editor that supports almost all media formats and devices. It offers a wide range of basic and advanced editing tools, including merging. One of the main advantages is that the app integrates with other Adobe® products like Photoshop®, After Effects®, and Audition®.
Best for: professional video editing
Key features: 
✅ Powered by Adobe Sensei 
✅ Works with any format, including 4K, 8K, and even virtual reality 
✅ Support for all common file types 
✅ Lightweight proxy workflows 
✅ Premiere® Rush® app for mobile devices 
✅ Automatic editing and formatting 
✅ Adobe® Stock Audio provides countless audio music tracks to customize your videos
Pros:
A great tool to use for those who are already invested in Adobe® software and products
Trusted and used regularly by film and TV professionals
Lots of advanced editing features and functions beyond basic merging and cutting
Cons:
An interface can be a little overwhelming for new users and beginners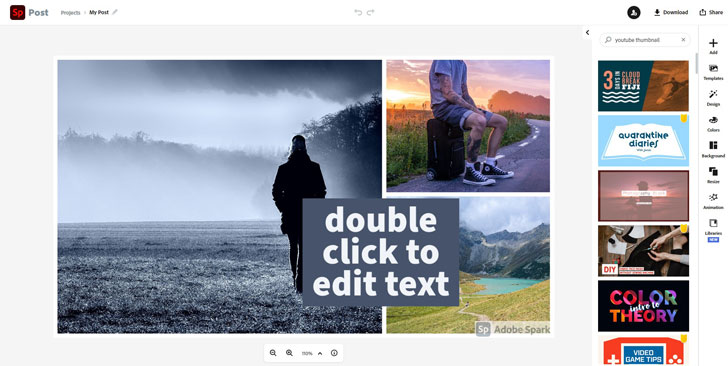 OS: Any
License: Free trial (30 days), $9.99 – Monthly license, $99.99 – Annual license
Another Adobe® app on our list, Adobe® Spark®, is a handy video-editing app that can be used for merging video clips. Other editing options include creating collages, flyers, animations, and videos. It can work on any platform directly in the browser or downloaded as an app. Adobe® Spark® provides pre-made templates for flyers and posters and also supports instant sharing across social media platforms.
Best for: joining videos via a web browser
Key features: 
✅ Simple interface that allows creation and editing in just a few taps
✅ Many branded templates and themes to aid with the creation 
✅ Personalize your projects with logos, colors, and fonts 
✅ Thousands of free images and icons 
✅ Basic video editing for easy joining, cropping, trimming, and resizing
✅ Select and delete multiple parts of your video files 
✅ Split movies or long videos into smaller individual files
✅ Spark Blog offers tips, tricks, and advice to help you stand out on social media
Pros:
Really simple to use the app for iOS devices
Great for basic editing and social media content creation
Lots of pre-made assets, themes, and templates to help you make content in minutes
Cons:
Lacks advanced editing features for videos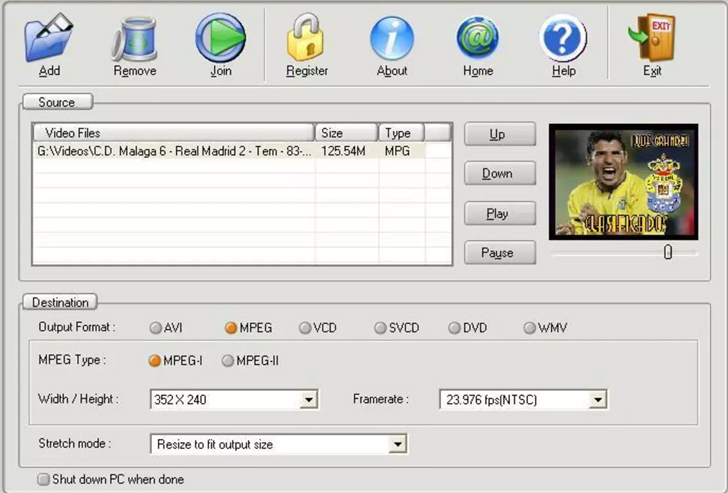 OS: Windows
License: Free trial (30 days), $29 – Lifetime license
This tool for Windows devices is suitable for merging multiple videos into one large file. Allok Video Joiner supports a wide range of different video formats so you don't have to worry about format compatibility issues. Besides video merging, the tool can also be used for converting files from one format to another.
Best for: joining videos of different formats
Key features: 
✅ Import multiple video files and choose the order of merging 
✅ Supports different video formats, including 3GP, AVI, AMV, DivX, FLV, MKV, MPEG, MP4, and VOB 
✅ Also supports many output formats like AVI, MPG, and MP4
✅ Adjust video quality and resolution, as well as audio quality and codec 
✅ Built-in video splitter for splitting videos into smaller segments 
✅ Add subtitles
Pros:
A lightweight, multifunctional video editing and conversion tool for splitting, joining, and more
Very easy to use, with a straightforward, beginner-friendly user interface
Free trial offers to test the software before you buy it
Cons:
May be considered to be a little too basic for some users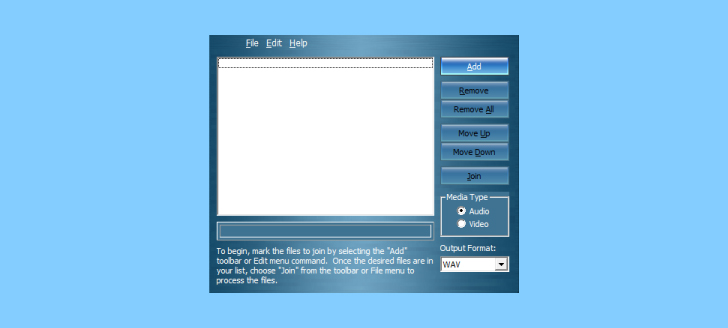 OS: Windows
License: Free lifetime license
MediaJoin is a simple video joiner available for Windows. This freeware supports a bunch of media formats. Using this app, you can merge video files of different formats together.
Best for: free video joining on Windows
Key features: 
✅ Available for Windows devices running versions of Windows from Windows 98 onwards 
✅ Used for joining video files of different formats or the same format together 
✅ Add your own tags and information to the files you make 
✅ Supports a wide range of popular video and audio file formats 
✅ Adjust various settings like audio output bitrate, frequency, and VBR
Pros:
Very easy to use, ideal for total beginners
Can be used for joining and merging all kinds of media, including both video and audio
Supports most of the popular file formats and types
Cons:
Very simplistic and has no other editing features to speak of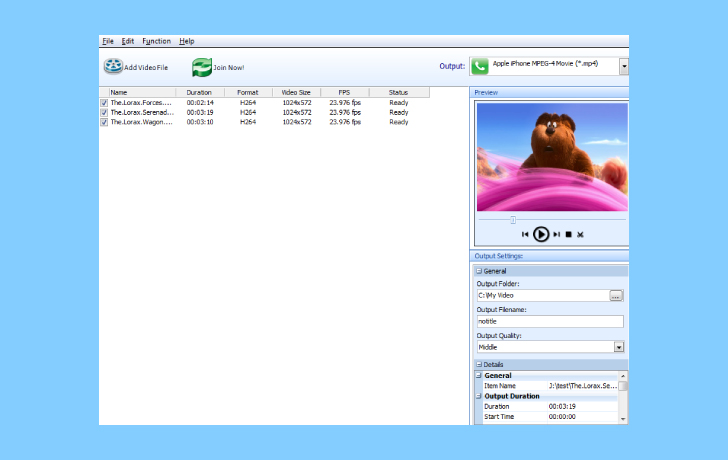 OS: Windows
License: Free lifetime license
Thanks to its simple and easy user interface, Weenysoft Free Video Joiner is a perfect choice for beginners. You only need to press a couple of buttons to merge your video files. Additionally, the app allows you to specify the output settings – you can change a video codec, a bitrate, and so on. Out of all the options that come completely at no cost, this is one of the best free video joiners.  
Best for: total beginners
Key features: 
✅ Runs on the Windows platform 
✅ Absolutely free to use 
✅ Can be used to join multiple video files together into one large file 
✅ Very basic, beginner-friendly user interface 
✅ One-click imports and joining 
✅ Adjust a range of output settings such as video size, codec, and bitrate, as well as audio quality and volume 
✅ Preview the original video file or individual clips while you work on them 
✅ Includes the latest video codecs to support all popular formats like AVI, MKV, MP4, and FLV
Pros:
One of the best options for total beginners due to its simplistic user interface
Supports all popular media formats and file types like 3GP, AVI, FLV, and MP4
Easy adjustments to help users customize the quality and size of their output files
Cons:
Lacks advanced editing and other features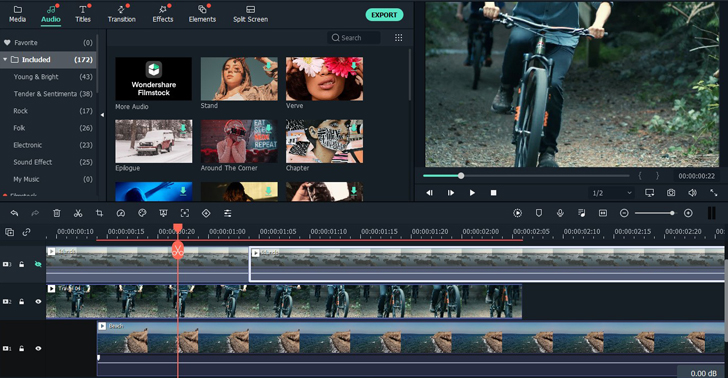 OS: Windows, macOS
License: Free trial (30 days), Annual license – $39.99, Lifetime license – $69.99
Filmora Video Editor is advanced editing software that works on both Windows and macOS operating systems. With its user-friendly drag-and-drop interface, you can merge your video clips in a matter of minutes.
Best for: advanced video editing
Key features: 
✅ Works on Windows and Mac 
✅ Drag-and-drop interface 
✅ Supports most types of media files 
✅ 800+ different video effects 
✅ Rotate, merge, split, trim, and crop videos 
✅ Supports up to 4K resolution 
✅ Advanced audio effects and editing 
✅ A music library to add custom sounds and tracks to your clips
Pros:
A huge number of special effects and filters for advanced video editing
Impressively easy to use with a smart design and clean interface
Supports all popular formats
Cons:
Free trial only lasts for 30 days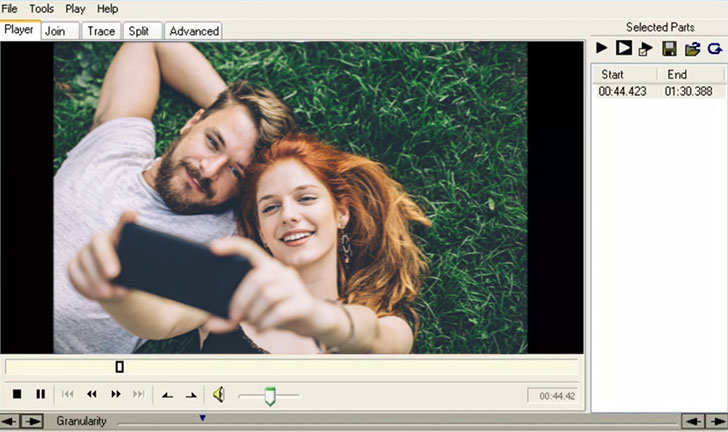 OS: Windows
License: Free lifetime license
Movica is a lightweight and fully free video joiner for Windows devices. It has video joining and splitting tools as well as other basic editing options. However, the app has a significant downside – it only works with WMV, FLV, and MPEG files.
Best for: joining and splitting WMV, FLV, and MPEG
Key features: 
✅ Supports joining, splitting, and simple editing of FLV, WMV, and MPEG 
✅ Select and delete multiple portions from your video files or join small files together as needed 
✅ Built-in keyboard shortcuts
Pros:
Great for working with certain file types (FLV, WMV, and MPEG)
Useful shortcuts can help users save time
Very lightweight and works reliably on low-end devices
Cons:
an be a little confusing to use for beginners
How to choose the best free video joiner
As this list shows, there are a lot of free video joiners out there. Choosing the right one for you might feel like a challenge, but it all depends on your own needs and preferences. The best free joiner for you will be one that is compatible with your devices and supportive of the file formats you want to work with, while also offering the features, functions, and tools you need to carry out your editing projects. Here are some key factors to think about when looking for the perfect free merger for you:
✔️ User interface – The user interface is one of the most important factors of consideration when it comes to choosing the best joiner software. Some interfaces are well-designed, easily accessible, and understandable for beginners, while others are more designed for advanced and intermediate users, so it could cause issues for those who don't have much experience. It's important to find a program with a user interface that you consider to be easy to use, and some users may also want to find an app that offers UI customization too.
✔️ Speed of joining process – When it comes to any kind of software, speed is always important. One of the downsides of using some free joiners is that they can be quite slow to process your files and join different clips together, but the best joiners are able to work really quickly. Top free joiners can boast of excellent processing and joining speeds, and this can be really important for people who do a lot of editing for personal or business reasons, or those who frequently find themselves working with many video files simultaneously.
✔️ Amount of restrictions – Free joiners don't usually have the same capacities as premium joiners. They might limit you in a range of different ways. For example, you might only be able to use files of a certain size, or you might only get to join, edit, or process a certain amount of files each day. You might also be restricted in terms of the different features and tools you can use with your chosen joiner. It's important to be aware of the restrictions and make sure that they won't prevent you from working with your files.
✔️ No ads – If you want to use a free joiner, you need to think about how its creators are going to make money. Instead of charging user fees, many free joiners make their money via ads. They can feature ad banners during the installation process and intrusive ads that run when you actually use the software too. This can be quite frustrating to deal with, and many people prefer ad-free options in order to stay focused on their editing. It's recommended, therefore, to opt for a free joiner with no ads.
If you want to join videos together as part of your video editing projects, these video joiners should be able to help. Each one has its pros and cons, but they can all be of use when merging clips and creating your own video content for personal or professional use. Be sure to consider compatibility, speed, user interface, ease of use, and other factors in order to find the ideal joiner to meet your needs.